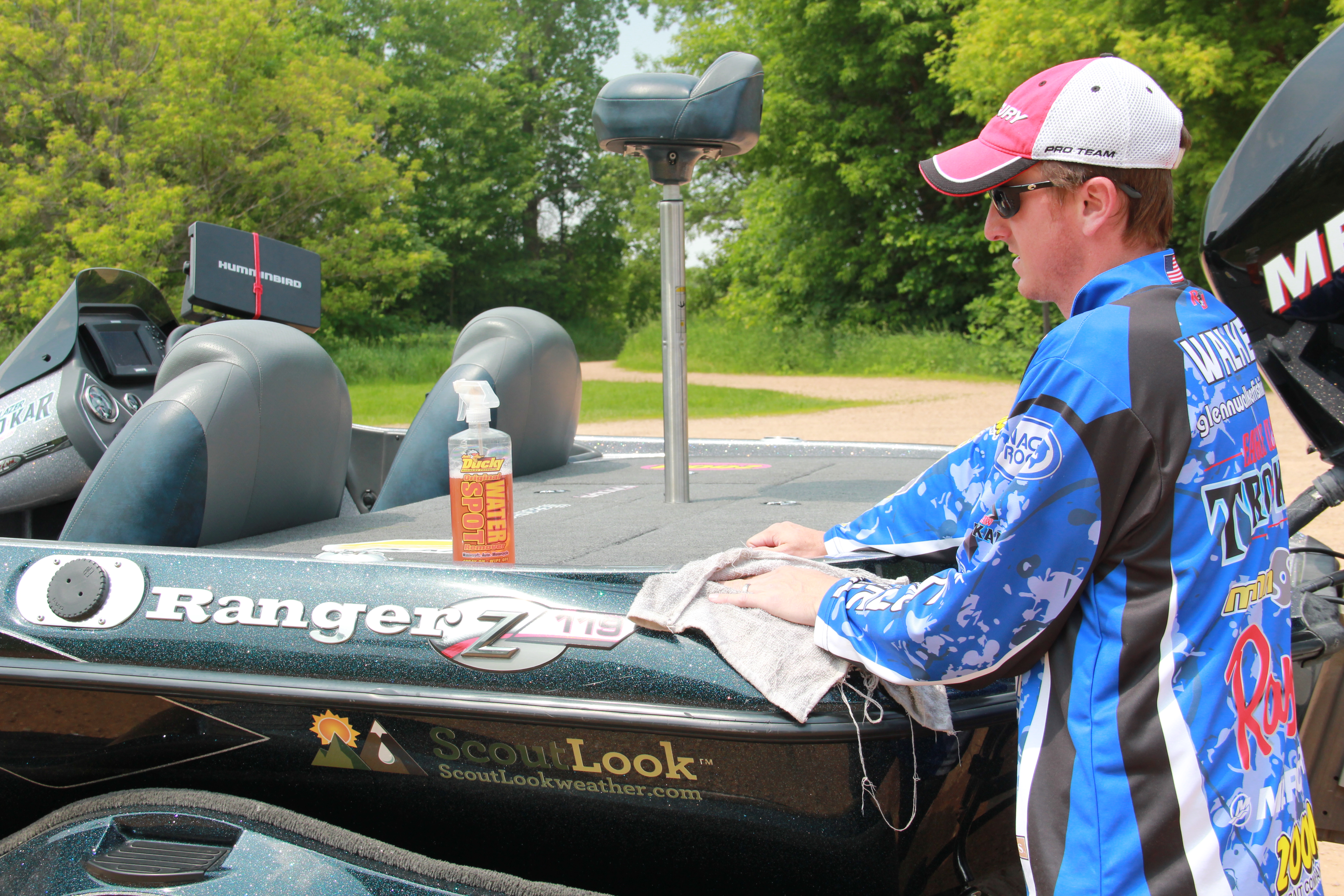 Spending time on the water fishing is what everyone loves to do and why everyone gets into fishing, no one (well rarely anyone) gets into fishing because they love to clean boats! Cleaning your boat takes time and some elbow grease, resulting in taking time away from being on the water and catching fish!
I like to keep my boat looking sharp, not only does it make me feel at ease, but by doing some simple cleaning tasks after each time I use it, it decreases the frequency of needing to do a major boat cleaning session and when I do need to do this it will take less time.
To keep my boat having that show room shine, I do several things; the first is I will spray a Quick Clean & Wax product, which is made by Ducky Performance Products, on all areas of my boat. This product will clean the water line off of your boat from the day on the water, remove light oxidation, all while leaving a slick was finish. This will also add longevity to the coat of wax I have previously applied to my Ranger.
Also be sure to spray and wipe down your shallow water anchors, seats and motor cowling, keeping these items clean now, will keep you from having to do some major cleaning later!
I keep two spray bottles in the back of my truck with a pile of rags, this way my partner and I each take a side of the boat, to speed the process up.
While wiping down my boat I will pay attention for the formation of any hard water stains. If I see any of these spots (for me it is primarily on the top of my transom) I will spray on a Water Spot Remover. This product will effectively eliminate these hard water stains from etching into the surface of your boat.
I try to keep foreign matter from getting embedded into my carpet as it is easy now to pick a blade of grass or small pile of sand/gravel up by hand. If the foreign matter is more broad, I'll give my carpet a quick vacuum after that fishing trip, as keeping it from burying into the carpet will extend its life.