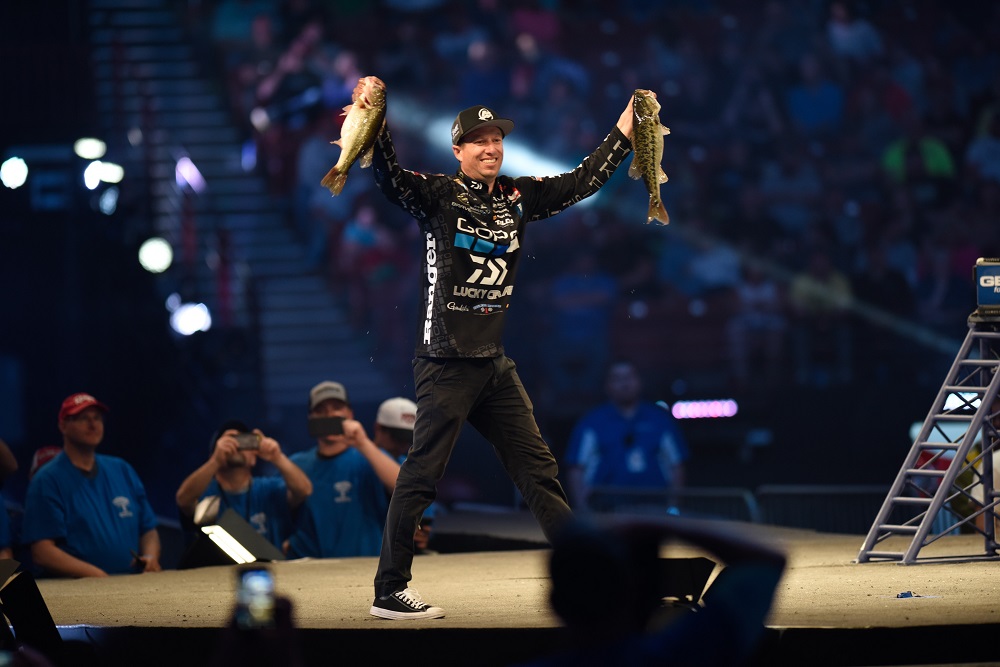 Brent Ehrler Previews the Bassmaster Classic
The 2019 Bassmaster Classic is right around the corner, and it may be the last one for Brent Ehrler.
He was among the many pro anglers who switched to the MLF Bass Pro Tour, so he is headed into this event with a little extra motivation. He has fished here before and has devised a plan based on that and recent weather trends in the region.
Here, he explains his strategy for tackling the Tennessee River and Ft. Loudon and Tellico lakes.
Ehrler's Experience
In his time with the FLW Tour, Brent Ehrler was among the best anglers in the field and showed amazing consistency with seven seasons ending with him in the top-10 for the Angler of the Year standings. The FLW Tour made three stops at Loudon/Tellico, and Ehrler cashed a check in each event with finishes of 14th, 15th, and 32nd. Even with his experience there, he thinks it is going to be different this time around.
"It's been so long since I have been there and we were always there in the spawn or post-spawn. This tournament will be a true pre-spawn event," he predicts.
Wild Weather
The weather around Knoxville has been cold and rainy, and Ehrler thinks that is going to make things difficult for the anglers.
"It's going to be a little tricky, and I think it is going to be tougher than it would have been if the weather stayed warmer," he says. "They had some days in the 20's, and that is setting it up to be a grind of a tournament."
Lay of the Land
One thing that his experience does help with is knowing the water from a navigation standpoint.
"It is a unique place and is similar to Kentucky and Barkley lakes because Loudon and Tellico are connected. We are launching at the very north end of Tellico, so getting to Loudon requires a very long run down and then back up into the other lake," Ehrler says. The estimated distance of fishable water is over 80-miles, and he is hopeful that that will spread out the field.
"I'm hoping it spreads guys out and we have a lot of water to cover that hasn't been hit by everyone else," he says.
Pattern Predictions
When asked what he thinks are the possible winning patterns, Ehrler had said it could be anything from moving baits to finesse tactics.
"I see a crankbait, shaky head, and both casting and pitching a jig to be patterns that could win it," Ehrler predicted.
Cranking
The crankbait bite is generally good everywhere in the pre-spawn period, and it makes sense that that was the first thing that Ehrler's mentioned.
"Being that it is this time of year, I see cranking to be big. I am planning to use everything from a 1.5 size squarebill to a 10' diver," he says. "I designed a rod that was made to handle these baits and see it getting a lot of work during the Classic."
The rod is a Daiwa Tatula Elite 7'2", medium glass cranking rod named the "Small to Medium Crankbait Rod," and Ehrler says it is perfect for a wide range of crankbaits.
"I'm a big 1.5 squarebill guy, and it handles these and medium crankbaits very well," he says. He plans to pair it up with a 6.3:1 Daiwa Tatula 100 reel.
Shaky Head
One reason Ehrler mentioned this technique is that he feels it is well suited for both largemouth and smallmouth bass and both should be a factor in the Classic.
"That was good back when I fished there, and it should be again this time," he begins.
"I fish my shaky heads on my dropshot rod, a 7'1, medium Daiwa Tatula Elite," he says.
This is part of their series that features the AGS guides, and he feels like this rod has an excellent action for both shaky heads and a dropshot.
"One key is the reel I use for my shaky heads, a Daiwa Tatula LT 4000. Even with that big of a reel, it is still very light. The reel takes up a lot of line, and that is big when you have fish bite the bait and run right at you," he shares.
Jigs
"We could be flipping laydowns and logs, or if the water is really high, we may even be flipping and pitching park benches," Ehrler laughs. Either way, he thinks jigs are going to be a factor either up shallow or by casting to the five to 15-feet zone.
"If I'm up shallow, I'll be using Ish's 7'6" medium-heavy Flip and Pitch Daiwa Tatula Elite. For casting jigs, I like the 7'1" heavy skipping rod because the tip gives me great accuracy," he says.
For both techniques, he'll pair the rods with the 7.1:1 Daiwa Tatula 100 reel.
Ehrler and 51 other anglers will be vying for the biggest title in bass fishing when the Classic kicks off on March 15th.
Nobody knows how it is going to turn out, but Ehrler hopes his preparation and predictions lead to him claiming the title.