OAKLEY, Calif. – In record-making form, Bub Tosh of Modesto, Calif. claims back-to-back Wild West Bass Trail (WWBT) Pro/Am wins with his victory in this weekend's Duel on the Delta presented by General Tire.
Following his WWBT win last month on Don Pedro, Tosh came to the tidal waters of the California Delta and collected his second victory for the 2018 WWBT season.
"This is a dream come true," said Tosh. "Winning two or three events in a circuit – in the same year – is something I always wanted to do. I've wanted to do it since I was 10-years-old; because, (Dave) Gliebe did it and Dee (Thomas) did it. Now, I've done it. It's just amazing. But, I know it's only because of Day Two."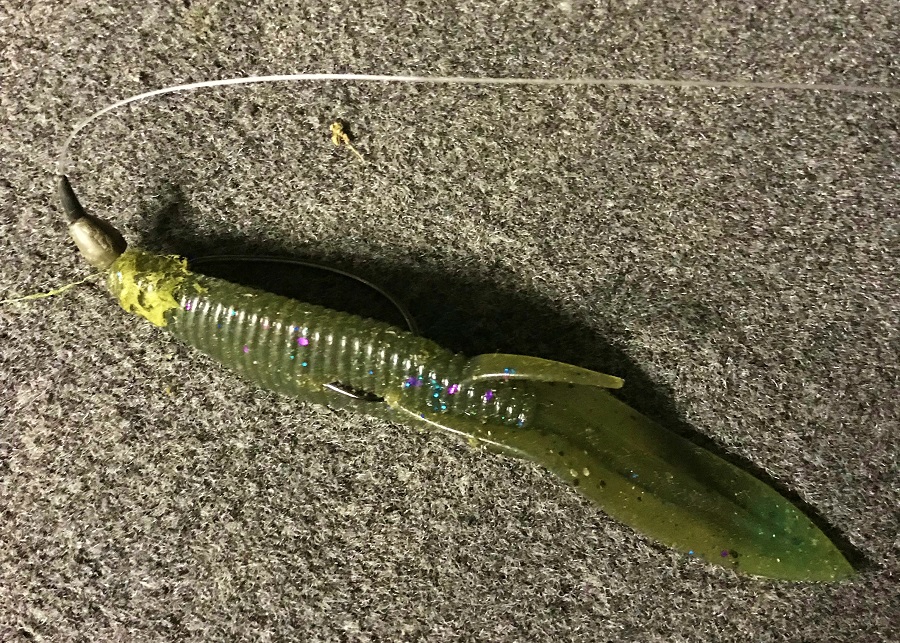 The Day Two that Tosh references was the day that he sacked up an awe-inspiring five-fish limit that went 33.08 and included two nine-pounders. It far exceeded his goal of 20-pounds per day.
"I didn't get more than a couple hours of practice and didn't have much water; so, I planned to fish the same area each day," began Tosh as he recalled the event.
DAY ONE
"Because of that, on the first day – when I was at 20-pounds (my goal) – I left my fish before noon.
"I could see one that was about six. I knew that would cull my four; but I figured it would only put me up about two-pounds and I would make better use of it the next day. So, I saved it and just pre-fished around my area to protect my spot."
That first day of the three-day event, Tosh came in with 21.28, putting him in 4th place, nearly 5-pounds out of top-spot.
He reported his weigh fish came flippin'. Again, like at his Don Pedro victory, Tosh flipped a plastic creature bait that he developed for Yamamoto Custom Baits last year – the Sanshouo.
His described rigging the Sanshouo (in the color Mowed Grass) on a 1/8-ounce bullet weight with 20-pound fluoro and a 4/0 hook.
"The whole key to my flip rig was the real light weight," he revealed. "It just takes forever to fall on that and because it's Yamamoto, it falls stiff. That makes it glide around, the way a Ned rig would.
"I also threw a finesse worm a little bit; but, flippin' the Sanshouo got the better ones."
DAY TWO
Attempting to repeat his first day's success, targeting trees and laydown wood, Tosh returned to his area on Day Two.
"When I got back to my area, my six wasn't there," Tosh said. "I just started flippin' trees. I flipped my Sanshouo into a tree, went to hop it and it was heavy. I set the hook and it was almost an eight-pounder. I went up to the next tree and I got a four-pounder. At that point, I just felt it was going to be a magic day.
"I flipped some more and got a couple more fish. I had a vibrating jig with a Yamamoto trailer on the deck. I turned the corner and there was a little, rock point bend grass line with a scrubby, little tumble weed that had blown in the water and I fired my vibrating jig across the point.
"I was ripping it through the grass and it just stopped. It was the big one. We got him in the livewell and I whipped that vibrating jig out there again, past a long piece of wood. I was bringing it back and it stopped. Another nine. That was it. It was over. It was a magic moment that came and went."
Tosh added the 33-pounds to his weight, rocketing into first place with 54.36. The total gave him nearly a 12-pound lead over his nearest competitor.
DAY THREE
"I went back Day Three and I could NOT make the big ones bite," remarked Tosh. "I tried every trick I had. I threw the vibrating jig around, I threw topwater, I punched a lot. I tried everything. I ended up with a limit at about 11-pounds. I got all those flippin' the Sanshouo rig"
Tosh also revealed that he had "chartruesed the tail of the Sanshouo by Day Three and that his best tide was the low incoming switch.
"The second day was really the only day that I got to fish that tide," he said. "Day One, I had an early weigh-in and the last day, I never got it."
His last day's limit officially came in at 10.71, giving him a tournament total of 65.07. Although, he was challenged to find a good bag on Day Three, his final weight was over seven pounds more than he needed for the win.
Tosh claimed the victory and earnings of $14,830 that included a $1,080 Big Fish award and Yamamoto contingency dollars.
REST OF THE BEST | PRO
2nd 57.70 Nick Nourot earned $7.750, including contingency dollars from P-Line and Lowrance.
3rd 56.95 Bobby Barrack earned $6,000.
4th 53.57 Chris Parks earned $6,080 including a $1,080 Big Fish award.
5th 53.55 Isaac Budesilich earned $5,080 including a $1,080 Big Fish award and Trapper Tackle contingency dollars.
The following contingency payouts for pros were also awarded:
Juan Acosta Ranger Cup (8th)
Jason Letterman Dobyns Rods (10th)
Clayton Eslick Evinrude (11th)
Gregory Troughton Evinrude (17th)
Randy Pierson Big Fish (18th)
Bryant Smith Evinrude (24th)
Tai Au Lucas Oil, SuperClean (25th)
Vijay Maholtra Big Fish (39th)
Mark Gomez Lucas Oil, SuperClean (48th)
Jason Austin SuperClean (58th)
CO CHAMPION
The co-angler victory went to Rodney Brinser with 39.73. For the win, he pocketed $6,250 which included contingency dollars from Dobyns Rods, Trapper Tackle, P-Line and Yamamoto.
REST OF THE BEST | CO
2nd 32.31 Daniel Abella earned $3,640, including Big Fish dollars.
3rd 32.25 Spencer Herrera earned $2,300.
4th 30.18 Travis Williams earned $2,000.
5th 29.46 Brian Eslick earned $2,340, including Big Fish dollars.
The following contingency dollars for co-anglers were also awarded:
Ron Larrabee Big Fish (21st)
The WWBT debuted in 2016. The trail includes a Pro/Am circuit and two Teams circuits – one based in California and the other in Arizona. For 2018, the WWBT also hosted the Surprise Ford Lake Pleasant Team Open.
A special thanks to all of the WWBT sponsors – Evinrude, Dobyns Rods, Gary Yamamoto Custom Baits, General Tire, Lowrance Electronics, Lucas Oil, Protect the Harvest, P-Line, Power-Pole, Ranger Boats, SuperClean, and Trapper Tackle.