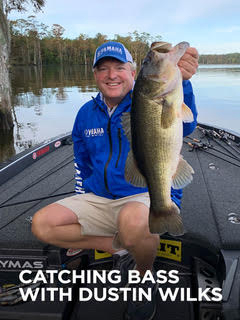 DENVER – Accomplished angler Dustin Wilks loves bass fishing, as shown every week in his series Catching Bass with Dustin Wilks, airing Sundays at 2 p.m. ET on Sportsman Channel.
During the series, Wilks teaches viewers how to find and catch more fish from a variety of locales. Catching Bass with Dustin Wilks is a show that is action-packed and shows viewers numerous techniques for catching bass. His straightforward approach coupled with his whimsical demeanor makes this series the perfect teaching platform for anyone to be successful in bass fishing.
Dustin Wilks' only aspiration growing up was to be a professional angler and he achieved that goal at a very young age. After spending more than a decade competing against the top names in fishing, Wilks decided it was time to give up life on the road and start a family. He believes he has a gift when it comes to fishing, and he wants to share it with others so they can experience the thrill of catching bass.
Watch Catching Bass with Dustin Wilks on Sportsman Channel on Sundays at 2 p.m. ET
About Sportsman Channel: Launched in 2003, Sportsman Channel/Sportsman HD/Sportsman Channel (Canada) - added in 2019 - are television and digital media networks fully devoted to honoring a lifestyle that is celebrated by millions of North Americans. A division of Outdoor Sportsman Group, Sportsman Channel/Sportsman Channel (Canada) delivers entertaining and informative programming that showcases outdoor adventure, hunting and fishing, and illustrates it through unique and authentic storytelling. Sportsman Channel/Sportsman Channel (Canada) embrace the attitude of celebrating the Great Outdoors in equal measure. Stay connected to Sportsman Channel online atthesportsmanchannel.com, Facebook, Twitter and YouTube. #IAmSportsman. #MyOutdoorTV