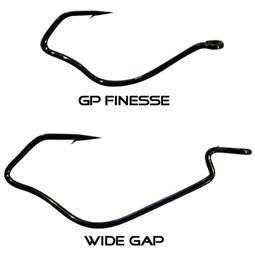 Spearpoint Performance Hooks to Debut at ICAST 2020 Company introduces Patent Pending Hooks Designed to Eliminate Lost Fish
Visalia, Calif. - Spearpoint Performance Hooks, a Visalia, Calif. Based manufacturer, will present two new patent pending fishing hook offerings to the marketplace at Virtual ICAST 2020 in July. The goal of the company is to provide hooks that help anglers capitalize on more of the bites they receive in a day's fishing.
The result is the problem of lost fish being solved.
Founded by fishing partners Art Nubaryan and Erik Hennesay, the genesis of the company came from one of the most frustrating experiences in an angler's life – lost fish. "We were fishing a bass tournament together three years ago and lost two fish within sight of the boat that would have won the event for us," said Nubaryan. "We started talking about it and figured we could come up with something that fixed the problem; Spearpoint Performance Hooks was born."
The pair went to work, forming a partnership, coming up with an initial design and locating manufacturing partners. After three phases of design, and two sample runs, the first two shapes in the Spearpoint Performance Hooks lineup are ready to be unleashed upon fish everywhere.
The initial offerings, The Wide Gap and GP Finesse hooks are designed to impart maximum torque and fish holding power. Both shapes feature Spearpoint's pat. pend VGrip™ technology that helps keep fish securely fastened once the hook is set. As a result, Hennesay said that the VGrip™ works overtime for the angler. "I will tell you this, always have pliers with you; they are hard to get out by hand," he said. "There are many times that the hook penetrates the fish's mouth and turns and penetrates a second time. We call it a 'stapling effect,' because it looks like the fish's mouth has been stapled from the outside, they really hook and hold."
While there are more styles that will launch soon after the initial introduction, Spearpoint will launch their Wide Gap and GP Finesse versions, both in black nickel finishes, at ICAST.
The Wide Gap model features a line tie positioned in line with the hook's needle point to produce maximum power as the point meets the fish's mouth at hookset. Along with VGrip™ in the bend of the hook, the Spearpoint Wide Gap features a baitholder barb near the eye of the hook to help keep soft baits in place during presentations. The Wide Gap version will be available in sizes 2/0 to 5/0, will come six to a pack and will retail for $5.39.
The GP Finesse hook is uniquely designed to be the most effective finesse hook on the market. Engineered to put the eye of the hook in line with the VGrip™ for maximum torque. The GP Finesse hook helps perfectly present finesse soft plastics in Wacky Rig, Drop Shot or Neko Rig presentations, and the premium needle point will deliver the goods every time. The GP Finesse hook will be available in sizes 3 through 2/0, will also come in packs of six, and will retail for $5.19
For more information about Spearpoint Performance Hooks, visit them on their website at http://www.spearpointhooks.com and for dealer inquiries, contact Art Nubaryan at sales@spearpointhooks.com, and for Media inquiries, Erik Hennesay at team@spearpointhooks.com.
About Spearpoint Performance Hooks:
Founded by two fishing partners tired of losing fish, Spearpoint Performance hooks exists to build the ultimate fishing hooks. Designed to perform with the most popular soft plastics lures available today. Built around the pat. pend VGrip™ technology, Spearpoint Performance Hooks will perfectly present lures and provide the most secure connection between hook and fish to bring more fish in the boat. Information about Spearpoint Performance Hooks can be found on their website at http://www.spearpointhooks.com, on Instagram at https://www.instagram.com/spearpoint_hooks/, and on Facebook at https://www.facebook.com/Spearpointhooks/.