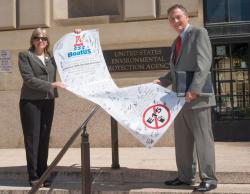 PHOTO: Washington DC – On July 11, Boat Owners Association of The United States (BoatUS) President Margaret Podlich (L) and Government Affairs Manager David Kennedy (R), delivered over 24,000 comments from recreational boaters to EPA Headquarters in Washington DC to urge the agency to stop adding more ethanol to the nation's gasoline supply. BoatUS had asked the boating public to add their voice to a proposal to increase the amount of ethanol that must be blended into the nation's gasoline supply for 2017. If adopted, these proposed levels will require the use of a record amount of ethanol, forcing higher-level ethanol fuel blends (including E15 or 15% ethanol) into gas pumps and at more gas stations.

"A sticker on the pump mixed in with all the other labels may be the only warning for E15 gasoline," said Podlich. Most marine engines are built to only work with up to 10% ethanol, and it is illegal to use gas containing more than 10% ethanol in any marine engine. The national boating advocacy, services and safety group has voiced its concern for the significant potential for misfueling, putting boaters at risk by using fuel that will damage their engines.


About Boat Owners Association of The United States (BoatUS):
Celebrating 50 years in 2016, BoatUS is the nation's largest organization of recreational boaters with over a half million members. We are the boat owners' voice on Capitol Hill and fight for their rights. We help ensure a roadside breakdown doesn't end a boating or fishing trip before it begins, and on the water, we bring boaters safely back to the launch ramp or dock when their boat won't, day or night. The BoatUS Insurance Program gives boat owners the specialized coverage and superior service they need, and we help keep boaters safe and our waters clean with assistance from the non-profit BoatUS Foundation for Boating Safety and Clean Water. BoatUS is a member of the Smarter Fuel Future.