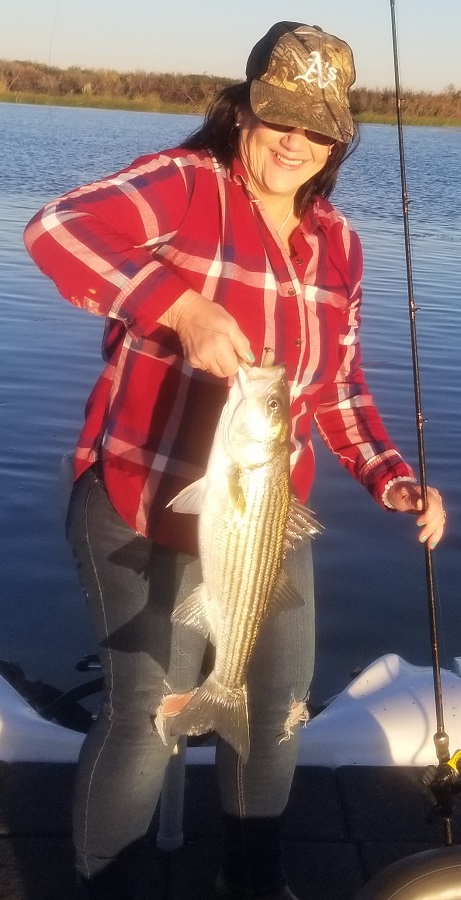 Delta Report…. Bait fishing Stripers Sturgeon Solid
Hook Line and Sinker Tourney upcoming December 17th out of Bethel Islands Russo's Marina. Should be the nicest run of Weather we could have for the next couple of weekends, promises to be awesome as the bite is tougher but solid
Isleton Fishing Report
Salmon winds downs and striper sturgeon takes off. Salmon anglers seeing very few fish most anglers have changed their focus. Spinners lead the way for the last salmon of the season. Cooling water have slowed the stripers in the Cache Slough area. Spoons and hair Jigs have become favorite tools of lure tossers in the area.
Walnut Grove Fishing Report
Bass anglers try some smallie fishing, crankbaits and brown blue jigs and getting the Smallmouth. Bite is Slow for the trolling anglers, but stripers cracking the 10 pound plus keeps anglers hopes up. Savage Prey series and Angry Eyes are the top choices here as well, there seems to bit more call for chartreuse patterns here. Bank anglers tossing shad and eel prevail for an occasional Sturgeon or Striper those looking for bank angling fun.
Discovery Bay Fishing Report
A-rigs have started to take off for both Stripers and Black bass in the area. Anglers are rigging with Strike King Rage Swimmers or Similar baits for Black Bass. Stripers anglers rigging heavier baits like Bubba Shad or even Hair Jigs. Crappie have made cameo appearances but not quite going strong yet
Frank's Tract Fishing Report
Stripers and bass bite both OK but ya gotta Slow down with the cold temperatures. It's no secret what a little fall weather can do. Strike King Ripbaits are great options while small swim baits and swim jigs get the mention as well. We found plenty of Stripers and Black Bass with Hair Jigs, Swim Baits, like the Bad Bubba shad getting grabbed. Lot of Stripers in main River and Mildred areas.
West Delta Fishing Report
Sturgeon Leads the spotlight. Eel is the best bait over all, but roe and shad also scoring diamondbacks Broad slough and surrounding cuts. There were many shaker sturgeon reports in double power lines in Decker Island and Sherman Island. There were few shaker sturgeons also reports from Light 42 to Light 49 in the deep channel Most of the nice stripers coming soaking Shad, anchovies and sardines along Sherman Island rd for bank anglers…
Provided by Dan's Delta Outdoors, 1625 Main St Oakley CA 925/234-4694 Follow us on Facebook