The recent Bassmaster Elite Series event on Toledo Bend was one that both the pros and fans looked forward to when it was announced on the schedule. The lake's reputation for giant bass and fact it had been fishing excellent over the past few years promised an event with big weights.
Connecticut's Paul Mueller was able to finish in fifth place, averaging over 20-lbs per day, by using two very different techniques: giant crankbaits and dropshotting.
Deep Cranking Pattern for Catching Bass
If you have ever fished a deep crankbait like a Strike King 10XD, you know that it is a lot of work. These heavy baits dive deep and test your equipment and stamina.
Mueller fished it quickly in water that was 18- to 23-ft deep and also used a 6XD in water that was 15- to 18-ft deep. These big crankbaits accounted for nearly all of his big bass during the event.
His approach to cranking was to burn it very fast to get it to the bottom and then make contact with the bottom and any structure in the area. "As soon as it hit something, that's when I would pause it," said the Elite Series pro. "When the water is warm, like it was (72- to 77-degrees), I find that they like it when you reel really fast."
Mueller credits a new rod he has been developing that allows him to fish the crankbaits effectively and not wear him out. "I fished these every day of the event and the three days of practice; so for seven days straight, I was cranking really fast with these huge plugs. The new Dobyns Champion Paul Mueller Signature Series 805CB Glass rod was perfect for these crankbaits and what it was designed for," he said and added that it will be available later this year.
The rod is an 8-ft model and made of fiberglass, both of which he prefers for big crankbaits. "The 8-ft length was key to get those very long casts. Crankbait fishing is all about getting very long casts, so you can keep your bait in the zone longer," he said.
Mueller feels that the glass rod helps to keep him from getting fatigued and also to counterbalance the resistance from lures like the 6XD and 10XD.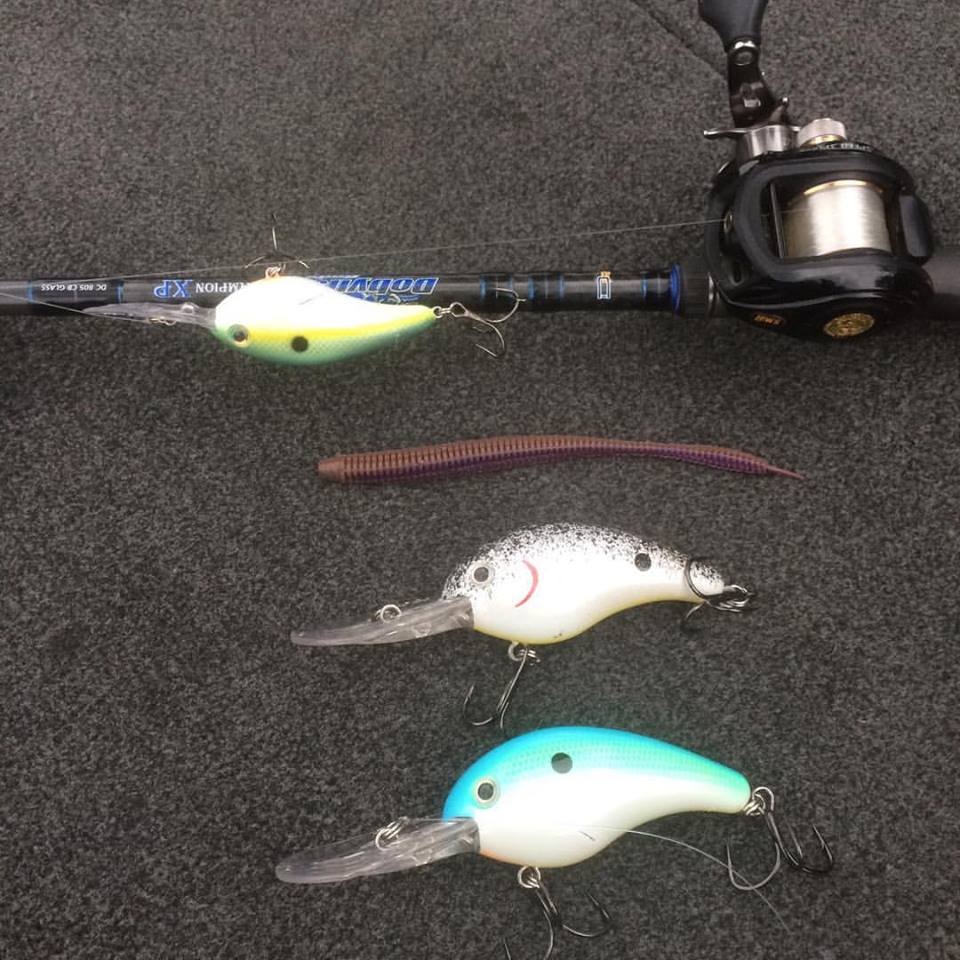 To round out his setup, he used a Lew's BB1 Pro casting reel in the 5:1 ratio with 14-lb Gamma Edge fluorocarbon line for the 10XD and 12-pound for his 6XD.
Dropshot Pattern for Deep Bass
Mueller's deep-cranking pattern was strictly a morning bite and he had to find a way to round out his limit each day. He targeted stumps and shallow trees and relied on a dropshot to catch the weary post-spawn bass.
"There were fish suspending in the deeper water on the big standing timber, but they were suspended too high up to fish for effectively," he said. "I had to find those areas in 15- to 22-ft of water where the small trees and stumps only came up 4- to 5-ft."
His dropshot gear a 7', medium-heavy Dobyns Champion spinning rod with a Team Lew's Pro Speed Spin 3000 reel. He spooled it with 15-lb Gamma Torque braided with a 10-lb Gamma Edge fluorocarbon leader.
He also upsized his terminal tackle and bait for the big Toledo Bend Bass. A 4/0 Gamakatsu worm hook, 3/8-oz dropshot weight and 7" Reins Bubbling Shaker in Margarita Mutilator was his setup for the tournament.
Because of the cover he was fishing and size of the bass in the lake, he didn't opt for his usual dropshot setup. "I was using a much stiffer rod than normal, but I had to in order to make sure I landed the fish. They were big and mean," he recalled.
The bites were subtle and he was forced to fish very slow and drop the bait behind the boat and drag into what he saw on his sonar.
"I had two rods setup with different leader lengths, one about 12-inches and one between 24- to 36-inches. When I saw where the fish were suspended up on the logs, I would grab one of the rods based on how they were sitting," he added.
As he would drag the bait back through what he saw on the screen, he would slowly shake it in place. "They were really finicky and the rod would just load up when they got it," he added.
He found his areas and how far the fish were suspended with the help of Garmin Panoptix sonar.
The post-spawn period at Toledo Bend had the fish in transition and anglers did well both shallow and deep. Paul Mueller was able to dial into a pattern for fish moving closer to their summer pattern and was able to finish the tournament in 5th place by deep cranking and using a dropshot.