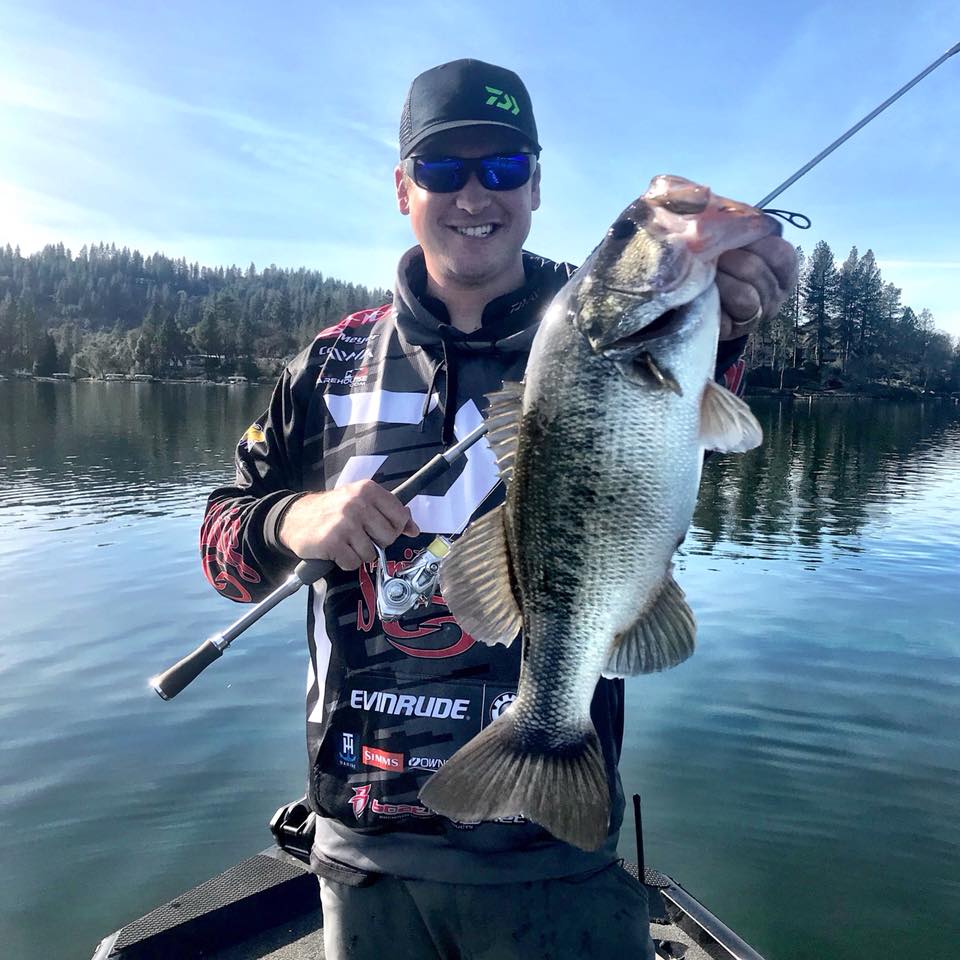 Few professional anglers have the reputation for finesse fishing like California's Cody Meyer. He can do it all but seems to really excel when he is in his element with a spinning rod in hand. There are two setups that he uses that can cover just about all of his finesse needs and he shares what they are and how he utilizes them to catch bass with light line.
Reel Selection
Daiwa released a new spinning reel at ICAST 2017 and it is what Cody will be fishing all year long. The Tatula LT retails for $189 and it is what Cody will be fishing even though the company offers reels that cost two and three times as much. "It is a really advanced reel at any price and when you consider the price it is amazing. The Tatula LT has all of the features I look for in a spinning reel," he says.
"When choosing a reel there are two things that I always look for. How light is it and how good is the drag?" says Meyer. "The Tatula LT is really, really light because of the Zaion housing and the drag is excellent."
This material Daiwa is now using is part of their LT reels, which stands for light and tough.
"Many companies are using some type of carbon for their reels to decrease their weight and they are pretty light with that material, but Zaion is lighter and a stronger material. This gives you light reel and you don't get the flexing feeling because it is much more sturdy," says Meyer.
What Size?
"I never thought I would ever use a 3000 size reel. I've always been a 2500 guy, but the new Tatula LT has a smaller frame so you can go up a size to the 3000," says Meyer.
"Having a reel that is a little bigger gives you a wider spool and the line comes off of it much better and it also casts a little further. Since it is so light it is the same weight and size as most 2500 size reels."
Line Pickup
Much is made of reel gear ratios for baitcast reels, but when it comes to spinning reels there often is much of a choice when it comes to retrieve speed or line pickup per handle turn.
"Most all spinning reels have slower retrieves and pick up 20" or so. Daiwa asked us what we wanted and we all wanted faster spinning reels that pick up more line," says Meyer.
"The Tatula LT has a 6.2:1 gear ratio and picks up at least 30" per turn (the 3000 size is rated to have a 36.8" of line per handle turn) and this is huge when you are fighting a fish and need to get line in quickly. For years really had to wind spinning reels up like a top to catch up to fish."
Finesse Rod Selection
The Daiwa Tatula Elite series of rods were designed by the Daiwa pros and are built exactly to their specifications, so it is no surprise that Meyer most often relies on his two signature series rods. One is a 7' medium-light and the other is a 7'4" medium. Each of them has specific uses for Meyer.
7' Medium Light
This rod was built for light line finesse techniques like dropshot, darter head, and light Neko rigs.
"I use this anytime I am using braid with a four, six or eight-pound fluorocarbon leader. It has a real soft tip but has a decent backbone for fighting fish," says Meyer. It is rated for four to 10-pound line and 1/16- to 3/8-ounce weights.
7'4" Medium
This rod is part of the AGS line, which stands for Air Guide System. It costs more than the standard Tatula Elite rods but features carbon fiber guides that make is 20-40% lighter than standard guides.
"This is a really versatile rod. I use it for shaky heads, tubes, wacky rigs, Neko rigs and heavier dropshot rigs. When you are fishing a dropshot with a heavier weight in current or around grass it is perfect," he adds. The rod is rated for six to 14-pound line and 3/16- to ½-ounce weights.
The 7'4" length is a little longer than many spinning rods on the market and that was by design. "The extra length really helps give you more control over fish, especially when fishing deep water. You also get longer casts," says Meyer.
Finesse fishing is best with lightweight gear that is capable of both handling light presentations but strong enough to land big fish. Cody Meyer is one of the best in the business with this style of fishing and he can cover almost all of his bases with two rods and the new Daiwa Tatula LT spinning reels.