Photo: Courtesy of Jordan Lee FB
Winter is a time when humans slow down, try to stay warm and or course eat. Bass are no different according to Bassmaster Classic champion Jordan Lee. His approach to winter fishing relies heavily on using his Lowrance electronics to locate bass, baitfish and likely fishing areas.
Hard to Beat 2D Sonar
With so many great technologies built into today's electronics, Lee finds that the standard tried-and-true 2D sonar is still one of the best ways to find and catch bass.
"It gives you a great reading and you can easily tell how big the fish are and if they are feeding. You can see those streaks up and down if they are active and eating baitfish," he shares.
"This time of year, the fish are going to be deeper, for the most part, more grouped up and I spend more time fishing vertically under the boat than I do in other seasons," he says. "That's why electronics are so important this time of year."
His affinity for 2D when the water is cold does not mean he neglects his StructureScan and DownScan.
"The StructureScan is still vital for finding things like brush piles that can be great when the water is cold," he says. "DownScan is also great to give you another look at what is beneath the boat."
Cold Water Baitfish
As mentioned by Lee and countless articles on winter fishing, finding baitfish is one of the most important things this time of year. So, how do you find them? Lee prefers to use his electronics and mapping software to find likely spots for cold-water baitfish.
"I have found that baitfish seem to congregate to the deeper holes. It could be a deep pocket, drain or ditch, just something that is in a little deeper water," he says. The bass will be as deep as the baitfish are and a good depth range for Lee is 25- to 35-feet of water in the winter.
To replicate a good depth range, Lee pays close attention to how deep he is fishing when he catches a bass.
"I always make a note of where the first bite comes from. If I catch one, I'll also scroll back on my sonar screen and mark the exact spot with a waypoint so I can start to look for more areas like that or to stay in that same depth range," he shares.
Finding these deeper areas can be as simple as looking at a map or looking at the shoreline for clues.
"It can be right near the bank if it is steep. I'll look up and see how the land looks on the shore and that can give you an idea where the deeper pockets will be," he says. "I'll also pay close attention to the contour lines on my map and look for the steeper areas and holes, the places where the lines are really close together."
Suspending Largemouth, Smallmouth and Spotted Bass
Winter is also a time when bass suspend more often and that makes electronics vital to determine how deep they are, how active they are and also for tricking them to bite. This is especially true with smallmouth and spotted bass, but Lee says it can also be the case with largemouth.
"It depends on the lake and whether or not the largemouth suspend because generally, they would still like to be around some sort of cover like wood or rocks, but they can definitely be suspending if there are baitfish present."
Finding suspended bass can be done by idling in search of them or by using 2D sonar on the front of the boat
"I am often looking for fish while I am up front fishing. I'm looking for balls of baitfish and then individual or groups of bass underneath them," he says. "Sometimes you may just see one fish under the ball of baitfish, but as you fish around more you will start to see more and more. The bass are going to be grouped up and finding baitfish is still the most important thing."
Lowrance Settings Adjustments for Cold Water
With as much as Lee depends on his Lowrance units when the water is cold, you would think he has all of the settings adjusted and tweaked to his liking. That is not the case and he says, for the most part, he uses them just as they are when they come out of the box.
"It really is a testament to how good these new Lowrance HDS Carbon units are. They are ready to go when you buy them," he says.
While some of it may be personal preference, the only modification he makes is to the sensitivity setting.
"Normally I keep it at the default setting; but will increase it some if the water is really clear," he says.
Jordan Lee's approach to winter bass fishing can be simplified down to the importance of locating baitfish as the bass will be close by. Doing this requires paying close attention to his electronics and watching for clues for depth and he sees on his Lowrance units.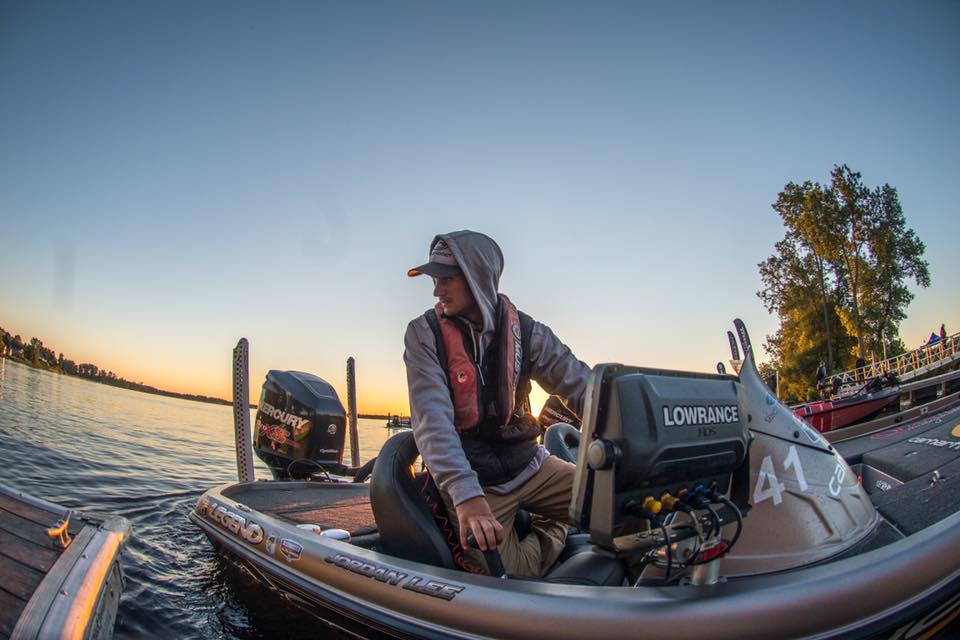 Photo: Garrick Dixon