The Optimum Baits brands had a big year in terms of new releases. They will have several new baits available soon that should excite bass anglers everywhere. The collection of brands unveiled several new swimbaits, hard baits, soft plastics and more at ICAST 2016.
Optimum
Probably the biggest release for these brands was the swimbaits they added to the Optimum lineup. The Boom Boom swimbait and Butch Brown Thumper Tail were teased prior to ICAST and social media was buzzing.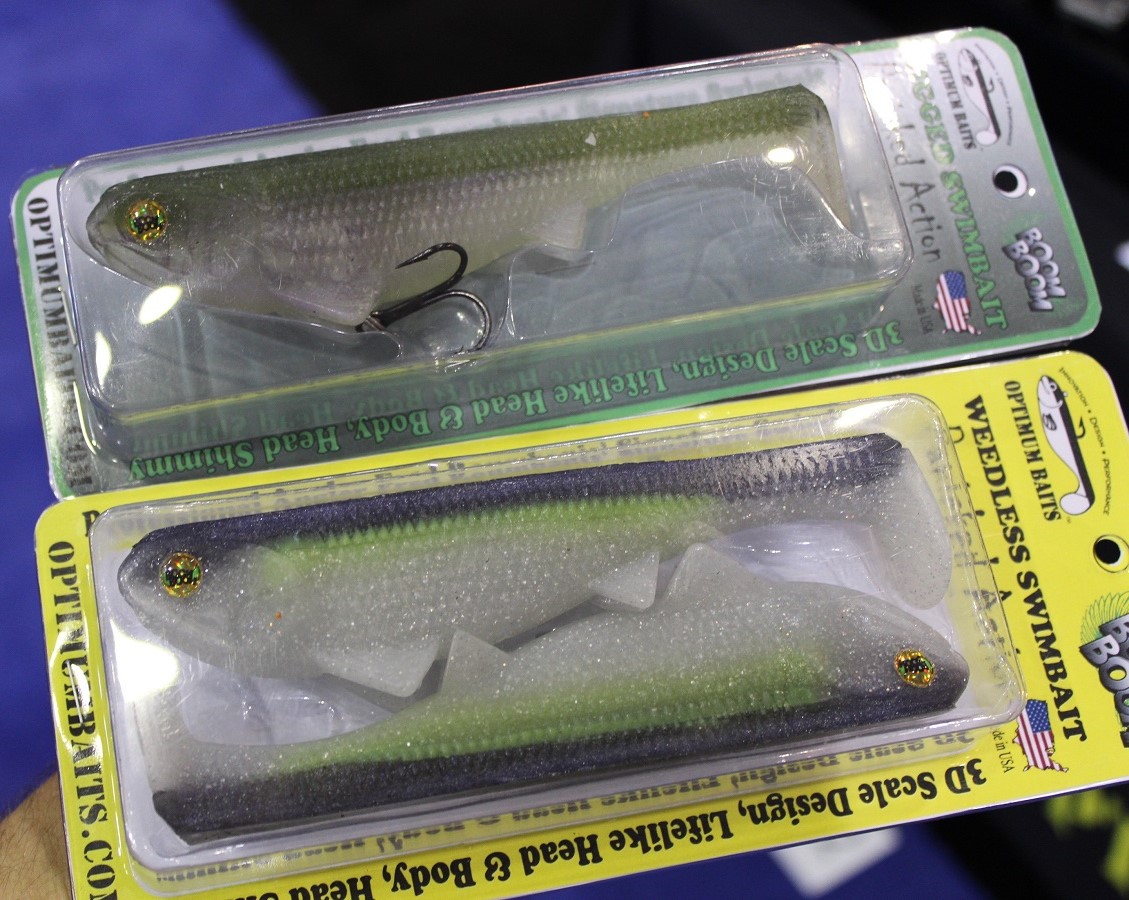 The Boom Boom swimbaits, designed by Fred Roumbanis, are sure to be excellent baits. It comes in both a weedless and weighted, line-through design. They will retail for $9.99 for the weedless version and $10.99 for the weighted version. The weedless version weighs 1.4-oz and the rigged version with internal harness comes in at 1.8-oz. The weedless version comes two per pack and will be available in 15 colors, while the weighted version will be sold solo and come in 12 different colors.

The Butch Brown Thumper Tail should get trophy hunters excited. In those circles, he needs no introduction. His new bait is 4.8-oz and comes with a size 1 treble hook top-mounted with crimped fishing wire. It is weighted with an internal harness and is slated for a fall release.
Reins
The news for Reins is more sizes and colors of their popular existing baits and terminal tackle.
10-inch Bubbling Shaker
The popular Reins Bubbling Shaker soft plastic got even bigger. There is now a 10-inch version of this versatile soft bait. It is sure to be a big hit for trophy-hunters, ledge fisherman and those looking to upsize their finesse game. It will also work for jumbo Neko rigs for those strictly looking for big ones.
New Sizes and Colors
These Fat Rock Vibe Shad swimbaits will now be available in a 3.25-inch size. Bassmaster Elite Series pro and Reins pro staffer now has his own color, Mueller's Madness, a two-tone color that will imitate bluegill, perch, or gobies. The Reins Tungsten Slip Sinker is now available in 5/8-oz.
IMA
There are several new baits in the IMA lineup. They added more colors and some completely new designs.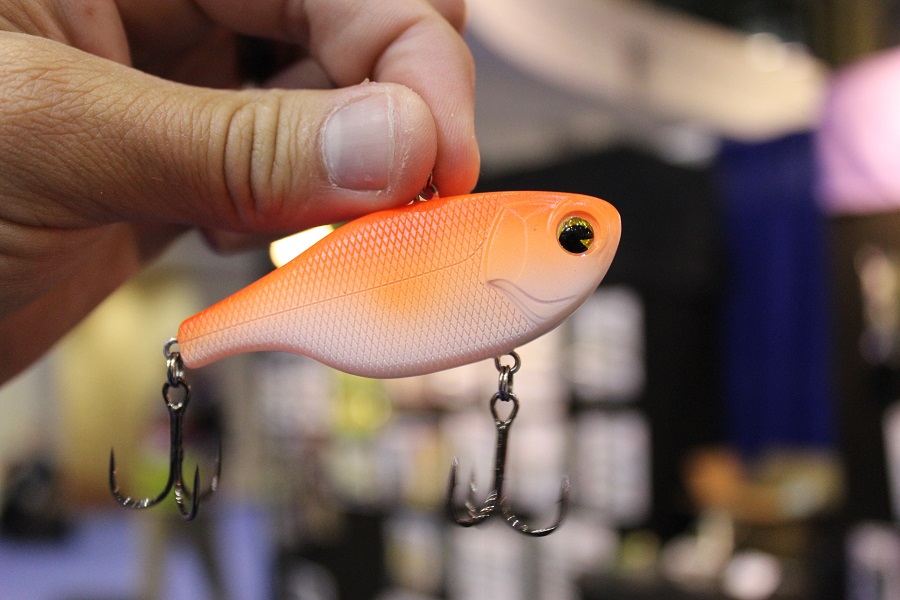 Suspending Vibration Bait
You read that right. This lipless crankbait looks and acts like any other bait like it, except it will suspend. It has a lighter feel and weighs 3/8-oz for bait about the size as your typical ½-oz. model. If you are familiar with the Rock N Vibe from them, it is a slightly larger profile. The great thing about this bait is that you can fish it much differently than others and it will make a great tool for fishing just above deep weedlines.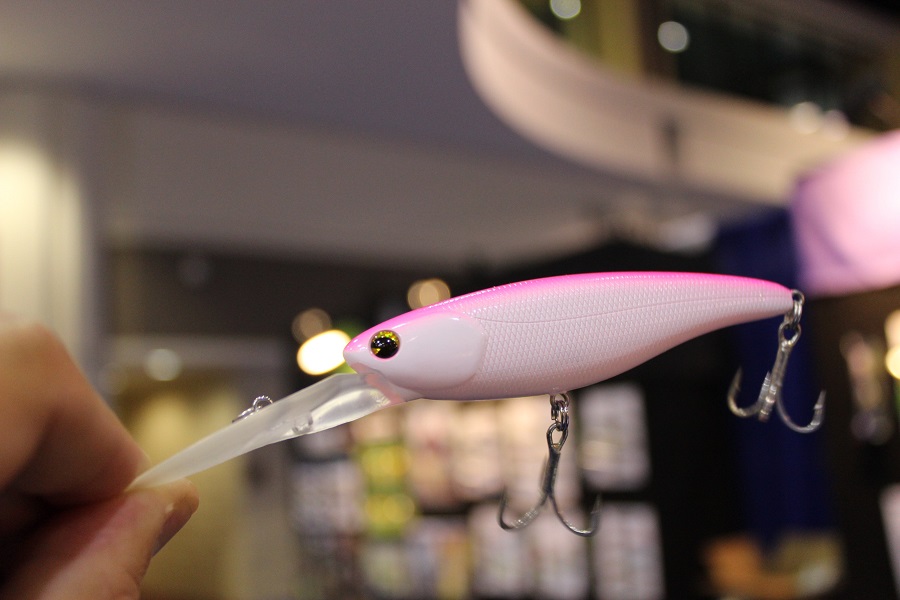 Deep Fry
The IMA Deep Fry is a shad profile bait that will dive between 12- and 15-feet. It weighs 5/8-oz and is a 95mm bait.
Finesse Popper and Hard Fluke Swimbait
The new finesse popper is 65mm and 3/8-oz. The Michael Murphy Signature Hard Fluke Swimbait is a jointed bait that weighs 2.8 ounces and comes in at 178mm.
New Colors
Among the new colors added were Real Ghost Shad, Green Perch, Brown Flash, Gold Flash and Sexy Pearl Shad. These colors now included in the Core line of bait that retails for $9.99.
AA's
The new additions for AA's include a smaller thee inch size of their Bad Bubba Shad swimbaits. They come six per pack, are available in 51 colors and retail for $3.75 per pack.
The jigheads meant for the AA's swimbaits, the Sakana is now available in a bigger size for their larger sizes of swimbaits. The 1.25-oz size comes with a stout 8/0 hook and will retail for $6.50 for a pack of two.
Deps
The Deps swimbait brand has several new sizes and some swimbaits that will now be available in the U.S. The new giant bass imitator is called Code Name Bass, a giant glide bait that is looks as realistic as you will find.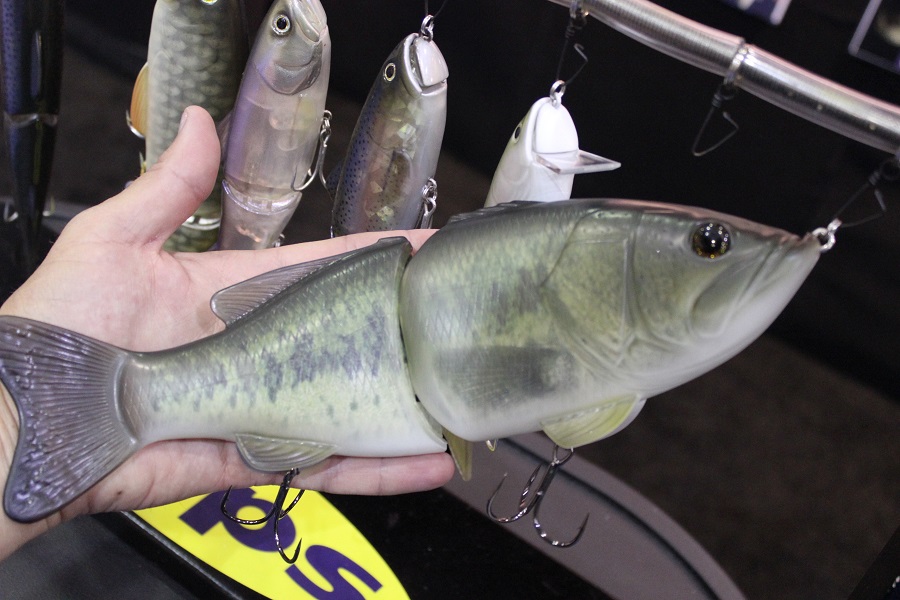 Other new items are the Hasu Type Big Bait, Slide Swimmer 145, Floating Slide Swimmer 175 & 250, Sinking Silent Killer 175 & 250 and Floating Bull Shooter 160.
Madness Japan
This is another brand available through Optimum and the Balam 300 swimbait is going to be perfect for giant bass. It is 12-inches long (300mm), weighs 6.5-oz and is made with ABS plastic with a silicon tail. This bait was designed by Satan Shimada, the previous Japanese largemouth bass record holder. It has an excellent action underwater and is able to be fished slowly or with high speed retrieves.