Earlier this year Lowrance released a software update that enhances the Elite Ti, HDS Carbon and HDS Gen3. Usually, software updates are not flashy or groundbreaking. They generally help the unit run better, but this one was different. Included in the new software was something very exciting, FishReveal smart target viewing.
What is FishReveal?
The new Lowrance FishReveal basically combines the traditional 2D sonar picture with StructureScan and DownScan. It makes it easier to identify targets and get a better picture of what is below. In a nutshell, it is an enhancement to the image on your screen.
"FishReveal is a way for me to brighten up, clarify and identify fish a little better than traditional StructureScan and DownScan images," says professional angler Michael Iaconelli. "It is the technology of 2D, where a fish is shown as an arch, but it shows it in better clarity in your image."
This improved clarity and target separation help to better understand what is shown on your Lowrance screen.
How to Capitalize on FishReveal
Beyond the ability to see things more clearly, Iaconelli has found that it also helps him get a better understanding of what is below the boat and whether they are bass or not. It can be easy to see that fish are on your screen, but many anglers spend time fishing for fish other than the desired target.
"On standard sonar, you can tell what fish are, but you may be fishing above a school of 10" crappie. FishReveal makes it that much easier to see if they are small fish or a school of five-pound bass," he believes.
Easier to Read, Even for the Pros
Iaconelli spends much more time looking at his Lowrance units than the average angler, but he still appreciates the ability to see things better with the help of FishReveal.
"I spend hundreds of hours each year looking at my Lowrance units and can tell when I see the white spots and know that they are fish. FishReveal helps me to determine where bass are even in those difficult situations where they are mixed in with baitfish, hovering over a tree or submerged grass. It can be tough to identify bass, and this makes it easier to know for sure," says Iaconelli.
Using FishReveal
The great thing about this update is that it is just an enhancement to existing technology and does not require any additional knowledge. Those who are used to relying on StructureScan and DownScan to locate bass and structure now have a clearer picture of what they see on the screen.
The software update allows for better target separation by enhancing strong signals and minimizing weaker ones. The result is a much better view of what is below and to the side of the transducer.
Enhanced Color Schemes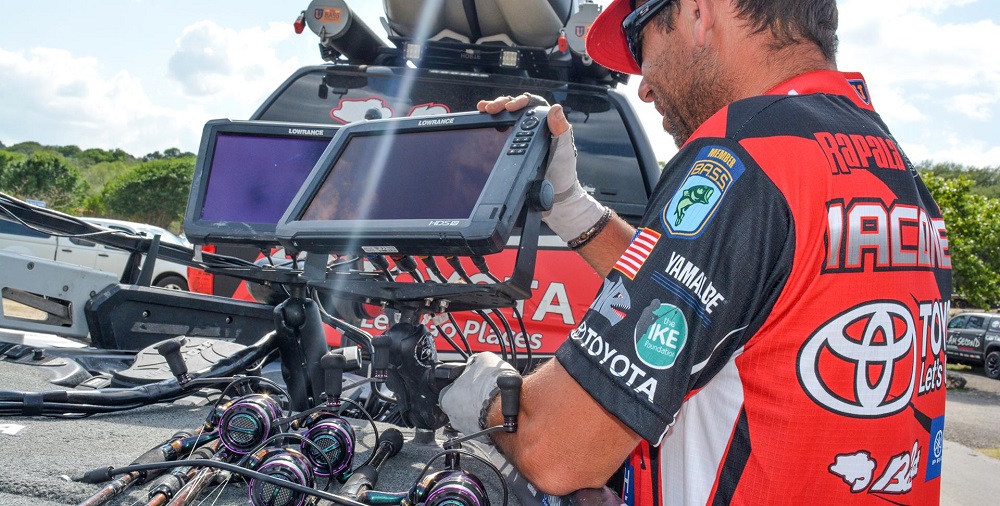 The software update was massive for Lowrance, and it included many features and tweaks to allow the units to perform better and also make it easier to for the user to view. Multiple new color schemes and palettes were added to this software update.
For the HDS Carbon, they added nine high-visibility colors for better contrast and improved detail. For FishReveal, the color scheme allows for better image quality that is nearly the same as a photo. For StructureScan 3D, they made the colors brighter and more intense and that also helps to enhance the image.
Mapping Also Included in Software Update
Another upgrade in this software update was improved mapping, and it helps both the readability and performance of the charts loaded into Lowrance units.
Automatic routing is the wave of the future for mapping and this update added both C-MAP Easy Routing and Navionics Dock-to-Dock Autorouting. Both of these allow users to plot the safest and fastest course and to avoid navigational hazards.
The C-Map navigation has an all-new navigation palette. They improved the color scheme to make it easier to read and make it easier to determine where the boat is in regards to ledges, drop-offs, and more.
Get the Software Update
The software update can be found by clicking the Help and Support tab at lowrance.com. From there, users can load it to an SD card and insert into your Lowrance unit to begin the process.
Software updates are commonplace for all of our technologies, and marine electronics are no different.
The addition of FishReveal is something that anglers are already using to get a better understanding of the world beneath their boat. Even for experienced professional anglers like Mike Iaconelli, the improved picture and clarity mean finding more fish.