Double G's Shasta Lake Preview
It's a new year, and that means Lake Shasta will be hosting several big tournaments early in the year like it does every year. One angler who has had success on this popular tournament lake is Greg Gutierrez, and he will be among the many anglers fishing the Wild West Bass Trail (WWBT) team and pro/am events in the coming weeks. Always willing to help anglers catch more fish, Greg shared his approach for finding fish quickly on Shasta this time of year.
Current Conditions
While he has not been on the water recently due to the off-limits period, he says the fishing has been relatively tough over the past several weeks, and he pointed to a recent team event that took less than 14-pounds to win.
"Some great anglers were fishing it and two in the boat going for that limit and the weights show that those big ones are hard to find right now," he says.
There have been several recent storms and rain, and Gutierrez says that could mean good things are coming for WWBT anglers fishing Shasta. "Whenever the water is cold, and you get warm rain inflows with muddy water, it can turn on the big ones," he says.
Find the Bait
Bass are always going to near baitfish, and Gutierrez turns his Lowrance units on the moment he launches on Shasta to start looking for bait and how deep they are. This gives him a significant clue to how the day is going to go.
"I fire them up right away and start looking at DownScan and 2D sonar to see how deep the baitfish are. I can then focus on that depth range and adjust my techniques and lures," says Gutierrez
Top to Bottom
If the fish are in the top 10-feet of the water column, he will pick up the glide bait.
"It could be in 50-feet of water, but if they are up near the surface I will start by throwing the Duo Realis Onimasu," he adds."I also like jerkbaits and spinnerbaits. If the water is muddy, I like a spinnerbait, and with the single hook I feel like I can land more of them."
If he notices activity in 10 to 20-feet of water, he'll use a heavier spinnerbait or a small swimbait on a football head.
"I like smaller blades on a ¾ or 1-ounce spinnerbait so I can get it down deep quickly. I'll also throw a 3.5" Sierra Slammer swimbait on a 3/8 or ½ ounce football head, and it is a great way to make three or four casts on a point and cover the whole thing and then move on to the next one."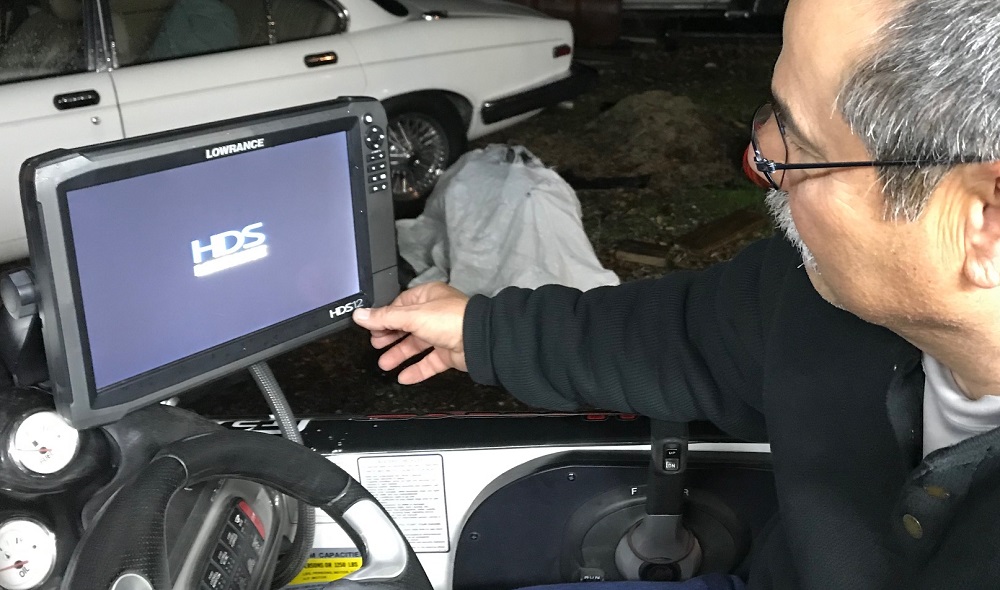 For deeper fish of whenever he sees a fish directly under the boat on his Lowrance units, he likes a Frenzy Nail, a football jig, or a Frenzy Wack-a-Sack. He chooses which one depending on how far off of the bottom the fish are positioned and says the Wack-a-Sack gets the nod for fish up off the bottom.
"It is very effective for suspended fish. If they are pinned to the bottom, you can drag a football head jig or fish the Nail and catch them."
He's always keeping an eye on his electronics and looking for fish that are directly under the boat.
"This is where Lowrance 2D sonar comes into play because it makes it so easy to see the arch and how big the fish is. I also feel like you can see your bait dropping and how the fish react to it better with 2D," he says.
Scan Quickly
This time of year, Gutierrez is on the hunt for bass and baitfish, and he moves quickly until he finds it.
"I like to use my StructureScan and go into pockets and drains and look out 100-feet to each side. You can see the entire thing very quickly, and if I see a fish I mark the waypoint and come back and make a cast right to where they are sitting," he says.
He's also looking carefully at the bottom composition and says DownScan is the best way to do it.
"You can get a great visual of the bottom, and it will show you if they are small rocks or basketball sized rocks, and then once you catch one on one size of rock, you can look for more of that. It is a night and day difference between 2D sonar and you are at a disadvantage without it," he believes.
Few anglers can match Double G's Lake Shasta success, and in the winter months, he says it is all about the bait. Utilizing his electronics, he can get a good idea of how the day is going to go from the moment he launches his boat just by narrowing down the depth range based on the activity he sees on his graph.
WATCH RELATED: Anything You Can Do On Your Phone, You Can Do On Your Lowrance Live. Here's how. QUICK VID