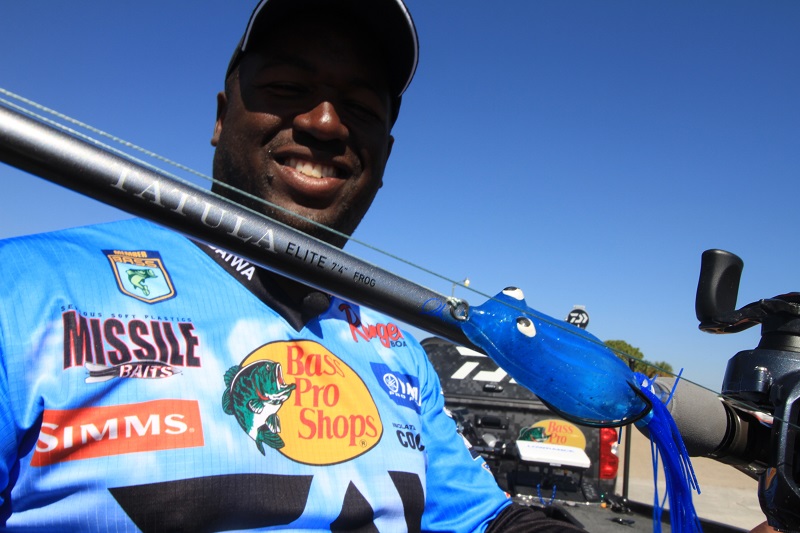 Photo: Ricky Bodsford
Years ago "Team Daiwa" was one of the most well-known pro-staffs in all of fishing. It featured top pros and a line of signature series of products they designed. Fast-forward to today and Daiwa again has one of the best teams in the world of bass fishing. They are also gearing up to release a new line of rods designed by these pros and are each rod is exactly what they wanted.
The Tatula Elite Rods
The new Tatula Elite rods are all built to the exact specifications of their pros and not just a rod with their name attached. "Daiwa asked each of us what we wanted in a rod, Not just the action, but everything from guides, guide placement, handle length, rod length and more," begins Brent Ehrler who himself has five rods in the lineup. "They are all based on techniques that we consider our specialties."
The process to get it exactly to their specifications took some time to make sure everything was perfect. "We told them what we wanted and they sent samples. We did this back and forth until it was exactly right," says Ehrler.
Ish Monroe also has rods in the lineup and agrees that the process and final decision was all left up to him. "These are everything we wanted from the guides and actions down to the sensitivity we wanted."
Bassmaster Classic Application
Ehrler has five different rods in the lineup and feels that any of them could play in this year's Classic. Monore, another Classic contender, says he plans to use several of his own signature rods as well as Ehrler's cranking rod. All of the Daiwa pro-staff is using rods from the other members based on the technique they need. "At Okeechobee, I was using Ish's rod because that's how I was fishing," says Ehrler.
Ehrler's line includes a variety of different technique specific rod. Here he explains each of them and how he plans to use them.
7'3" MH Multi-Purpose Baitcast Rod
Like the name implies, this rod can just about do it all. "It has a fast action and softer tip. It will be great for pitching, sight-fishing and using a Senko."
7'4" Bladed Jig/Cranking Rod
This fiberglass rod excels for moving baits. "It's great for bladed jigs but was also designed to handle square bills like the Lucky Craft 1.5 and 2.5."
This big cranking rod will handle the magnum crankbaits that continue to gain in popularity. "If the fish are deep at Conroe, I'll be able to use this rod for all of my deep-diving crankbaits."
A great all around spinning rod, Ehrler says you can use a shaky head or drop-shot on the same rod and this is the one. "I prefer the medium action instead of a lighter rod for my finesse techniques. I feel I get a better hookset and land more fish with a medium."
This lighter baitcast rod was designed for finesse fishing on baitcast gear. "You can drop-shot with it but it is also great for fishing a weightless Senko when you don't want to use spinning gear."
Ish Monroe Signature Daiwa Elite Rods
Ish Monroe is well known for his prowess with a frog as well as heavy cover flipping and punching, so it makes sense that his rods are built for those power-fishing techniques.
"There is an 8' flipping stick, a 7'6" flipping stick and two frog rods, a 7'4" and 7'9". I can see the smaller frog rod coming into play at the upcoming Bassmaster Classic if I am throwing a soft plastic frog like a Horny Toad or using a swimjig even," adds Monroe who also feels the flipping rods could come into play. "If I get into a bed fishing situation the 7'6" or 8' rods might be what I need for a big fish."
Other Rods in the Lineup
In addition to Monroe and Ehrler, Andy Montgomery, Randy Howell, Seth Feider and Cody Meyer also have rods with their names on them. The same process was followed and the rods are exactly what they wanted for the techniques they are best known for.
Cody Meyer also has a drop-shot rod in the lineup and Ehrler says it is a lighter version of what he wanted and is rated Medium Light instead of Ehrler's Medium. Seth Feider has a jerkbait and finesse hair jig rod that will be released. Andy Montgomery, widely known as the best pro at skipping jigs under docks has a rod he chose specifically for that technique.
Bassmaster Classic Release
The rods will be released at the upcoming Bassmaster Classic in Houston and anglers will be able to purchase them shortly after. "Many retailers like Tackle Warehouse will have them ready to pre-order right around the Classic," says Ehrler.