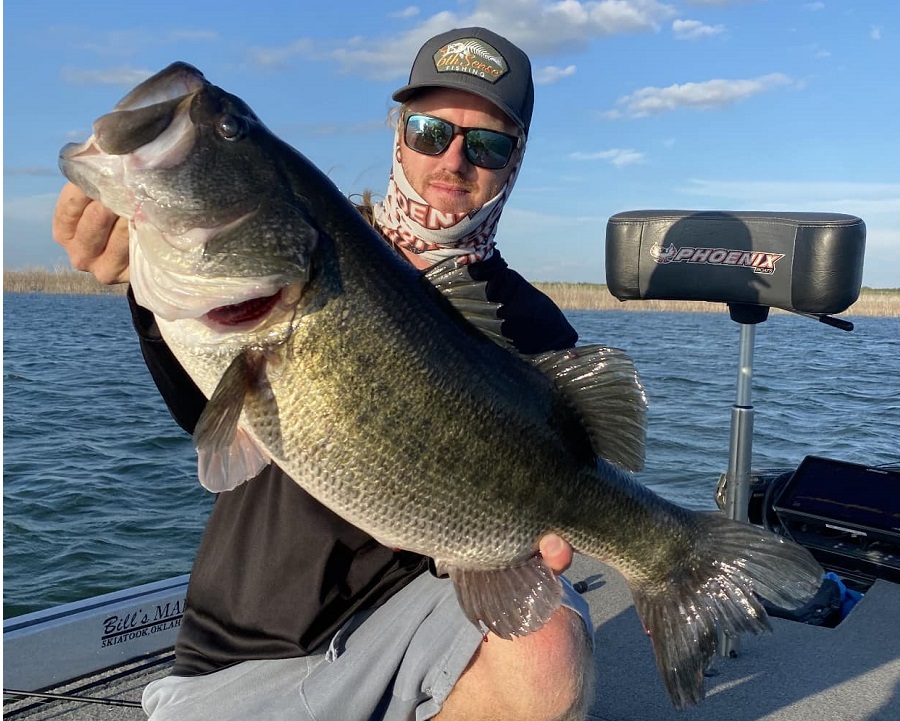 Over the past several years, Josh Jones has made quite the name for himself and has become the king of catching giant bass. His accolades and big bass numbers are truly absurd and he helped make O.H. Ivie in Texas a household name in fishing with his monster catches. While early pre-spawn is the best time for hooking a fish of a lifetime, Jones doesn't stop when things get scorching outside and continues to fish and guide clients through the heat of summer.
Deep Bite
Right now, it's all about the deep bite for him on lakes in Texas and he's continuing to put his clients on giant bass in the extreme heat.
Here's a look at the TWO primary techniques that are putting fish in the boat for him right now.
#1 Big Glide Baits for Big Bass
It's no secret that Jones likes to fish with forward-facing sonar and he's an angler well-known for being excellent with the technology. He's opened some eyes with his knowledge of fishing this way and one of his favorite lures to fish while looking at his Lowrance ActiveTarget is a glide bait.
He's been having success with different Biggs Custom gizzard shad imitating glide baits. He likes a glide for the drawing power but also for how easy it is to see on the screen.
"The bigger, the better, so it shows up better for my clients," he said. "To get the baits down to the right depth, I add a ½-ounce weight because we are catching them fairly deep right now."
Jones likes to get away from the bank and search for fish in the middle of the lake roaming and cruising, bass that should have been targeted more effectively before forward-facing sonar.
"You think about all of the fish that hatch in the spring, whether it's bass, bluegill, shad, or anything, those fry are now fingerlings," Jones began. "They get away from the bank and you have massive clouds of these small fish in the middle of the lake and the bigger bass know it. I spend all of my time on my trolling motor, scanning and looking, in the middle of the nowhere looking for those bass suspended under the bait balls and a glide bait is one of the best ways to catch them."
For his glides, he likes to fish them on a Dobyns Champion 867 and spools up with 20-pound P-Line CXX monofilament instead of opting for a fluorocarbon line.
"For glides, it's always CXX for me," he said. "I feel like it's the strongest line out there and when you have baits that can cost $200, you don't want to take any chances of your line snapping on a cast, which can happen with braid. The CXX also cinches your knots down better than fluorocarbon, making it stronger. I don't have any proof for the better knots, but it's all a confidence thing for me."
Another reason he likes a monofilament is the added stretch, which can be crucial for big bass striking at close range. "You don't want a super stiff line with no stretch because you'll jerk the hooks right away from them, and CXX is the perfect blend of strength and a little bit of stretch."

#2 The Tried and True Big Worm
Another time-tested way of catching bass during the hottest months of the year is a Texas rig and it's been producing some trophy bass for Jones' clients in the past few weeks. He still fishes it while watching his screen and once again, the bigger the better, when it comes to the size of the worm.
One of his favorites is the 9.5-inch 6th Sense Divine Magnum Shakey Worm. "You can see that bigger bait a lot better and it has the right size for the lakes I've been fishing," he said. "Ivie is fairly clear, but another lake we've been catching big ones on in West Texas is a lot dirtier and you want that bigger profile bait."
He prefers the Dobyns Xtasy 755 or Fury 735 for the big worm and has been fishing them around thick cover and opting for the same 20-pound P-Line CXX line.
"We're fishing them around a lot of big salt cedars and that CXX is strong enough to get those fish out," he said. "I feel like that line is unbreakable."
Josh Jones has made quite the name for himself with many double-digit bass and plenty of teeners in the past few years. Even though the cold weather months are his best time to catch the true monsters, he's still catching giants in the hottest temperatures in sweltering Texas in August with a pair of different techniques.