Thanks Butch. Got this bait from you personally at BassAthon. Photo: Adam Perez
Angler's Marine Bass-A-Thon is coming to their Anaheim location on November 19th and 20th. Even though Angler's Marine has been open for more than 30 years, 2016 will mark the 30th Bass-A-Thon.
The event has become a stable of west coast bass fishing and this year looks to be a good one. This longstanding event has been featured in major media and ESPN's Bass Center was broadcast live here during the show's time on the air. The event draws between 1100-1500 bass anglers each day and has become an event that nobody wants to miss.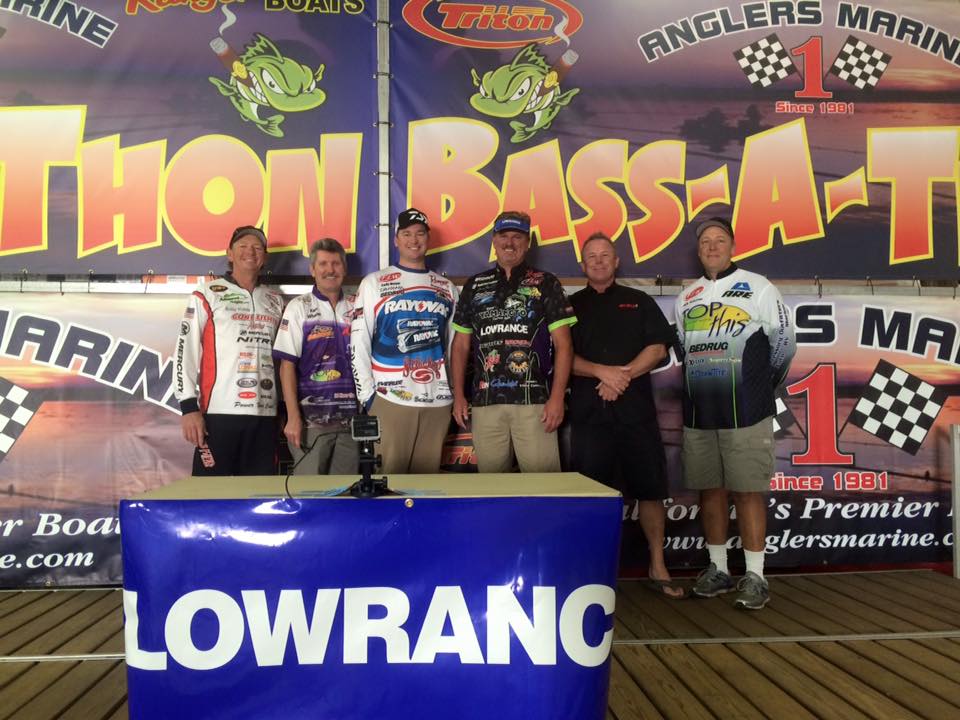 BassAthon Guest Speakers and Seminars
One of the biggest draws for this great event is the top name professional bass anglers who travel from across the country to speak at the event. They have had just about all of the most well known pros speak at some point and this year is no different. "We usually have the Bassmaster Angler of the Year and others who had great seasons come out," said Rick Grover of Angler's Marine.
With this being the 30th event, Angler's Marine decided to do something special and included several legends of the sport. "Rick Clunn, Jimmy Houston and Shaw Grigsby will all be speaking along with Chris Zaldain and the 2016 U.S. Open winner Johnny Johnson," added Grover. What is special about having Clunn speak, in addition to him being one of the best ever, is the fact that he was at the first event back when Angler's Marine was much smaller and located in Santa Ana.
Each of the speakers will conduct their seminars for about an hour and will then spend the rest of the time at the event answering questions and talking fishing.
BassAthon New Tackle and Show Specials
With 70 or more vendors attending the show there is no shortage of tackle to see and buy. All of the vendors will be selling their products and many offer great deals. Aside from that, it is a great chance to see the latest and greatest tackle.
"Most of the things you see released at ICAST are not available until right about now. This is one of the first chances for many
people to see the products up close and actually get a chance to buy them," Grover said.
With many West Coast custom lure companies attending, Grover stated that Bass-A-Thon is a chance for them to release their new products. "Over the years there have been many products that were shown here for the first time," he recalled. "New swimbaits, rats and custom baits are things that were released at previous events."
There are many items that will be for sale at great discounts, including those from the tackle store at Angler's Marine. "We offer 20 perecent off for most items and there are several show specials from the vendors for items well below retail cost," added Angler's Marine Tackle Manager John Deutsche.
Lowrance Electronics Training
One of the biggest vendor spaces at the entire event is the Lowrance booth. They have a display with several units that customers can see, feel and learn about. "This is the best place for someone to get real hands-on training from Lowrance," said Grover. Lowrance staff and Pro-Staff members will be on site to help answer questions and show what the units can do.
Megabass
One of the vendors attending is Megabass and with their pro staff Chris Zaldain speaking at this event, he will be on hand to answer questions about their products. "Chris will be at their booth and available to talk with everyone," said Grover. "They also usually bring some things to show that are custom and available in Japan only."
Optimum/Deps
The Optimum Baits and their collective brands will be at the event as well. Noted swimbait angler Butch Brown will be in attendance to answer questions about his favorite lures. Optimum will also be releasing the highly anticipated Butch Brown Thumpertails.
Vendor List
There are companies both big and small that attend this event. Some of the brands not mentioned that will be attending are 13 Fishing, Daiwa, Seaguar, Navionics, Shimano, G. Loomis, Snag Proof, Powell Rods and more. A complete list of vendors can be found in the event program Vendor List.
Deutsche stated that the vendor list is still growing. "Some brands will send pro-staff members or share booths; so there are sure to be even more," he explained. "Simms will also be releasing new patterns for their clothing."
Food and Raffle
At noon each day the In-N-Out Burger truck will arrive and food will be served. Another exciting part of this event is the raffle at the end of the show on Sunday. "It's a huge raffle and we have rod, reels, electronics and more that we raffle off," said Deutsched. "Some of the vendors also add things and Angler's Marine will include things from the store.".
The 30th Annual Bass-A-Thon is shaping up to be the best one in history. If you are in Southern California, you won't want to miss the show on November 19th and 20th. If you aren't and you bass fish, you should consider making the trip.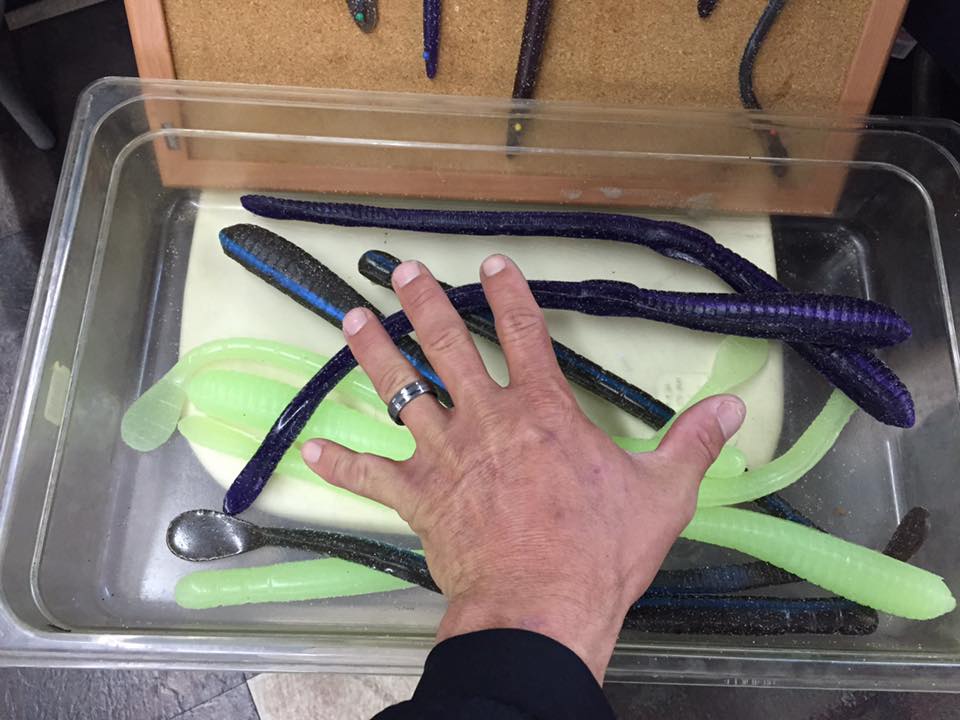 I alway thought Texas was where everything was bigger...that was until I saw these worms out in California at Anglers Marine. It would take a flipping stick to throw this hunk of plastic very far!! Photo: Edwin Evers