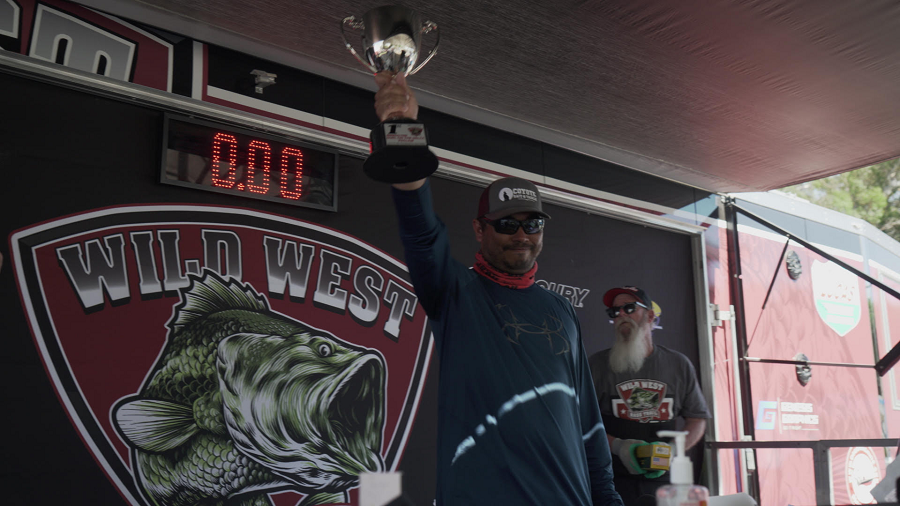 Photo: Steve Adams
OAKLEY, Calif. – Following a three-month hiatus due to the California shutdown, the Wild West Bass Trail (WWBT) re-opened the 2020 Pro/Am season with the General Tire Duel on the Delta presented by the City of Oakley this past weekend.
A Delta local, Juan Acosta of Tracy, Calif. claimed the win with a tournament total of 55.37. The victory was extra-sweet for Acosta as he had just fallen short of the first-place trophy, finishing in the runner-up position, at the previous WWBT Pro/AM held at New Melones in March of this year.
"This win feels really good after that 2nd place," Acosta remarked. "Melones was unexpected; but it feels especially good on the Delta, because it changes so much. The Delta is a place that you never really think… oh yah, I got this.
"You can be around big fish; but winning is never a sure thing. You still have to put 'em in the boat or someone else might be on the same fish or you might just be on the wrong tide and miss it all completely. On the Delta, you just never know!"
Acosta competed on the tidal water fishery against a 136-boat field, reeling in 19.54 on Day 1, 14.28 on Day 2 and 21.55 for Day 3. His techniques each day varied, his areas did not.
"I ran South every day, like always" he shared. "I started around some ski courses and ran all the way to Tracy Oasis and back – a big milk run all the way through."
Acosta revealed the tide and the current as factors in his fish, with current being the most critical. He reported hitting the last of the outgo and the slack during his runs; but the first two hours of the incoming as his most productive.
REACTION KICKS IT OFF DAY ONE
"I was boat 12, one of the first ones out and it only took me about 45 minutes to catch the 19-pounds that I weighed in," revealed Acosta. "I felt like I was just cruising. I had an early weigh-in at 2:20 p.m. and just went and practiced for the rest of the day. I was looking for a big one; but I was content with what I had and felt like I would be in contention, if I didn't blow it."
Acosta targeted tule walls with a homemade ChatterBait in a green pumpkin color, adding a green pumpkin creature bait trailer. He also credited a black and blue double buzz for two of his weigh fish.
Even with an early flight time, he reported catching 30 fish for the day.
JUNK FISHIN' DAY TWO
"The next day, I did the same route; but the fish got smaller and I didn't a big one early; so, I was scrambling around and trying to upgrade," Acosta recalled. "Finally, about 1 p.m., I punched one about 4-pounds. After that first one, I only punched one more and that was it; but I thought that was good enough to get me into the top-10.
The lures that brought fish to the scales for Day Two were the same ChatterBait as Day One, a punch rig that consisted of a 1 ½ ounce weight with a skirtless Sweet Beav in 420 and a weightless, wacky-rigged six-inch Yamamoto Senko in green pumpkin/watermelon laminate.
"This time of year, you just got to junk fish," said Acosta. "I had 15 rods on the boat, and you know that you just got to keep trying to figure out what they want. With the wind on the first two days and the white capping, the ChatterBait was kind of the deal."
Acosta's weigh in time was 5:20 p.m. for the second day; but the added time didn't result in more catches. He counted 15 fish for the day.
PUNCHIN' BIGGUNS FINAL DAY
After two days of winds at 20-plus MPH, the final day flattened out.
"It was still windy in Big Break; but when I got South, it was slick calm, just nothing, until a slight breeze around 10 a.m." Acosta said. "So, I made the adjustment to a poppin' frog. Within an hour, I had a limit; but hey were only two pounders.
"I was waiting for a tide switch to go punchin' and took my co to try and get a limit. He didn't; but he did get a three pounder and then we went punchin'. On my second flip, I got one like five pounds. I moved to an area where I know big ones live and that's where I got a six and a five."
Acosta reported punchin' Primrose mats with 2- to 4-feet of water under them.
His fish count for the final day was approximately 10.
Acosta feels his knowledge of the area gave him the upper hand.
"My areas were 10 minutes from my house, and I have 100 spots where I know every little 10-yard stretch where a fish will be," he shared. "That fish could be a 12-incher or a six-pounder or anything in between. So, just the rotation of hitting them all and stumbling into a good one is what works or other times, it just doesn't pan out.
Acosta has fished the Delta for 20 years and competitively fished for the same two decades. He will pocket $18,500 for his efforts, including contingency dollars from Yamamoto and P-Line. He plans to give the money to his wife.
"The money is nice; but I don't care about that as much as going fishing," he said. "Even more than the fishing is the experience with my friends. A group of us, including Hunter Schlander that came in second, stay together, camp together and fish together. It's a good group of guys and we always have a good time together and it's such a big part of the whole experience.
REST OF THE BEST | PRO TOP RESULTS
2nd 55.14 Hunter Schlander $9,000
3rd 54.34 Austin Wilson $7,500
4th 52.65 John Pearl $6,700
5th 50.86 Shane Peirson $7,660 including Big Bass dollars
CO-ANGLER TOP RESULTS
1st 43.01 Jack Farage $9,180 including Big Bass dollars
2nd 41.37 Martino Adra $4,680
3rd 34.44 James Rios $3,000
4th 33.34 Micheal Klemm $2,700
5th 33.23 Jason Lazzerini $2,400
The 2020 WWBT Lucas Oil Western Classic on Clear Lake will blast off on November 13 - 15.
The WWBT debuted in 2016. The trail includes a Pro/Am circuit and two Teams circuits – one based in California and the other in Arizona.
A special thanks to all the WWBT sponsors – Bass Cat Boats, Ben Green Insurance, Bobs Machine, Buck Knives, Gary Yamamoto Custom Baits, General Tire, Genesis Graphics, Fitzgerald Fishing, Lucas Oil, Lure Lock, McMillian Fiberglass Stocks, P-Line, Power-Pole, Protect the Harvest, Super Clean, Top This Premier Accessory Outfitters, Vets 4 Hunting and Fishing and Wood Brothers Flooring.
For more information visit WildWestBassTrail.com and follow WWBT Facebook, YouTube, Twitter, Instagram.