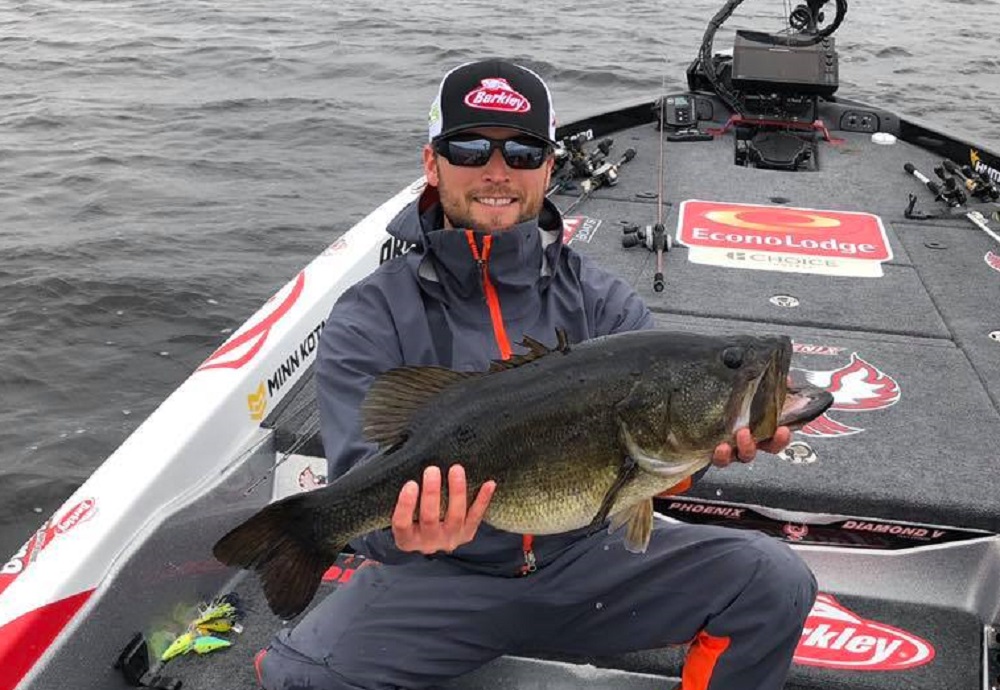 Although Justin Lucas now calls Alabama home, California is where he was raised and learned to fish. He spent his time working his way up the ranks by fishing many Northern California bodies of water, and that includes the famed California Delta.
If he were to head to his old stomping grounds anytime around the spawn, he would have four baits rigged up and ready for the Delta bass.
Soft Stickbait
This style of baits has accounted for many, many giant bass on this waterway and Lucas was quick to pick Berkley's The General as something that would be a must-have.
The bait comes in a 4", 5", and 6" size, but Lucas would stick with the two bigger sizes for the Delta. "I would have them rigged up three ways for this time of year - a weighted Texas-Rig, a Texas-Rig with a weight, and wacky-rigged," he said.
A ¼-ounce tungsten weight would be the size he would pick for both the 5" and 6" bait.
"I like to focus on areas that the bass should be spawning and that is a technique that I use in the spring everywhere from Florida to California," he stated.
"On the Delta, I like the Green Pumpkin Party color and also the Black Blue Fleck for dirtier water."
He would fish the weightless versions in many of the same places and choose it when he wanted a slower fall from his soft plastic.
The wacky-rig is a staple this time of year, and Lucas would have one rigged up on a spinning rod if he were able to get back to the Delta right now.
"I like the 5" size the best of all three for a wacky-rig," he said.
Beaver-Style Bait
This category of soft plastics is no secret, and many brands produce one, but Lucas likes the Berkley Powerbait Bunker Hawg for one big reason: scent.
"The Powerbait scent makes a difference, and the great thing about this style of bait is that it can slide through any cover you find on the California Delta. I just adjust the size of weight I use," he said.
When asked to choose the two most versatile weight sizes, he picked a ½ ounce and 1.25-ounce tungsten weight.
"The 1.25 can get through just about any cover and is great for punching. I like the ½ ounce for the sparse stuff," he said.
He also offered his top three colors for the Delta.
"Black Blue Fleck, Green Pumpkin Green and Blue, and Black Sapphire are the three I would have ready for the Delta," said Lucas.
2015's Winner
At the Elite Series event in 2015, Lucas won it all with the help of the Berkley Havoc Pit Boss. Since then, the bait has become part of the Berkley Powerbait lineup, and it is still something that Lucas rigs up this time of year.
The bait now has the famous Powerbait scent, and Lucas thinks it has made an excellent bait even better.
"I love that bait. It has great action and more action than the Bunker Hawg. I would use it in all of the same places and fish it the same, but there are days when the fish want something with a little more moving and kicking like the Pit Boss," he added.
He sticks with the natural Green Pumpkin shades and opts for Black Blue Fleck for dirtier water, but says you have to have something with red on the Delta. It is no secret, but red works great there.
"There is a new color called Skeet's Hot Craw that is perfect for California Delta water clarity," he said.
When Things Get Tough
Whether it is due to the tide or fishing pressure, things can get tough on the Delta. Lucas has seen this situation many times and has learned that soft plastics on a light Texas-rig can be just what is needed to start catching fish.
"If I just needed a bite, I would use the Berkley Powerbait Power Hawg on a ¼ ounce head and pitch it around. Sometimes you need one bite on a tough day to build your confidence and turn the day around," Lucas began. "I like both the 4" and 5" bait and they are excellent when things are tough."
Although Lucas doesn't get the chance to fish the Delta as much as he'd like to anymore, it is still one of his favorite fisheries. If he were heading there this weekend, he would be ready with four proven soft plastics.