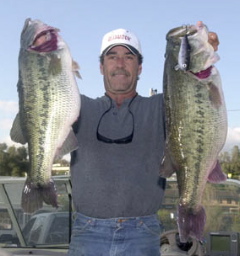 When most bass anglers think of Bass Lake, located just north of Fresno, they think of small spotted bass, trout trolling, beautiful scenery and outrageous summertime registration fees to put your boat on the water. But, when Allen Borden of ABT Lure Company in Oakhurst took the afternoon off last Wednesday he wasn't thinking of any of those things. He was thinking about spending the afternoon relaxing and throwing his new 7-inch Gladiator hard plastic swim bait. What he didn't count on was breaking the lake record.
Allen and his employee Rob Tatum put the boat in the water about 1:30 in the afternoon and began lazily casting towards the shallows with the 7-inch Gladiator in a rainbow trout pattern when suddenly Allen felt a mushy bite. He set the hook and realized he had a hawg on. He told Rob to grab the net. When they first saw the fish they knew it was over 10 pounds. After a long battle, Allen brought the fish to net and sat down trying to calm his nerves. They weighed the fish on Allen's scale and it showed somewhere in the 14-pound range. They called the local newspaper, even though they didn't think it was a lake record, they knew it was the biggest bass caught in the mountain lake for quite some time. The paper came out took pictures and recorded the catch.
After getting over the initial excitement, Allen decided they should head back out for a little more fishing. Within minutes, Allen had another fish on and this one appeared to be even bigger than the first one. Again, his 20-pound Yozuri was up to the task and the fish was boated after a long battle, the big bass made three long runs, requiring Allen to chase the fish with his trolling motor on high. This fish weighed nearly 16-pounds on his scale, which he knew was slightly off. They decided to try and get a certified weight and motored over to the Pines Resort. Luckily, the Pines Market has a certified scale in their meat department. The first fish ended up weighing 12.8-pounds and the larger fish weighed in at a hefty 15.17-pounds, a new lake record.
Hours later, Allen was still talking excitedly about his incredible day of fishing at Bass Lake. "I never imagined catching the first fish much less catching two fish over 10-pounds in the same afternoon," said Allen. "It was real mushy bite, the fish just swam up and sucked in the Gladiator 7-inch lure and slowly started swimming away. I was stunned to how deep they swallowed the lure."
The ABT Gladiator has been out for some time in a 4.5-inch model but just one month ago ABT came out with a 7-inch version. Since its release there have been several reports of fish over 10-pounds being caught on the hard plastic swim bait that has two internal joints, which give the lure an incredibly lifelike action.
For more information about this catch or about the Gladiator go to www.abtlures.com.