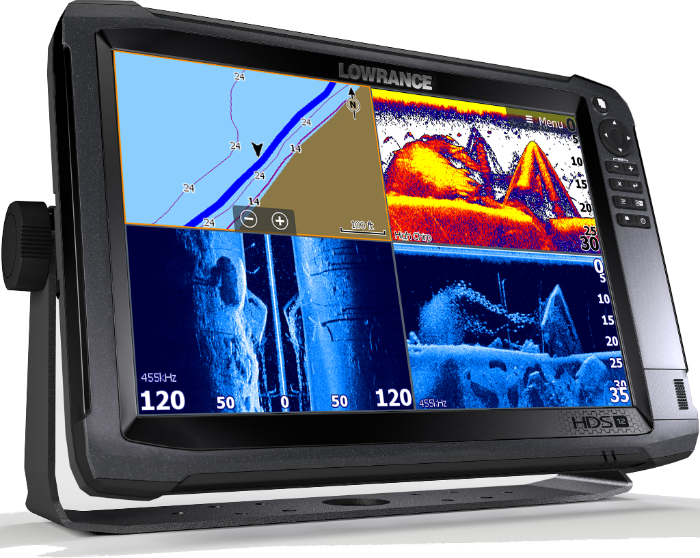 Tulsa, Okla. – Lowrance, a world-leading brand in fishing electronics since 1957, announced today the release of a high-performance addition to the HDS® series of fishfinders/chartplotters – Lowrance HDS Carbon™.
The new Lowrance HDS Carbon adds a high-performance dual core processor, multi-touch SolarMAX™ HD screen, dual channel CHIRP and Network Dual Sounder to the proven features that have made HDS multifunction displays the choice of anglers at all levels. The HDS Carbon series includes 12-, 9- and 7-inch models.
Anglers in the market for a want-it-all integrated system need a processor that can smoothly drive the high-tech capabilities of HDS Carbon like StructureScan® 3D with SideScan and DownScan Imaging™, dual channel CHIRP sonar, StructureMap™, Broadband Radar™ and SiriusXM® Weather Chart Overlay. HDS Carbon takes processing power to an unprecedented level with a dual core processor that allows anglers to switch between applications and simultaneously view independent sonar feeds with ease.
Lowrance SolarMAX HD display technology features high-definition views and clear visibility in all conditions with the widest available range of viewing angles. The new displays are engineered to withstand higher temperatures than conventional units, offering enhanced reliability in warmer climates. The secret behind the new SolarMAX HD displays comes from the implementation of the most advanced in-plane switching (IPS) screens in fishing electronics. With superior color accuracy and boosted high-definition reproduction, IPS screens are perfectly designed for viewing picture-like sonar images. Whether viewing menu panels or onscreen fish targets, the improved clarity and sharpness of SolarMAX HD displays are clearly evident from any angle.
HDS Carbon expands the Lowrance arsenal of sonar technology with dual channel CHIRP and Network Dual Sounder. Dual channel CHIRP enables anglers to get dual range sonar coverage from the same transducer with a dual channel CHIRP sonar transducer installed on their boat. Anglers can also cover more water and mark fish targets more clearly with Network Dual Sounder technology, which provides sonar data from a network of CHIRP transducers.
In addition to integrated wireless connectivity that enables anglers to download software updates and map purchases directly to the unit, HDS Carbon features Bluetooth® control of multiple Power-Pole shallow water anchors and Bluetooth audio streaming from the SonicHub®2 marine entertainment system. Anglers can navigate with ease with HDS Carbon using proven Lowrance navigation technology, built-in C-MAP Insight mapping with enhanced coverage of coastal and inland waters, a 10 Hz internal GPS antenna, and compatibility with the most expansive selection of optional cartography on the market, including Insight Genesis™ custom mapping, Insight PRO by C-MAP, Lake Insight HD by C-MAP, C-MAP MAX-N+, Navionics® and more.
HDS Carbon supports radar, SmartSteer control of Motorguide® Xi5 trolling motors and Lowrance Outboard pilot, and full engine data integration through compatibility with Mercury® VesselView® Link.
"Our new HDS Carbon displays are not only more than capable of handling our current technologies, but are designed to grow with our future innovations for years to come," said Leif Ottosson, CEO, Navico. "From the enhanced viewability of our SolarMAX HD displays, our new dual channel and Network Dual Sounder technologies, to the high-performance processor, we are confident our customers will be as excited about the increased performance they get from HDS Carbon as we are."
Protected by the Lowrance Service and Support program, the HDS-12 Carbon, HDS-9 Carbon and HDS-7 Carbon can be purchased from authorized Lowrance dealers and distributors for:
HDS-12 Carbon No Transducer $3,149
HDS-12 Carbon Med/High/TotalScan $3,399
HDS-12 Carbon Med/High/3D Bundle $3,999
HDS-9 Carbon No Transducer $2,049
HDS-9 Carbon Med/High/TotalScan $2,299
HDS-9 Carbon Med/High/3D Bundle $2,899
HDS-7 Carbon No Transducer $1,249
HDS-7 Carbon Med/High/TotalScan $1,499
HDS-7 Carbon Med/High/3D Bundle $2,099
HDS Carbon will be available in March 2017. For more information on HDS Carbon displays, the HDS product family or the entire Lowrance line of marine electronics visit www.lowrance.com.
To learn more about the HDS Carbon, please watch this video: