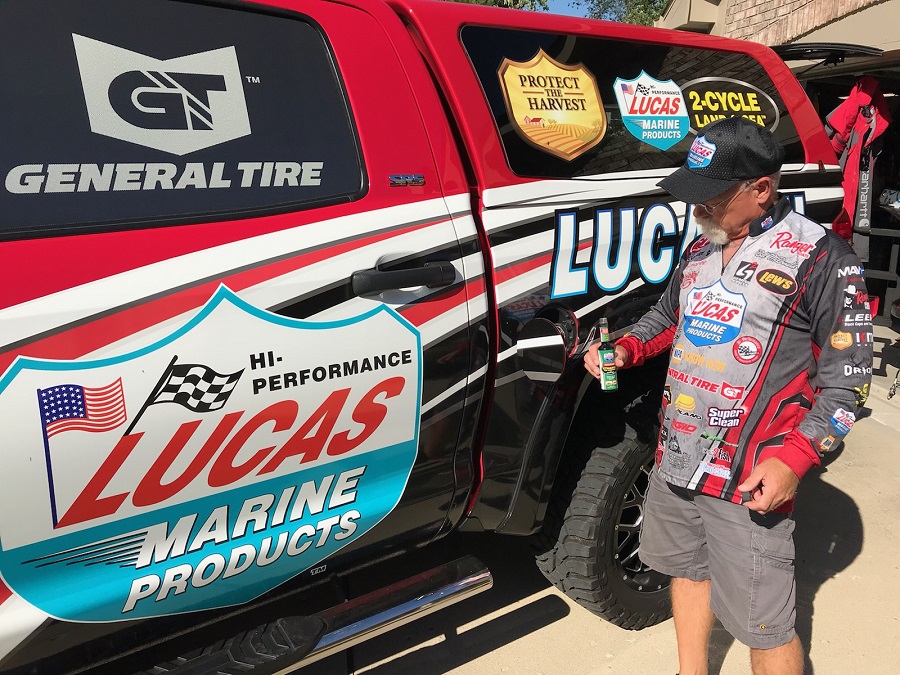 FLW Tour pro Bill McDonald is one of the hardest working professional anglers around. In addition to traveling the country fishing tournaments, he is constantly on the road traveling to events for his sponsors. Maintenance of his boat and truck is essential to keep things running as the miles and engine hours rack up. He shares his approach to maintenance and how to make your equipment running better and lasting longer.
Maintenance Matters
Keeping things in tip-top shape requires work, but it can ensure that everything will last longer. For McDonald, it is a continuous approach, but things really need to be looked over at the end of the season.
"For one, things are starting to wind down with tournaments ending, guys are thinking about hunting and for some, the end of the year means storing your boat for the winter. Now is the time to do some maintenance instead of waiting until the spring when you really want to be on the water," he says.
Boat Maintenance
There are several things that are key for McDonald; your lower unit, trailer bearings, and fuel systems.
Each of these has the potential to cause major damage that can keep you off of the water and hurt your pocketbook.
Lower Unit Maintenance
"I like to drain and check the lower unit oil at the end of the season and sometimes mid-season as well. If the oil has some water in it, you'll need to take that to your dealer immediately to check it," he says. "If you store the boat with water in the lower unit oil and it freezes, you will have big problems as it can freeze and crack."
McDonald uses Lucas M8 Synthetic SAE 75W-90 Marine Gear Oil for his lower units.
"It is really simple to use and easy to do it yourself," he says.
While you are at it and down near the lower unit, McDonald recommends removing your prop and check for fishing line that can damage the seals and then do the same for your trolling motor to keep a regular routine.
Boat Trailer Maintenance
Getting your boat safely to and from the water requires paying attention to your trailer. There are many things that can go wrong if left untouched. McDonald says that trailer wheel bearings are something he always pays attention to.
"You don't have to wait until something breaks or until spring to get things checked out. If you have a trailer that needs grease for bearings, add Lucas Marine Grease," he says.
For trailer hubs, Lucas Hub Oil will help maintain them properly. "It is designed to help stop leaks. Just like anything else, you do not want water in there if there is a chance it is going to freeze," he says.
Fuel System
Ethanol in gasoline is something we have all heard about and the damage to outboards is well known, but still, many boat owners do not add a treatment to combat it.
"I add Lucas Safeguard™ Ethanol Fuel Conditioner with Stabilizers throughout the season when I am filling up and then if the boat will be sitting for a while," he says.
One of the biggest enemies to fuel systems is letting them sit for long periods before use. This can be due to lack of use or for when the boat is stored for the winter. To protect his fuel system, McDonald likes to use Lucas Fuel Stabilizer.
"I add it before it sits so it can run through the entire fuel system and not just in the gas tank. If you are storing your boat all winter, I recommend filling the fuel tanks all the way up so there is less room for condensation," he says. "It is good for all 2-cycle and 4-cycle engines, so it also works great for all of your lawn mowers, blowers, and chainsaws that will be sitting all winter."
Truck Maintenance
There are two main things that McDonald adds to his truck to keep it running great: the same Ethanol Fuel Conditioner he uses for his outboard and Lucas Fuel Treatment.
"Ethanol is a big problem for truck engines as well as outboards and most of the fuels we use have 10 percent Ethanol. I have a 38-gallon tank in my truck and if you think about it, that is 3.8 gallons of Ethanol," he says. "It is almost like pouring a five-gallon bucket of it in my truck every fill-up."
Both the Fuel Treatment and Safeguard™ Ethanol Fuel Conditioner with Stabilizers help keep his engine in the best possible shape throughout a long season on the road.
Taking care of what you own starts with proper maintenance. Luckily for today's outdoorsman, there are plenty of specialty products designed to keep everything running great. By practicing regular maintenance your boat and truck will run better and keep you on the water longer.