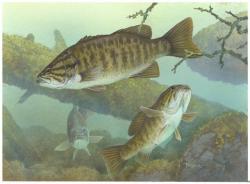 by Mike Polhamus
A significant majority of Missisquoi River's male smallmouth bass bear eggs, a characteristic known as "intersex."
Researchers believe the condition results from agricultural runoff in the Missisquoi River watershed, an area where farmers already face scrutiny for phosphorus pollution that promotes blue-green algae blooms in Lake Champlain.
A report published this fall, the most comprehensive of its kind, found 60 percent to 75 percent of male smallmouth bass in the Missisquoi River carry eggs.
Agency of Agriculture officials say the report does not establish farming as the cause of the dual sex traits in fish, and say that Vermont's piscene population actually showed less incidence of androgyny than those of other states in the study.
Clean-water advocates have called on legislators and state agencies to take action in response.
"The alarm to me is that these chemicals are present — they're in our water, they're in our food, we're exposing ourselves to them — to me, that's the alarm," said Vicki Blazer, fish biology researcher for the U.S. Geological Survey, and one of the report's authors. "Obviously, humans are not going to be exposed in the same way fish are: We're not constantly in the water, our drinking water is treated, but that doesn't mean we're not exposing ourselves to many of the same chemicals. To me, that's the concern."
Blazer identified several potential causes of Missisquoi River's intersex fish, all of them resulting from agricultural practices.
James Ehlers, executive director of Lake Champlain International, said the abnormal sexual development of the small bass is "horrific."
"I think they're basically Franken-fish. It's a canary in a coal mine, except it's a bass in a river, and there's something monstrously out of balance in the natural system."
The intersex fish likely result from one or a combination of three substances, Blazer said.
An herbicide called atrazine is one possible cause, she said. Previous studies have shown that atrazine can trigger certain animals to develop traits of both sexes, she said.
Atrazine is the pesticide most commonly found in drinking water in the United States, and in 2012 a court case forced its manufacturer to pay over $100 million to filter the herbicide from a number of drinking water sources.
Read the rest of the story at VTDigger.org here
.