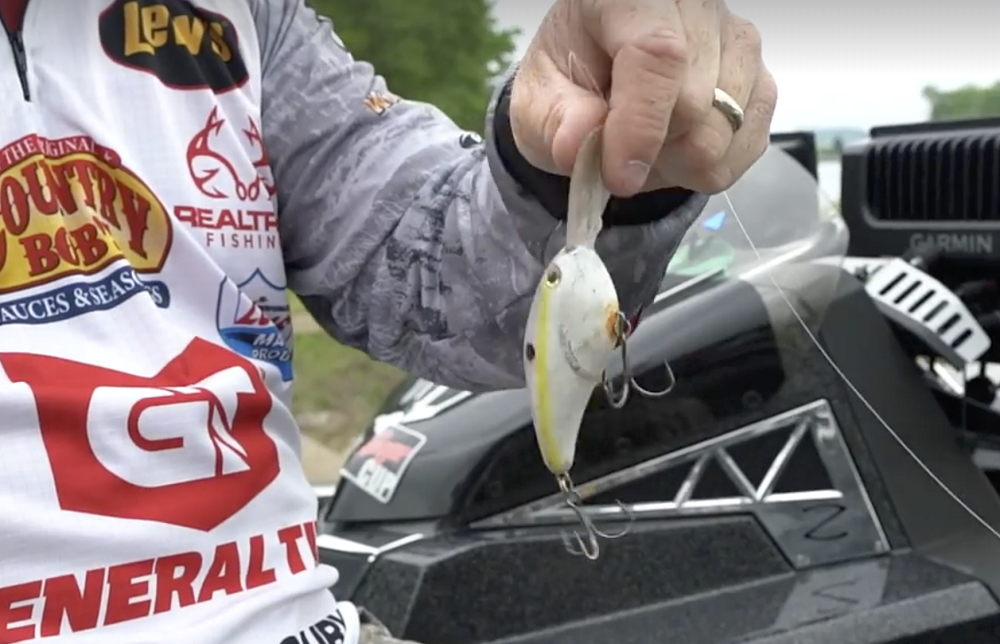 Mark Rose has a well-deserved reputation as one of the best when it comes to using a crankbait. He is particularly lethal with a big crankbait on the Tennessee River system of lakes; but, he has had success with diving baits all across the country.
When it comes to crankbaits that dive 20-plus feet, he has a system for choosing the right bait, rod, reel, line and even the treble hooks that he uses.
Big Crankbaits
It is no surprise that Rose likes to throw the big Strike King 6X, 8X, and 10XD crankbaits. He uses all of them and generally bases the decision on which one to throw based on the forage size and not just the diving depth.
"It's not always just using the 10XD because it is deep and it is the deepest diving bait, I often fish it shallower than it can dive and get it to dig hard into the bottom," he begins. "For me, it is all about the forage, and if they are eating big shad or bluegill, I like to use the bigger profile 8XD and 10XD as opposed to the 6XD.
"I am convinced that a lot of the offshore bass are eating bluegill and I throw a bunch of bluegill pattern crankbaits."
The 6XD is a stand-by for him, and he uses it often.
"This lure has the right action, size, and diving depth to cover many different situations," says the 2018 FLW Tour Angler of the Year.
Hooks and Keeping Them Hooked
One thing that Rose does on all of his crankbaits is to swap out the hooks. For these hooks that means the Mustad KVD 1x Strong 2x Short Triple Grip trebles.
"I use the 1/O, 2/O, and 3/O in that order as I go up in size through those three crankbaits," he says. "I like these because they are stout and do not flex. I'm a pretty aggressive cranker and need a strong hook, and the mouth of a four, five or six-pound fish is much harder than smaller bass, and you need a hook like that to penetrate and keep them pinned."
Keeping fish hooked is an issue when you are throwing a bait that weighs around two-ounces as the 10XD does. That is a lure that gives the bass plenty of leverage to throw a hook when they jump and Rose believes he has found a solution to this common problem.
"I like to use two split rings on these baits and attach the Mustad KVD trebles," he shares. "A fish that jumps can rotate the bait all around and not spit the hook. That hook will keep them pinned, and the double split ring helps even though it is kind of a pain to do.
"I like double the split rings during the winter and when I have some downtime. You don't have to do it to all of them at once, pick out a few of your favorites and save those for tournament days."
Rod, Reel, and Line
These big baits require a big rod to throw them effectively, and that is part of why he was asked to help design the Lew's Team Custom Pro Mark Rose Ledge Casting Rods. He uses the 7'11" medium-heavy Big Crank for the 6XD and 7'11" Heavy Magnum Crank for the 8XD and 10XD.
"The thing about baits this size is you want a rod that can handle a big crankbait and big fish," he adds.
When it comes to reels, he is a big fan of the 5.1:1 Lew's BB-1 Speed Spool for all of the baits, but will often rig up a separate 6XD with the 7.5:1 Team Lew's Hyper Mag Speed Spool SLP for burning the bait faster. He is a big fan of Seaguar Tatsu for all of his cranking and uses 12-pound the 6XD the majority of the time and 15-pound for the other occasions and when he is using the 8XD and 10XD.
"The thing about Tatsu is how thin it is, and it allows you to use heavier line and still get the bait down deep," says the Arkansas pro. "I'll use the 15-pound on the 6XD when I am fishing around sharp cover like rocks and shells or if I want it to dive just a little shallower."
Get in Cranking Shape
As he noted, Rose likes to fish a crankbait aggressively. He will often burn the bait quickly to get it down and keep it scurrying as he does his best to grind the bill onto cover on the bottom. With that cranking, you are bound to get tired or sore. To counter this, Rose starts off in the spring with some exercises.
"Early in the year, I will do shoulder exercises. I'll also work with dumbbells and resistance bands. It is like hunting and how many will start to get in shape for bow season," says the Mustad pro. "It does make a difference in how much cranking you can stand and makes it much easier to crank all season long."
Rose is one of the best when it comes to cranking and has a system that works for him. The right rod, reel, line, hook and even some exercise all play into his ability to dominate offshore bass tournaments year after year.