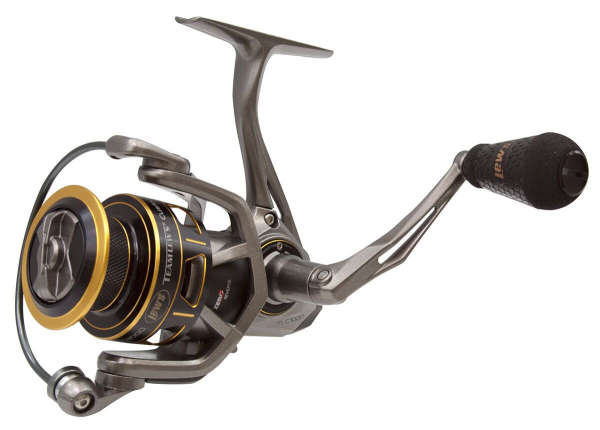 Serious tournament anglers know that even big-fish-factory lakes can get tough. In these situations, light tackle and finesse presentations with spinning equipment often gets the nod when bites are tough to come by. Especially when big fish are on the line, a smooth and controlled drag is essential for landing key fish in make or break situations.
One of the most anticipated debuts at the 2018 ICAST Show in Orlando was the new Custom Pro Speed Spin from Team Lew's. Designed for hardcore anglers and touring professionals, this reel takes Lews' spinning reel game to the next level. 12 premium stainless steel bearings give this reel an unparamounted level of smoothness. The aluminum body/sideplate with a flush and drain port (available in 2000-4000 models) gives this reel power when it counts, and the lightweight high-strength C60 Carbon skeletal rotor and aluminum spool keeps weight low.
High strength, precision-cut Speed Gears and a smooth sealed carbon drag system means both power and smoothness, and the smooth sealed carbon multi-disc drag system keeps fish buttoned. For solid grip, power and comfort, the Winn® Dri-Tac handle knob is essential.
The new Custom Pro Speed Spin spinning reel is offered in four sizes at $129.99 MSRP:
| | | |
| --- | --- | --- |
| Size | Gear Ratio | Specs |
| 1000 | 5.2:1 | 6lb/90yds/8lbs drag |
| 2000 | 6.2:1 | 8lb/160yds/20lbs drag |
| 3000 | 6.2:1 | 8lb/180yds/22lbs drag |
| 4000 | 6.2:1 | 10lb/230yds/24lbs drag |
ABOUT Lew's
Lew's Fishing is a Springfield, MO based supplier of fishing equipment and tackle. The Company supplies branded fishing reels, rods, and related accessories through the mass market, sporting goods, and specialty outdoor channels. For further information about Lew's, please visit