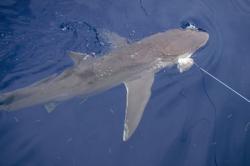 NOAA Fisheries reminds Highly Migratory Species (HMS) vessels that the remaining new recreational and commercial measures implementing Amendment 5b to the 2006 Consolidated Atlantic HMS Fishery Management Plan (FMP) become effective January 1, 2018. Amendment 5b implemented a range of management measures to end overfishing and rebuild overfished dusky sharks. Other measures for Amendment 5b became effective June 5, 2017. For more details on all of these measures, and to view the associated outreach materials, please refer to the Amendment 5b website:
http://www.nmfs.noaa.gov/sfa/hms/documents/fmp/am5/a5b_index.html
.
Who is affected?
This action could affect:
Any commercial shark fishermen in the northwestern Atlantic Ocean, including the Gulf of Mexico and Caribbean Sea.
Any dealers who buy or sell sharks or shark products in these areas.
What will it do?
The following commercial management measures will go into effect:
This notice is a courtesy to permit holders to help keep you informed about Atlantic shark fisheries. For further information, contact the HMS Management Division at (301) 427-8503, or go to
www.fisheries.noaa.gov/topic/atlantic-highly-migratory-species
.