Exhibiting at iCast 2015, Flip Reel by Squiddies available soon in the Americas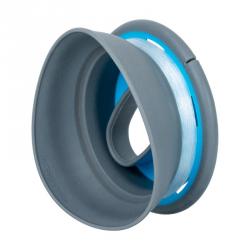 Madison, WI. (June 16, 2015) — Reviving the ancient art of handline fishing, ProClip USA will unveil the Flip Reel by Squiddies at iCast 2015 in Orlando, Fla., July 15-17, at booth #3469 in the Exhibit Hall of the Orange County Convention Center. The award-winning, patented design offers a modern twist on handline fishing with an ergonomic handle that makes it easy and comfortable to cast and reel.
Available now in North, Central and South America, the iCast exhibit will offer attendees a first glimpse of the Flip Reel in action. With handlining, anglers can control the jigging activity and feel every bite and move the fish makes, providing an up close and personal experience.
Compact and portable, the Flip Reel is designed for ease-of-use. The reel packs down to half its size, providing a storage space for the hook, line and sinker and making it easy to stow in your car, boat or backpack. Additionally, a line cutter is built in to the well of the Flip Reel allowing anglers to quickly cut and re-cast new lines as needed.
"As the exclusive distributor and importer of the Flip Reel by Squiddies, ProClip is excited to introduce this one-of-a-kind product to sportfishing, " said Don Rankin, ProClip USA Chief Operating Officer. "The Flip Reel will not only revitalize handline fishing as we know it but offer a personalized way for people of all ages and experience levels to enjoy fishing."
Inspired by the love of the outdoors, Squiddies creates fun and useful products that make memorable adventures. Features of the Flip Reel include:
· Feel every bite with handlining
· Ergonomic handle design provides comfort and control
· Hook, line and sinker storage protects fingers and other objects from rips and tears
· Compact and portable, reel packs down to half its size
· Built-in line cutter
Available in blue, green, yellow and orange, the Flip Reel by Squiddies comes with 165 feet of 17-pound line for deep fishing along with one free tackle with small hook. Additional tackle bundles are also available, including tackle with medium hooks and squid lure. Learn more at www.squiddiesflipreel.com.
About ProClip USA: ProClip USA was founded in 2004 in Madison, Wisconsin. ProClip USA offers premium custom mobile device mounting solutions for vehicles, fleets, aviation, marine and industrial vehicles. ProClip has since expanded to offer additional complementary products like the Flip Reel. You can learn more about our mounting solutions at www.proclipusa.com. You can learn more about the Flip Reel at www.squiddiesflipreel.com.