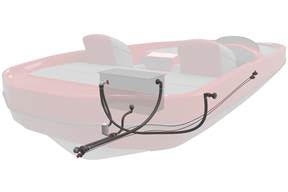 Flow-Rite Online Tool Simplifies Livewell Configuring
When configuring a bait or livewell plumbing system, it's important to have all the correct fittings and proper lengths of hose before beginning the project. Flow-Rite removes the guesswork of component selection and the aggravation of incorrect or missing parts with its online Livewell Builder. Ideal for OEMs and DIYers, the tool is at store.flow-rite.com/livewell-builder.html.
Flow-Rite offers four basic systems that are configured to best match the specific boat design and application. For example, forward and rear baitwells and a livewell on a high gunwale 30' center console, or a small aft baitwell on a 17' flats boat. Users are assured when they begin assembling, no element of the system will be missing.
All Flow-Rite components are made in the USA and include items such as control valves, pumps, actuators, timers, hoses and cable lengths from 6' to 17'. Installation is fast and easy with the company's revolutionary Qwik-Lok™ connectors. Retail prices for a complete livewell system range from $61.35 to $118.23.