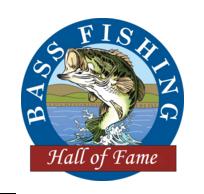 HOT SPRINGS, Ark. – -- When Cullman, Ala. was selected in 2013 as the host site for the International Bass Fishing Center and home of the Bass Fishing Hall of Fame, that started the work by the Hall's volunteer Board of Directors to raise up to $10 million for its share of the project. After three years of efforts to raise the necessary capital, the Board has reached its self-imposed deadline and has stepped away from the Cullman partnership.
"For all of us who serve on the Bass Fishing Hall of Fame board, there's great disappointment, but it's the fiscally responsible thing to do," said Hall Board vice president Donald Howell, and also a partner with a major Alabama-based accounting firm. "As excited as we were in 2013 with our dream of having the International Bass Fishing Center being part of the larger Cullman convention/civic center project, we regret to have to make this announcement. And on behalf of Board, we can't say thanks enough to the Cullman community for their support."
While a facility in Cullman in now no longer in the plans, "our efforts to honor those who have done so much for the sport of bass fishing continue to remain strong," notes 2011 Hall inductee and current board member Dave Precht, vice president for editorial-communications at B.A.S.S. Inc. "Both current and past members of our Board of Directors have volunteered thousands of hours on the Hall's mission, and we still have high hopes of finding a location to showcase inductees and celebrate the history of bass fishing not only in the U.S. and Canada, but also worldwide. Backing away for the Cullman project only means we have to scale back our initial plans."
About The Hall of Fame -- The Bass Fishing Hall of Fame is a nonprofit organization dedicated to all anglers, manufacturers, tackle dealers, media and other related companies who further the sport of bass fishing. Support the BFHOF by becoming a member. Visit our web site at
www.bassfishinghof.com
, or all 888.690.2277 for more information.