Tennessee native collects $125,000 prize with first career FLW Tour win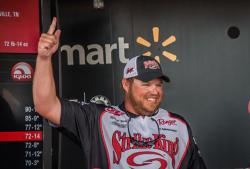 FLIPPIN, AR- - Ranger Pro Michael Wooley has a lifetime of fishing experience on Tennessee River impoundments like Pickwick and Kentucky Lake. But with his hometown of Collierville, Tennessee, on the opposite side of The Volunteer State from Lake Chickamauga, another Tennessee River impoundment, the second-year FLW pro didn't enter the year's fifth tour stop with any kind of home-state advantage.

Wooley, however, left the penultimate event of the 2015 regular season with a newfound love for the east Tennessee fishery, plus a trophy and a big paycheck.

Wooley notched the first FLW Tour victory of his two-year-old professional bass fishing career on June 14 with a four-day total of 92 pounds, 4 ounces on Lake Chickamauga. He went into the last day of competition with more than a six pound lead, but still needed 19 pounds 6 ounces to secure victory by less than two pounds. With the win, Wooley took home $125,000, the biggest payday of his young professional bass fishing career.

"I grew up fishing Pickwick Lake and Kentucky Lake so to get the biggest win of my life on the Tennessee River really means a lot to me," Wooley said. "Lake Chickamauga will always be special to me after this one."

Wooley brought five-fish limits to the weigh-in stand on each of the tournament's four days, besting a Top-10 field that included six Ranger Pros. Wooley's big payday included the $100,000 first-place prize from FLW Outdoors as well as the $25,000 Ranger Cup bonus.

"During the course of this and any other tournament, I spend all day in my boat. Having a boat that fishes as well as mine does and having one that delivers a comfortable, dry ride on long runs is so important to staying fresh and focused in a hard-fought event," Wooley said. "My Ranger Z521C gives me a definite edge with its fishability and performance, plus I made an extra $25,000 this week for running the best boat on the water through the Ranger Cup bonus."

The Wal-Mart FLW Tour resumes June 25 on the Potomac River for the sixth and final tournament of 2015.

"The field of anglers in any FLW Tour event is stacked with so much talent and experience that winning is a tremendous achievement," said Ranger Boats Vice President of Marketing Bart Schad. "We are very proud of Michael and so excited to see him get his first win under his belt. We look forward to seeing him hoist the winner's trophy many more times in his career."

About Ranger Boats
Headquartered in Flippin, Ark., Ranger Boats is the nation's premier manufacturer of legendary fiberglass and aluminum fishing boats, which include series of bass, multi-species, fish 'n play, waterfowl utility and saltwater boats. Founded in 1968 by Forrest L. Wood, Ranger Boats continues its commitment to building the highest-quality, strongest-performing boats on the water. For more information, go to RangerBoats.com.