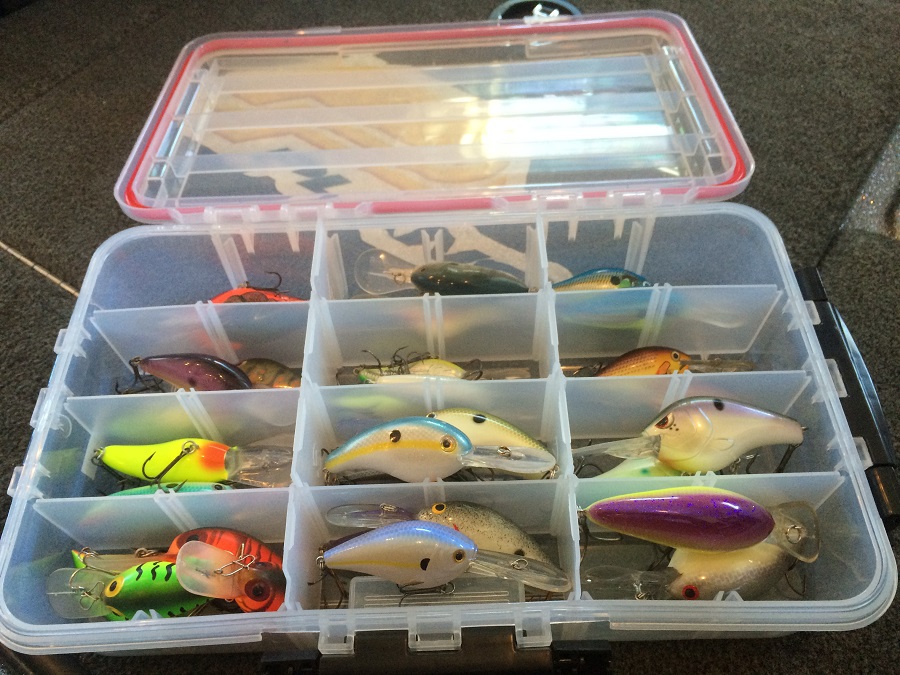 For many anglers this time of year things are slowing down when it comes to bass fishing as most tournaments are done until next year, some anglers have traded their rod/reel in for a firearm or bow and are hunting, others are using this time to catch up with friends and family.
For myself, the temperatures have dropped and our bodies of water are close to or already have frozen over for the winter. This is when I start to get stir crazy, something that I do and other anglers can do to keep busy and prepare for the nest fishing season it to sort through tackle and get it.
As a tournament fisherman, I have found that an organized tackle box is one of the most important things to help maximize your time and efficiency on the water. For the time you spend now in the off-season organizing tackle, will aid in you finding the items you need quicker next fishing season, resulting in more fishing time.
To keep my tackle organized in my Ranger Z119, I use a variety of Plano Stowaway cases to customize each case for certain style baits and bodies of water. This way I can easily re-rig rods in the evening before a fishing trip and even more importantly find that key lure when I'm on the water.
TIP #1
ORGANIZE PLASTIC BAITS INSTEAD OF PLASTIC BAGS
I like to keep my Zoom plastics in the thin Plano 3701 cases. I can have one case for each style. For example I keep one with my jig trailers in it, in a few colors of each style. This way I can limit the countless bags of plastics that I would put in my boat on tournament day. This allows me to find baits quicker and decrease the weight in my boat.
TIP #2
PREPARE FOR TOURNAMENT DAY
Come tournament day or on an upcoming fishing trip, if I know I'll be using a certain selection of plastic baits that are unique to that given body of water, then I'll take those bags of plastics and put them in a Plano Speedbag, which will keep them organized and in one place, easy for me to grab.
TIP #3
PREPARE FOR BACK UP TACKLE
During the summer months when I am going from tournament to tournament and lake to lake, I rely on a large assortment of different plastics and other tackle items. To be more efficient with these circumstances, I put all of my back up tackle and extra bags of plastics in a Plano XXL Stowaway, which will hold enough plastics for the summer.

TIP #4
STORE TACKLE PROPERLY TO PROTECT FISHING LURES
For my hard baits, I like to use the waterproof Stowaway's that Plano offers, this way those expensive crankbaits and topwater plugs are protected from the elements. I have one box for my topwater plugs that I use on tournament days only, this case will get put in the boat only then.
TIP #5
CHOOSE EFFICIENT TACKLE STORAGE CASES
I use deep waterproof cases for my crankbaits as I can fit more baits in each compartment then a standard depth case. For example, I can fit three to four square bill crankbaits in the smallest size spot available. These deep cases are extremely effective at keeping those big deep diving plugs organized and easy to grab.
TIP #6
CUSTOMIZE TACKLE STORAGE AS NEEDED

When it comes to keeping my jigs; flipping, swimming or lead heads, I prefer the CDS Stowaways, as I can customize each storage spot, thus eliminating the space that the jigs can slide and move around in. This many times is an issue with other cases and when you go to open your case of shaky head or swimbait jig heads, you could have different sizes mixed in with each other.
TIP #7
DON'T OVERLOOK FISHING HOOK AND WEIGHT STORAGE
To help keep the weight in my boat down, I only put a small selection of tungsten weights in a small Waterproof Stowaway. These have small compartments; so I can keep them organized for easy size identification. I also leave my Lazer TroKar hooks in small Ziploc bags with the sizes labeled on them and then put those bags in a waterproof case. This ensures my hooks stay dry and rust free.
TIP #8
LABEL TACKLE CASES FOR QUICK IDENTIFICATION
On all of my cases I'll label them using a household label maker; these labels keep your cases looking neat and allow you to quickly identify what is in them.
TIP #9
KEEP ONLY THE FISHING GEAR AND TACKLE THAT YOU NEED
So, as you have some down time these next few months take the time to sort through your tackle, sell or donate the stuff you don't need and then organize all of your baits that you'll be using next season, you'll be surprised at much time you'll gain on the water next year.
For more information check out glennwalkerfishing.com or on Facebook at facebook.com/glennwalkerfishing.