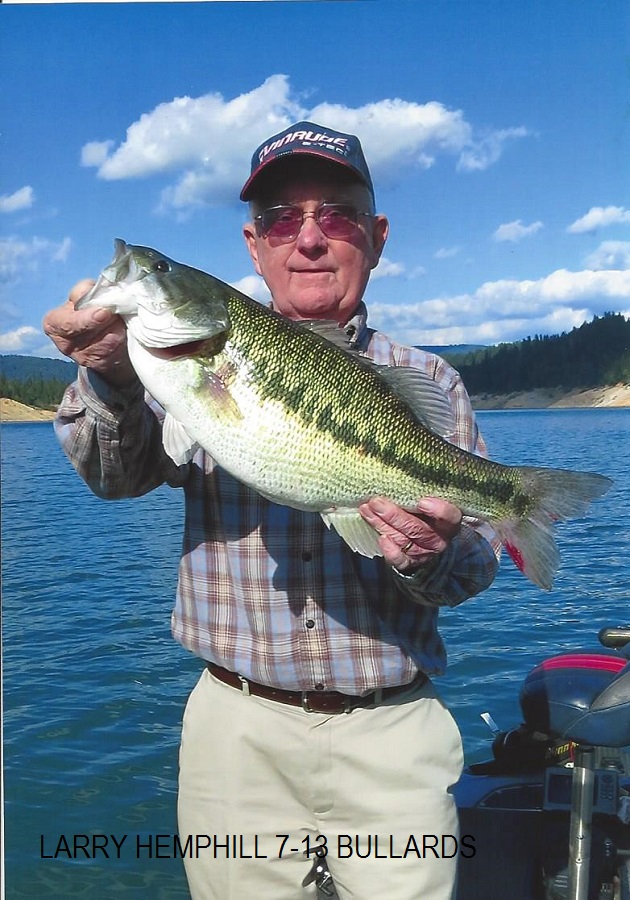 Why should a lake with the word "NEW" in its name be talked about in such recent glowing reports? These great reviews are usually for newly formed lakes, after they are filled.
When a new lake is opened, the first six or seven years usually provide excellent fishing for bass, bluegill and other panfish; but, the "NEW" Bullards Bar Lake was completely filled in 1971. A 45-year-old lake is not new – unless – something is new about the fishery.
Yes, there is something REALLY new at Bullards Bar – GIANT Spotted Bass!
THE RECORDS
The California state record for spotted bass was documented from Bullards, twice in 2015. Once with Tim Little's 10.38 on January 12 and then again with Louis Ferrante's 11 lb, 3 oz on February 21.
The lake produced another record-breaking catch of 11.4 for Paul Bailey this past November. Although the giant spot was weighed on camera with multiple scales, in front of varied witnesses, it could not be certified on Thanksgiving weekend and thereby is not currently recorded as the official record.
Since your interest level about these big spots might have risen, here are some facts about the lake:
THE FACTS
New Bullards Bar is located about 30-miles northeast of the Yuba City/Marysville area, in Northern California. The elevation is 2000-ft with forest lands surrounding the lake. There is no development around the entire lake. There is a marina and ramp by the dam and another ramp at the east side called Dark Day. The lake is managed by the Yuba County Water Agency.
Bullards really is a beautiful lake, especially now when it is nearly full. Pine, Oak, Madrone and other trees are everywhere around the lake - bushes and small trees are now underwater everywhere in the coves, having taking root during the four year drought. There is bass cover everywhere, which will be a boon to all the warmwater species at Bullards.
The total water capacity of the lake is about the same as Folsom Lake, almost a million acre feet. It is fed by the North Fork of the Yuba River. Bullards is unique in that it is a deep canyon lake, 16-miles long with about 60-miles of (mostly steep) shoreline.
Talk about deep water – I recorded a 763-ft depth at the dam. When I am running around the lake, the average depth seems to be 250- to 300-ft. Anyone for dropshotting??
FIRST TIME
I fished Bullards Bar for the first time in January of 1977, having moved to Yuba City from San Jose in 1975. I joined the Bass Busters of Yuba City right away and fished the January Bullards tournament. A new experience for me – pouring rain all day – at 2000-ft – Brrrrrrrr!!
But – I won the tournament with a freak fish. At least that's what the guys said – including 19-year-old Gary Klein, who had just joined the club.
About 3:30 p.m., just before the weigh-in, I was throwing a black/chartreuse worm and got a jarring hit. I soon landed a 5½-lb largemouth and knew she would help my weight.
I was shocked to hear the fellows' reaction to my largemouth. They were sort of bowing to me – "we are not worthy!!" They told me that no one was catching big largemouth at Bullards anymore. Most all bass in those days were 10-in to maybe 3-lbs – largemouth and smallmouth. Spotted bass had not been introduced to California waters yet. I towed home thinking about my new favorite lake with some jingle in my pocket!
BACK THEN
Fishing at Bullards in the '70s was tedious. There were trees sticking up all over the shallows and floating logs everywhere. It really was a dangerous lake for boating, especially when it was windy.
I actually punched a hole in the front of my bass boat from a branch I did not see. One of our club members used to race through the floating wood for many years – and lived to tell about it! Don't think he ever hit anything big!!
Sometime in the late '70s or early '80s, the lake was cleaned up – debris taken out and some shoreline trees cut. Today, the lake has less debris after storms than some other lakes have – think Oroville. This alone would qualify for the title – the "NEW" Bullards Bar.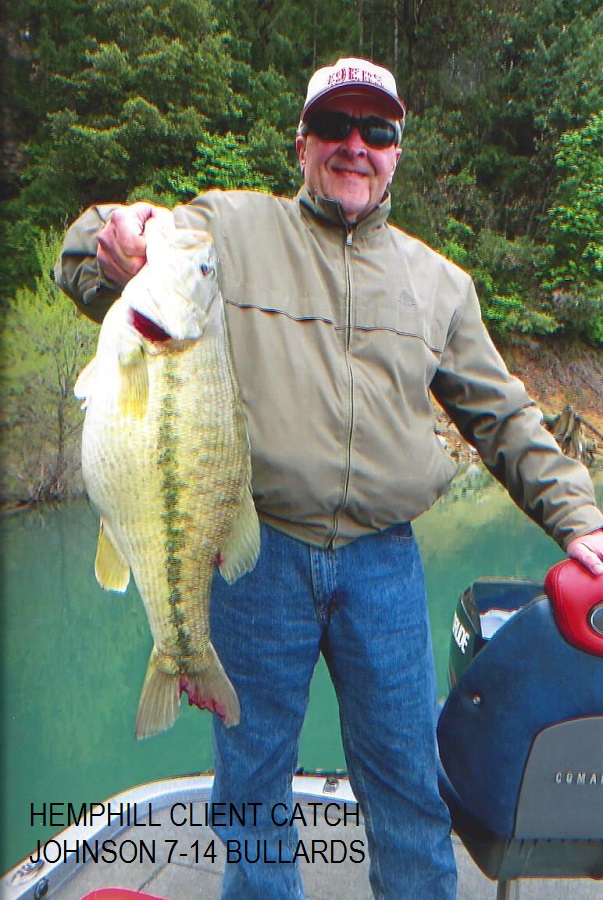 GUIDING
While I liked the tournament scene, I was a teacher at heart. I taught music classes as a public school teacher for 30+ years, taught youth and adult bass classes, and eventually became a seminar speaker at ISE and other outdoor shows. Gary Dobyns and I team-taught huge bass classes in Sacramento in the mid-90's.
I wanted to teach fishing in my boat; so, I became a licensed guide in 1981. Where was my first guide trip you ask? Yes – Bullards Bar! And, my clients even caught some nice bass!!
As Berryessa became the "hot" lake in the early '80s, most of my guiding was there and my other new friend – Clear Lake.
I used to tell Hal Huggins, one of my early sponsors (Fangard and Hal's Tackle), how well my guide trips were going at Berryessa. Big Mistake!!! He said: "That's great – I'll hold a Western Bass tournament there!" That was 1984, and the rest is history. No more quiet Saturdays at Berryessa - bass boats everywhere!!!
I expanded my guide service to Oroville, Collins, Amador, and Pardee. I really didn't fish at Bullards much in the '80s and early '90s. I was enjoying a reputation for catching and helping my clients catch monster bass from Clear Lake and Amador.
CATCHING THE MONSTERS
I now have 48 bass over 10-lbs – up to 14-lbs, 2-oz and two clients with bass over 12-lbs.
After 2010, I started guiding more at Bullards Bar and became aware, along with some other trophy bass guys, that Bullards was no longer just a nursery for small bass.
I learned how to fish swimbaits for large spots and am now teaching clients how to fish them. These now monster spots will hit so hard that the grip on your rod/reel combo better be secure!! You need a "big bass" outfit – 8-ft swimbait rod – to sling a lure to the next cove!! When it hits bottom, just reel it back – slowly.
This year, with all the cover in the water, monster spots may be harder to reach as they lay near the bottom of a submerged 30- to 50-ft tree. Five and six-inch Senkos are doing a good job of attracting some bass out of the trees.
If you throw swimbaits at Bullards and don't have a large bank account, you better bring a big snag removal tool. Bullards is the lake of "ten thousand stumps" – BIG stumps!!! A few weeks ago, one of my clients lured a 7-lb, 14-oz spot (already spawned) out of a tree on, yes, that's right – a 6", Morning Dawn/Chartreuse tail Roboworm. Who would have thunk!! What's worse? He beat my personal best spot at Bullards – by an ounce! Ouch!!!