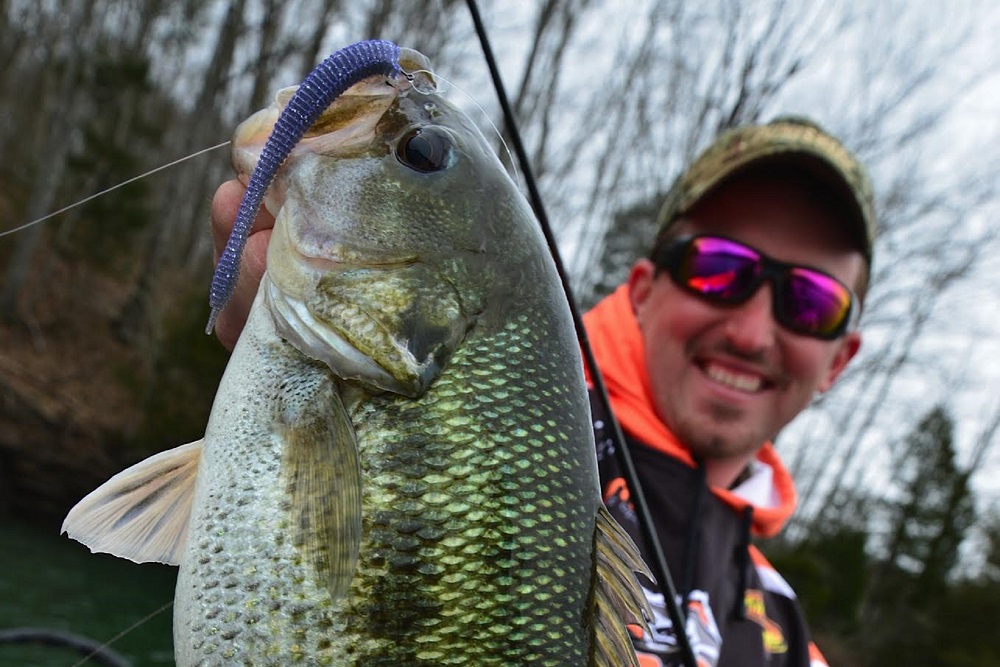 Cold Water Finesse with Paul Mueller
Cold water bass fishing often requires patience, slowing down and downsizing your baits. Bassmaster Elite Series pro Paul Mueller has spent countless days ice fishing and has brought some of his skills and theories to the open water. He believes that winter fishing with finesse techniques is the way to go when the fishing gets tough.
Mueller's favorite soft plastic bait for wintertime fishing is the Reins Bubbling Shaker. It is a bait with a shad profile and comes in several sizes and colors. The three, four and five-inch versions are what he relies on and he will fish each one with a different approach.
Vertical Dropshot
The dropshot is an excellent producer throughout the year, but Mueller relies on it often when the water is cold and he is "video game" fishing for fish he can see on his electronics.
"During the colder months, the dropshot is most often a vertical approach and I will watch my electronics to determine the mood of the fish by judging how active they are and also to see how far they are off of the bottom. Then I adjust my leader length according to that and I'm not afraid to use a leader that is a several feet long," said the Dobyns Rods pro.
This is something he has translated from his ice fishing experience and noted that cold-water fish will be looking up to feed. "If the fish are suspended five or six feet off of the bottom, I wouldn't have a problem putting my hook six or seven feet above the weight to make sure the bait is above the fish," added Mueller.
His top colors are baitfish imitators like Natural Pro Blue, Kito Kito Shad or Bluegill on a size 4 Decoy dropshot hook. He adjusts his weight size based on the depth he is fishing. For water that is between 15 and 40 ft, he will use a ½ oz Reins TG Drop Shot Slim Heavy Weight to get the bait down quickly to deep water and into the view of his electronics. For water that is over 40 ft deep, Mueller switches to the one-ounce size of the same tungsten weight.
His gear for this technique is a Dobyns Champion 701 with a 2000 size Lew's Team Pro Speed Spin reel and 10 lb Gamma Torque braid with a 6lb Gamma Edge fluorocarbon leader.
Horizontal Dropshot
Mueller also fishes his dropshot with a horizontal approach and long casts as opposed to just dropping it below the boat. Fishing the technique this way is when Mueller switches to a Texas-rigged, five-inch Bubbling Shaker on a Rebarb style hook.
"I'll fish the dropshot with a Texas-rig when I am fishing deep weed lines, which are great places to find bass in the winter," added the Connecticut pro.
He will typically use a slightly heavier braid and leader, but prefers the same setup as he uses for vertical dropshot fishing.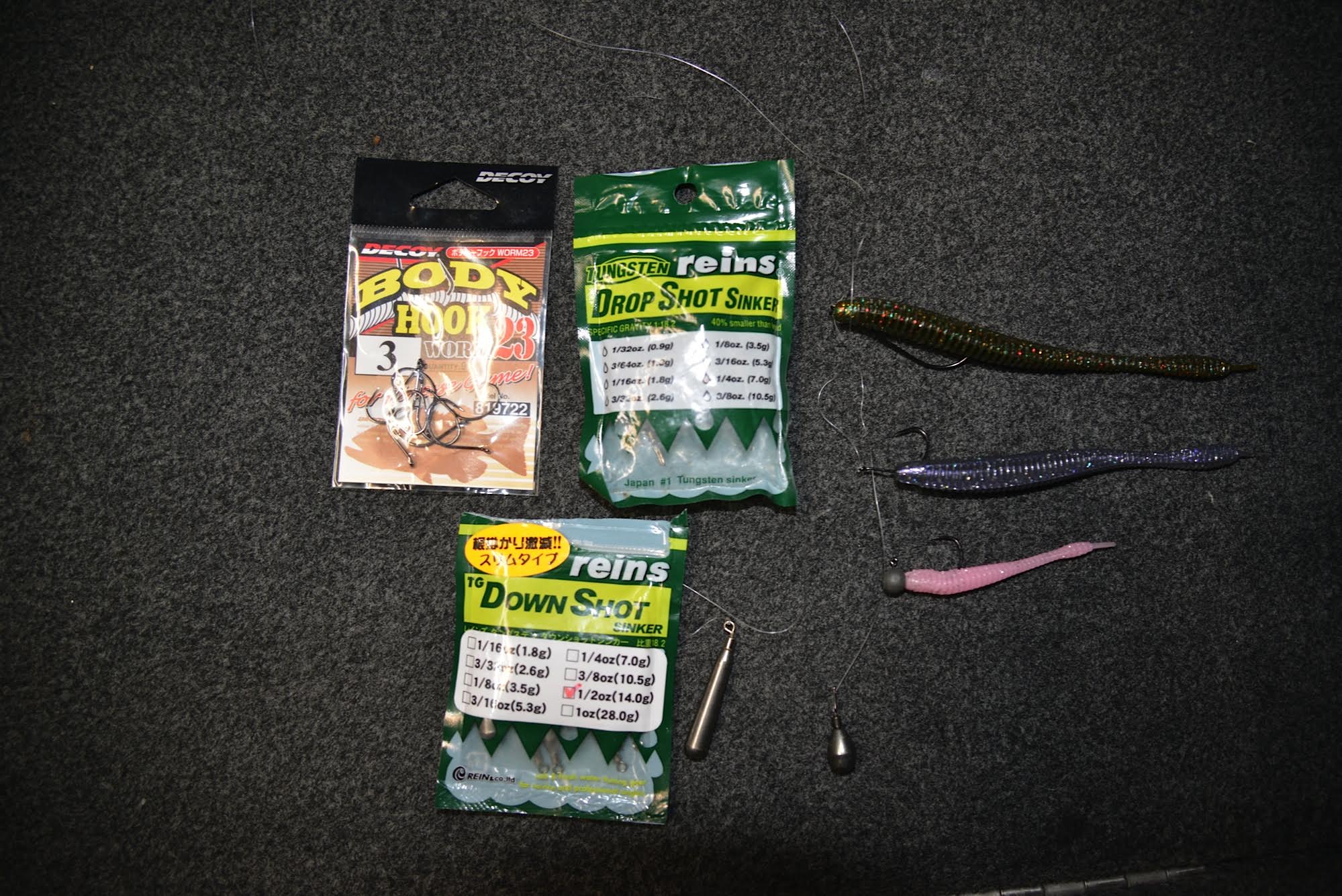 Jighead Plastics
Another trick Mueller has learned from ice fishing over the years is the use of a small jighead with a three-inch soft plastic to tempt bass he sees on his electronics.
He originally started experimenting with this through the ice and it has become one of his top producers in open water when the temperature drops. "It's really cool because you can often see the bass move up on the screen to meet it as it falls. I just continually raise and lower the bait, it works great for inactive fish," shared Mueller.
He rigs the three-inch Reins Bubbling Shaker on a lightweight 1/13 oz Zappu Cocho Cocho tungsten jighead.
This small profile jighead offers a slow fall and action that gets the attention of the bass as it falls to them. "This has been my best ice fishing bait for the past few years so I decided to try it in the open water and it works just as well," he says.
The success of this bait and technique goes back to his theory that cold-water bass are used to looking up for food and the small profile of this bait works great in the winter.
With this ultra-finesse technique he will downsize his tackle. "I will use 5 lb Gamma Touch fluorocarbon; because, it is very thin and allows that light bait to fall much quicker than a braided line with a fluorocarbon leader," added the Elite Series pro.
In addition to his line, Mueller will also scale down his rod and reel for this technique. A Dobyns Champion 682 and 1000 size Lew's Team Pro Speed Spin reel round out his setup.
Wintertime finesse fishing can be done with a variety of baits and techniques and it is often the best way to tempt slow-moving bass. Bassmaster Elite Series pro Paul Mueller utilizes soft plastics in various sizes and different rigs to find success when fishing cold water.