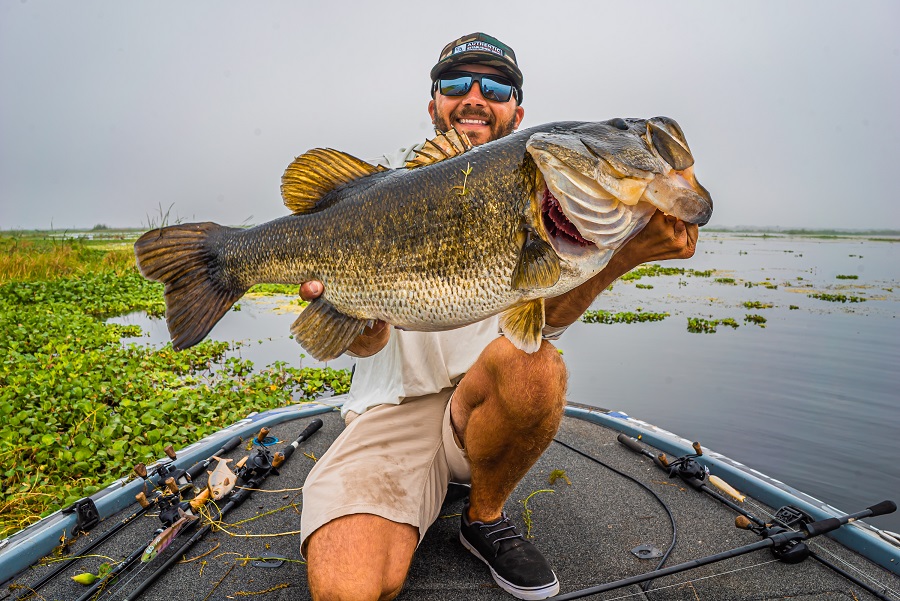 One of the best ways to find bass is to seek out aquatic vegetation. It's a time of year when the grass is the thickest and the bass are generally buried deep in it, looking to escape the heat. Florida guide Capt. Tyler Woolcott knows a thing or two about grass and bass, as both are everywhere you look in Florida, but his advice translates well to anywhere you are fishing this time of year.
Capitalize on the frog bite
One of the most fun things you can do is to fish a frog around the grass. Woolcott does this any chance he gets, whether fishing for fun or guiding clients throughout Florida. It's especially good during the bluegill spawn.
"The bluegill spawn is going strong in June and July, and I spent a lot of time idling and looking for the beds on edges of hydrilla," he said. "You will see them on your sidescan and if the water is clear and you are looking around, you can see them with your eyes, too. This is how a lot of the big bags during the summer months come from lakes like Toho, just running bluegill beds all day with a popping frog."
One thing Woolcott has learned about fishing a popping frog is that generally, the bigger the commotion, the bigger the strike from bass. "A lot of my clients want to fish the frog with a walking action like a regular frog, but you want to pop that thing," he said. "I like to pop it hard and then kill it to cause a big commotion and give them time to find it."
When fishing these popping frogs, he prefers a 7-foot, 4-inch heavy 13 Fishing Muse II Black rod with an 8.3:1 13 Fishing Concept A2 reel.
"These rods were designed with heavy cover fishing in mind like we do in Florida," he said. "They are beefier, have a longer handle, and have plenty of power to set the hook."
He says the faster retrieve speed on the reel is a plus for frog fishing. "I like a faster retrieve anytime I can get away with it," he said. "If one misses it, you can get it back quick and make another cast. Another cool thing about these reels is the cork handles; they are comfortable and don't slip at all, even when they get wet."
Punch 'em up
Another tried-and-true summer approach for Woolcott is punching grass, typically the topped-out hydrilla that pops up after a few months of warm weather.
"My approach all depends on the lake, but anywhere you go, the bass want to have some shade so it's cooler," he said. "The best thing you can find is deeper hydrilla with a clean edge. The bass want to be in a little deeper water, and if you can punch the edges close to those areas, you'll find some fish."
He keeps it simple with a standard black and blue beaver-style bait and fishes the weight that allows him to enter the grass easily. It could be a one-ounce weight, but he will go as heavy as needed. His gear of choice is a 7-foot, 9-inch 13 Fishing Muse II Black rod with the same reel that he uses for frogging.
Chatter time
The ChatterBait is a lure that works almost anytime and is an excellent choice during the hottest time of the year. It's something Woolcott keeps on hand and he uses it in conjunction with the other two techniques.
"The frog is great for searching for active fish and punching is great for picking apart cover," he said. "I use the ChatterBait in the same places and use it to pick apart areas with scattered grass."
For his ChatterBait setup, he prefers a 7-foot, 4-inch medium-heavy moderate 13 Fishing Muse II Black rod with a 7.5:1 13 Fishing Concept A2 reel.
"The rod feels like a composite blend to me, with a nice bend to it," he said. "It's got a little more give to it but still enough backbone to rip the bait free from grass. It's also not too stiff, so it won't rip the hook free when you set the hook."
Fishing aquatic vegetation is a great starting point for summertime bass fishing, no matter where you live. These three baits will cover your bases and get you started and let you beat the heat and experience some excellent bass fishing.