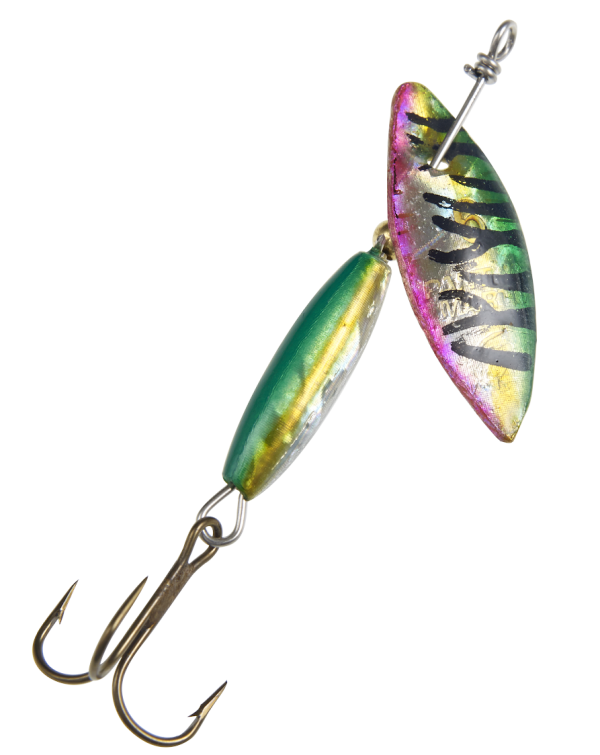 Turbo-Charged Upgrade of Willow Blade Lures
Port Jefferson, NY– For over 60 years, Panther Martin® has continuously produced lures in various styles, colors and patterns that have proven to catch fish season after season. For 2019, Panther Martin has upped the game once again with the new WillowStrike™ Spinners. Willow blades are not new to the market, but never have they been fashioned with Panther Martin's shaft through the blade design and unique convex/concave blade.
Willow blades are famous as shallow water lures, but with the addition of a Panther Martin spinner, the WillowStrike spins faster creating sonic vibrations that catch the attention of fish further away. Also attracting fish are the proven patterns - 3 classic holographic and our original genuine gold & silver-plated patterns. The holographic pattern reflect light from every direction and the gold & silver finishes provide maximum flash. The elongated body glides through the water effortlessly as the blade spins calling out to fish and reflecting light with every move. Using super sharp, Mustad treble hooks, these lures will not only get more strikes, they will get more fish.
Perfectly irresistible to Trout, Bass, Salmon and more. Available in 5 colors (Gold, Silver, Holographic Tiger Green, Holographic Spotted Blue and Holographic Rainbow Trout) and 5 sizes (2 - 1/16 oz.,
4 - 1/8 oz., 6 - ¼ oz., 9 - 3/8 oz. And 15 - ½ oz.).