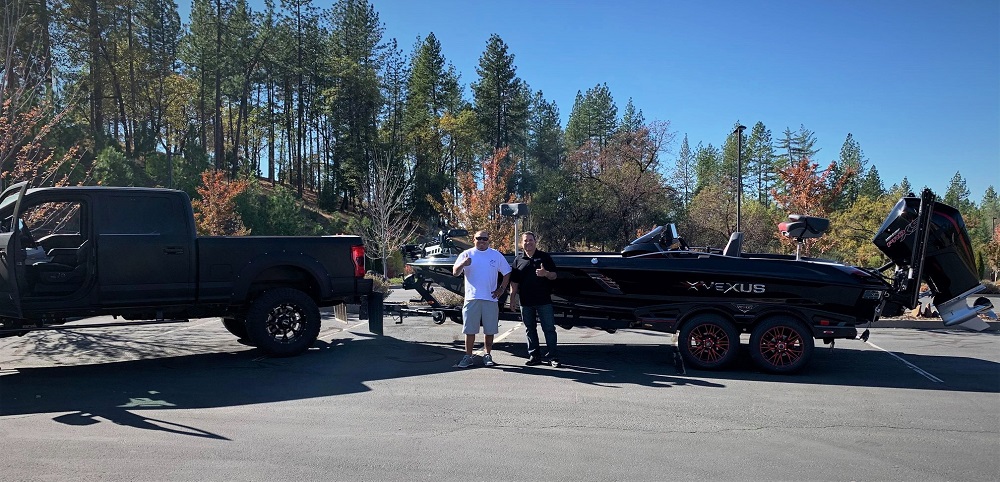 Since the Vexus name arrived on the bass boat scene, they have been a hot topic among bass anglers. The new brand was started by some of the most prominent names in bass boat building, including several individuals with deep ties to Ranger Boats.
They started the company with a promise to build the best boat possible. Their first entry into the market was with aluminum models, and now the first round of Vexus fiberglass boats have arrived in California.
C&C Marine Newcastle's John Maes shared that they have Vexus fiberglass and aluminum in stock as well as another new addition, Phoenix Boats.
Vexus Fiberglass
When the fiberglass models were first unveiled at the Bassmaster Classic earlier this year, bass anglers were eagerly waiting for them after noticing some unique features.
"They are the first bass boats to have soft riding pedestal seats," said Maes of the AirWave pedestal bases that Vexus uses to provide unmatched comfort in rough water.
Besides this unique feature, the Vexus fiberglass models also include an infused composite construction, a unique livewell system for keeping your fish alive, and a keel mounted fuel system to offer a lower center of gravity. These are just a few of the reasons why Vexus received the attention that it has.
Besides the unique features, one of the biggest things, according to Maes, is the build quality and ride
"I have driven them, and the ride is amazing thanks for the Deep V hull design, and they have all of the creature comforts you can imagine. Everything about them is above and beyond what other boats are doing," he said.
Being the first dealer in California to have them in stock and ready to purchase, they have garnered quite a bit of interest, and Maes said the feedback has been phenomenal.
"The boat we have in stock is the third in California as we already had two go out, Ken Mah had the first one in California," shared Maes. "We have a VX 20 ready to go right now."
Vexus Aluminum
The Vexus line of aluminum boats has drawn great feedback from those who have ridden in them. Maes says they are an aluminum boat that rides as good as fiberglass models.
"They have been our best selling bass boats. They don't rock like other aluminum boats, and the fishability and comfort both are great," Maes shared. "They truly ride as good as a fiberglass boat."
The Newcastle location has 2020 models in both the AVX1880 (18'10") and AVX1980 (19'10") in stock and ready for purchase.
Phoenix Boats in Newcastle
While Vexus has received much of the attention at the Newcastle location, they also brought in Phoenix boats earlier this year.
"As of July, we are a Phoenix dealer, and we have sold a few already. They fit nicely between the Vexus aluminum and fiberglass in terms of pricing. For the price point, it is amazing how good they are. I don't know how they can make such a good boat at those price points. I've ridden in a few of them, and they are a great ride and very fast," said Maes, who added that some of the models regularly reach speeds in the high 70's in his area.
Maes also says the Phoenix team did a great job with the design process of their boats. "The design is really thought out, and every little nook and cranny of the boat makes sense. They are built right," he said.
At the time of this writing, the Newcastle location has both the 819 Pro and 721 Pro XP in stock.
New Location and Excellent Service
A reasonably new change for C&C Marine is their move to the Newcastle location. Maes said this has been a great move.
"The new location is bigger, and we are also just far enough out of the city to make it easier to get to," said Maes.
The team in Newcastle includes Jeremy and Jordan Ransford, whom Maes believes are two of the best mechanics in the area. "They are the best in the area and have been doing it for years and years," he said.
They are certified to work on all of the major brands and regularly service and repair Yamaha, Mercury, and Evinrude outboards.
If you have been waiting for the new Vexus fiberglass models to arrive on the west coast, that time has come, and C&C Marine is the only dealer who has them in stock and ready to go in their Newcastle location. If you are looking for a Phoenix or a Vexus aluminum boat, they have you covered there as well.