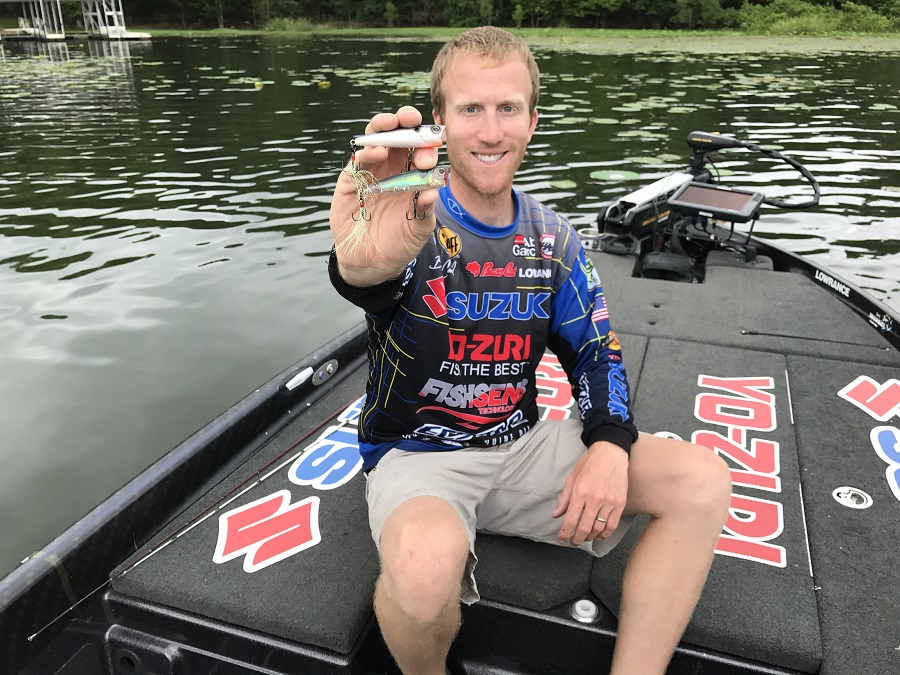 Topwater poppers and walking baits are two of the best ways to catch summer bass.
Deciding when to use them depends on how the fish are acting and where they are located.
Bassmaster Elite Series pro Brandon Card finds them both to be excellent tools and has had recent success in high-level tournaments thanks to a topwater. In this article, he shares his approach for how he decides when to walk and when to pop.
Fishing Poppers for Shallow Bass
When fishing shallow targets and when he needs to slow down, the Yo-Zuri 3DB Popper is Card's go-to.
"I use a popper when I need to make those short, pinpoint casts to cover. The bait casts really well and I can get it tight to brush and laydowns and then fish it really slowly," he says. This is his approach during the summer when bass are hiding in the shade of overhanging cover.
Walking Baits for Schooling Bait and Open Water
A walking bait like a Yo-Zuri 3DB Pencil is a great way to cover water and catch big bass. Card used the bait almost exclusively en route to a 2nd place finish at the 2016 BASSfest on Lake Texoma, Oklahoma and again when he lead the first day of the 2017 Elite Series stop on Ross Barnett Reservoir, Mississippi. For him, the walking baits are what he uses for everything but fishing shallow cover during the summer.
He has supreme confidence in the bait and uses it when the bass are keying on schools of baitfish and when located in open water.
"The 3DB Pencil is a different bait than other walking baits because it is not as loud as some other baits and I don't think the fish are used to the sound. It also casts very well," he says. The long casting distance is important during the summer time as school fish chasing baitfish to the surface can quickly disappear and each cast is vital.
Card also uses a walking bait to quickly cover water as he searches for active summertime fish. Although the warmer months are prime time for topwater, Card says he begins using it after the bass spawn and into the fall as the water temperature dips into the low 50's. "I think a lot of people put it down too quickly as the water cools in the fall. There is usually a window in late fall when you can catch giant bass on topwater," he shares.
Walking a Popper as a Key Presentation to Catch More Bass
While the popper may be best suited for popping slowly along the surface, Card actually walks the bait more than he pops it.
"I would say I walk the bait 60 percent of the time. The 3DB Popper has a very good action and it is much easier to walk than other poppers," he begins and says the key to getting the best walk is the knot you use.
"If I want it to pop, I'll tie an Improved Clinch knot to the line tie. You can slide it to the top of the line tie and get a spitting action and then push it down all the way to get more popping," he says. When he is walking the popper, the loop knot is what he goes with as it allows the bait to move freely and walk side-to-side with ease.
Fishing Line for Surface Lures: Fluorocarbon for Topwater?
The use of a sinking line like fluorocarbon is generally a bad idea with topwater, but Card has found a use for it. He will use a 40-pound Duel Hardcore Super8 braid as his mainline and short leader of 20-pound Yo-Zuri TopKnot fluorocarbon for a leader.
"I have experimented with both 30- and 40-pound braid and have found that they cast about the same distance and you get the added strength with the 40-pound. I tie a short 18-inch leader and use fluorocarbon simply because I do not use mono for anything else and was tired of keeping mono around just for topwater leaders," he says and feels that the sinking properties do not affect the action of his baits since the leader is so short.
Fishing Gear for Topwater Lures
Card uses the same rod for both the 3D Popper and 3D Pencil, a 6'10" medium-light Abu Garcia Fantasista Premier baitcast rod paired with a Revo ALX. He has changed his thinking this year with the lighter action rod and says that the castability is better.
"When using braid for topwaters you do not need the rod to set the hook since there is no stretch. This rod is also great for casting smaller baits like the popper."
Topwater blowups are one of the most exciting things in bass fishing. Knowing which topwater to use in each situation can expand the season and also lead to more surface strikes. Professional bass anglers like Brandon Card have learned that when to pop and when to walk often comes down to the cover you are fishing.