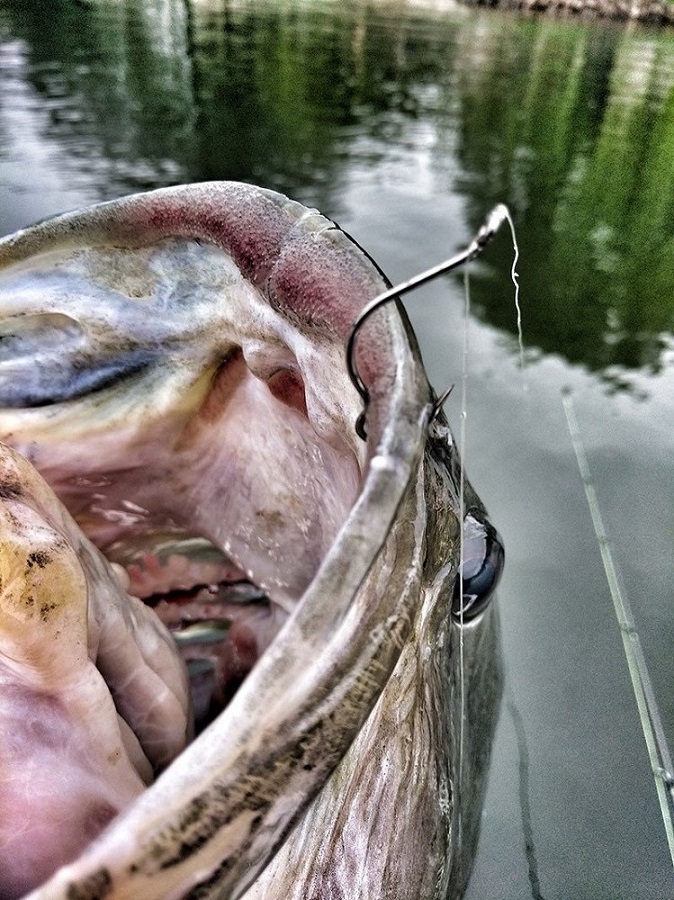 Lake Hartwell is the site of the 2018 Bassmaster Classic and should prove to be a great venue for the event.
Those who have fished there compare it to spotted bass fisheries in the west due to how it fishes and because it typically offers clear water finesse fishing opportunities.
Two former Bassmaster Elite Series anglers and western spotted bass experts, Greg Gutierrez and Vince Hurtado preview the event in this article.
Lake Hartwell Pattern Predictions
The site of this year's Classic features both largemouth and spotted bass. Both will play into the tournament, but spotted bass may be the key to win.
Gutierrez is one of the best in the west when it comes to spots and shares his thoughts on how competitors can catch Hartwell's big spotted bass.
"It will depend on the weather and if the water is dirtier than normal or clear. If it's dingy, it could be great for the reaction bait guys," he says. "If it is clear it would be a perfect time to use the Frenzy Baits Elite Wack-A-Sack with the 2/0 Trapper Tackle hook. If I was fishing the tournament, that is what I would be using," he says.
Hurtado agrees with that bait pick and added that a Carolina-rig may also come into play.
"A lot of guys have found that the Trapper Tackle offset worm hook is perfect for a Carolina-rig because you can just reel and load up on the fish and get a great hookset," he shares. "With how the lake is set up, a Carolina-rig could definitely be a factor."
Both of the former Elites added that a dropshot could be part of the winning formula.
"Hartwell gets a lot of pressure and finesse techniques do well there because of that. If I was fishing this year, I would have a dropshot rigged with a Reaction Innovations 4.95 Flirt worm on a 2/0 Trapper Tackle dropshot hook," says Gutierrez. "That is a great way to catch big spotted bass."
Hurtado also feels that a jig could be a Classic winner. "
The new Trapper Tackle 30-degree jig hook is built for the heavy ½ oz, ¾ oz. and even 1-ounce jigs that are so great for deep lakes like Hartwell.
"The leverage the fish get with a big heavy head is why people lose fish with heavy jigs," he says. "The Trapper Tackle jig hook prevents that forward movement that leads to lost fish."
Classic Experience
Gutierrez has fished two Bassmaster Classics and knows both how hard it is to qualify for the tournament but also how much pressure is on the competitors.
"It is the pinnacle of fishing, it is a dream come true, and it is really hard to qualify. All of the guys who are fishing it are on a different level and is so hard to predict a winner because everyone is so good," he said.
Anglers to Watch
While the majority of the anglers Vince and Greg listed are western anglers with vast spotted bass experience, both agreed that 2015 Hartwell winner Casey Ashley will be hard to beat.
"Casey will be hard to beat on that pond because he has so much experience there," says Hurtado. Gutierrez agreed with that statement. "He knows all of the little breaks and subtle spots that the fish hold," he said.
Other than hometown favorite, here are a few of their other picks for anglers to watch.
Luke Clausen –"He has a great handle on spotted bass," says Hurtado.
Russ Lane – "He knows spotted bass from all of his time fishing for them in Alabama," shared Gutierrez.
Brandon Palaniuk – "He is not really known for his spotted bass fishing but he has been fishing so well it is hard to bet against him," added Hurtado.
Brent Ehrler – "He's won there before on the FLW Tour and he really understands that type of water and fishing for spotted bass," stated Hurtado. Gutierrez agreed and chose him as one to watch.
Mark Daniels, Jr. – Hurtado picked MDJ as a sleeper choice to do well. "He gets spotted bass and had a great year. He will be one to watch."
Skeet Reese – "Skeet knows spotted bass and grew up fishing for them," said Gutierrez after picking Reese as a possible winner.
Aaron Martens – "He has a great understanding of spotted bass in general and is due to win one," believes Hurtado.
As you can tell from their predictions and how they would fish the event, Hurtado and Gutierrez see predict a big western influence on Lake Hartwell for the Classic. The style of fishing, how the lake fishes and anglers fishing the tournament this year could lead to another Bassmaster Classic coming home to the west.