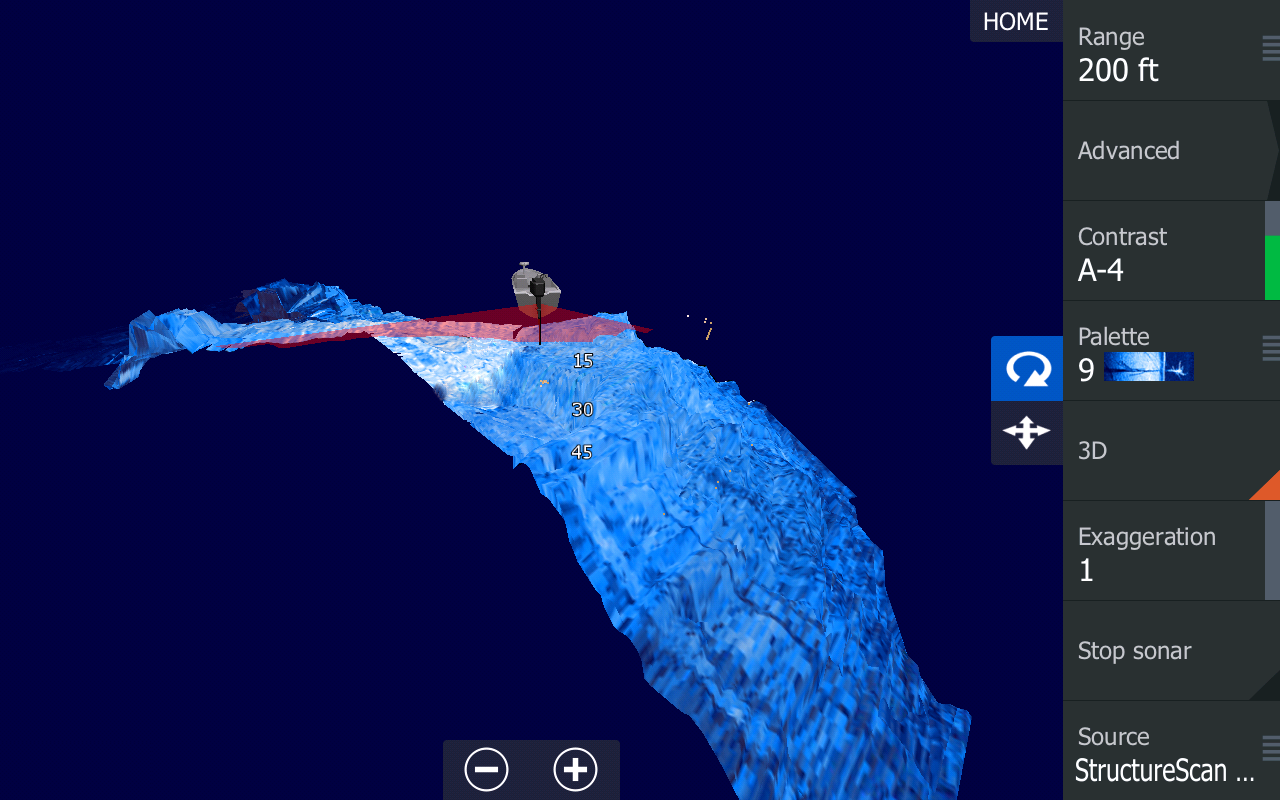 Ish Monroe's a wizard with a frog. Put him on the nose with a long Daiwa stick and a heavily-weighted Missile Baits D-Bomb and he'll make magic happen. Deep water scenarios; now, those are the ones that tend to test him. All that's changing, though — thanks to the new Lowrance Structure Scan 3D technology.
Released in December, this new technology shows fish, underwater structure and bottom contours with astounding three-dimensional clarity on a Lowrance HDS Gen3 fishfinder/chartplotter. Quickly scanning what's under and around the boat, StructureScan 3D creates a high-resolution 180-degree 3D view in water as deep as 300 feet.
Reaching up to 600 feet port and starboard, this innovative technology yields a level of detail that erases all the questions we once had about the structures we fish. As Monroe explains, understanding where fish and structure are located in relationship to his boat is a straight-up game changer.
"For me, a 3D view is phenomenal," Monroe said. "I'm not a huge deep water fisherman, mainly because I was never really sure how the fish were set up," he said. "This 3D view is now going to allow me to see it and understand. You'll be able to tell if the fish are in a biting position or a staging position."
Here's some perspective: What do we do in gift shops, produce markets, tackle shops? We hold the items of our interest in our hands, turn them all different directions and inspect every angle and detail.
Well, we can't do that with bottom structure, but StructureScan 3D comes pretty close.
"Now you're getting a 3D view of a structure that's below you and how the fish are setting up," Monroe said. "Before, you used to have to guess whether the fish were sitting on top of the structure, if they were suspended, if they were off to the side of it. Now, you can visualize which side of the structure they're sitting on."
HOW IT HELPS
Getting back to Monroe's newfound offshore optimism, he points to a few relevant principles to which StructureScan 3D will contribute.
Perspective: "It's basically defining the structure for you. Say you have an underwater bridge piling. Now you'll be able to see exactly how it's laid out. Or, if you have a laydown log, you'll see exactly how the fish are positioned on that laydown log.
Consistency: As Monroe points out, a clear picture of fish positioning enables him to present baits to a well-defined target zone.
"For example, if you have a hump and the fish are sitting on the left side, you'll know exactly where the school is sitting so you can make the right cast every single time," he said.
Time management: Of course, all of this drives you toward days of greater potential, whether you're fun fishing or competing in a tournament. Simple math: The less time you spend looking, the more time you have for fishing.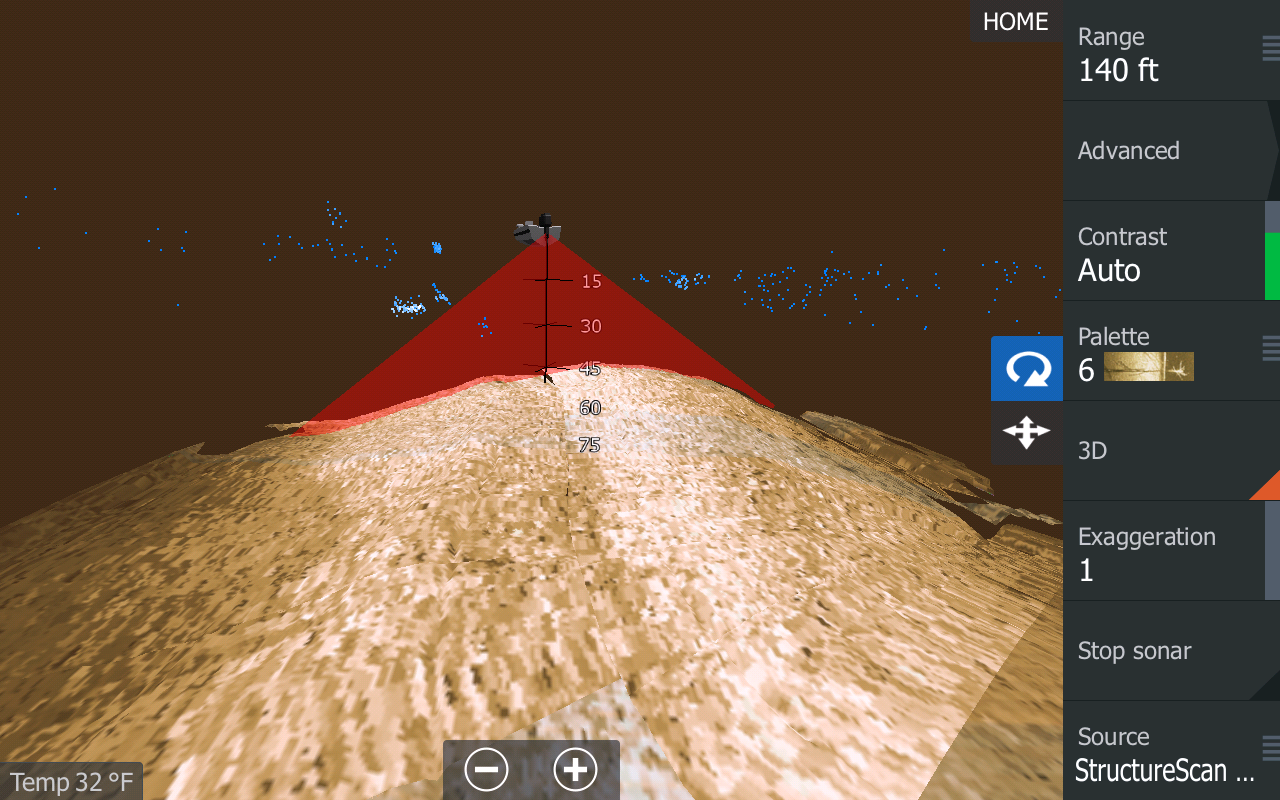 FIND 'EM
Anglers will appreciate the multiple viewing options provided by StructureScan 3D sonar — boosted DownScan Imaging™, even more detailed StructureScan HD and the new revolutionary three-dimensional views. Need a different perspective (think gift shop allusion)? This is where virtual point-of-view angles or ScanTrack™ pan-tilt-rotate control, allow you to combine custom HD and 3D views for the precise viewing angle that serves your interests.
Key features include:
Leading Edge™ Scanning Reference: A graphical illustration of the sonar beams as they intersect with the bottom contours provides a better sense of target depth.
SelectScan™ Water Column Target Coloring: Automatically shading fish-holding cover and suspended targets in a color that contrasts the selected color palette facilitates target identification.
Vertical Depth Enhancement: Emphasizing vertical drops and crucial depth contour changes making them stand out against the surrounding underwater terrain.
3D Waypoint Overlay: Want to revisit a productive spots? StructureScan 3D enables you to save a waypoint at the boat location via the waypoint keypad, or switch to cursor mode and save a waypoint over specific targets, baitfish schools or cover.
LOOKING FORWARD TO LOOKING DOWN
Scenarios will vary greatly, but Monroe said he's eager to apply the StructureScan 3D benefits in a couple particular ways.
Ledges: When the Bassmaster Elite Series visits Wheeler Lake in late April, Monroe will be handily equipped to address one of the prime scenarios that may be in play
"If the fish are on ledges, I'll be able to scan the whole ledge and find the key spots," he said. "StructureScan 3D will tell me where the shell is on the ledge and where the bait is. This will take the guesswork out of it."
Isolated Offshore Site: At the Elite event on Cayuga Lake in late June, as well as anytime anglers are hunting discreet reefs or rock piles, StructureScan 3D will make the job much more efficient. Everyone knows that once you locate a school of brownies, they're gonna eat — at least until you sore-lip a bunch of them.
The key deal, though, is finding where the quantity of quality parks on any given day. Smallies — and spots, for that matter — are a mobile lot and the more bottom detail you can see, the better equipped you are to identify the most promising areas.
"In the Great Lakes, or Lake St. Clair, there's often one rock in the middle that the fish hover over," Monroe said. "With StructureScan 3D, you'll not only find that rock; you'll know exactly how the fish are relating to it."
Moving toward the bank, Monroe said the StructureScan 3D will benefit anglers around deeper docks and bridges — anywhere looking under, through and around structure. Is anyone home? How high are they holding? Front side? Back side?
Again, no more guesswork.
StructureScan 3D sidescan imaging technology on HDS Gen3
Vertical Depth Enhancement Before Set on Depth Enhancment Level 1 Vertical Enhancement