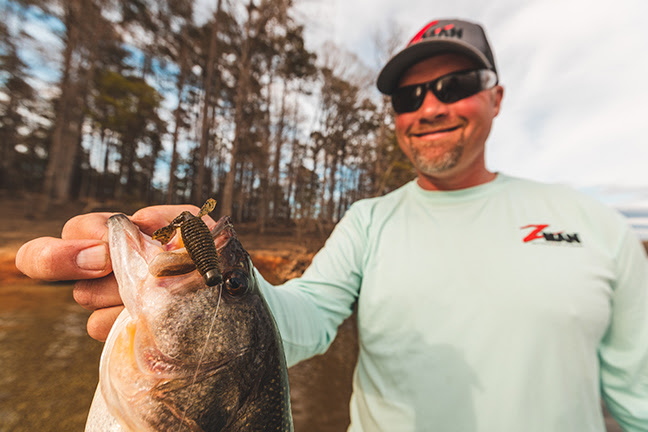 Z-Man® Earns Commitment to Excellence Award & Best Soft Lure
Rising star tackle company earns double accolades at Pitman Creek Fall Dealer Show
Ladson, SC (October 18, 2019) – – In baseball parlance, it's referred to as the five-tool player. That rare combination of speed, power, fielding, arm-strength and hitting for average. Out of 750 Major League Baseball players on active rosters, only 5 possess such a rare combination of talent and determination.
Each year, more than 300 fishing tackle manufacturers gather to showcase their wares and compete for coveted awards at Pitman Creek's Fall Dealer Show. Very few companies walk away with accolades. This year, Z-Man won two in one crack of the bat.
Singled out as one of the world's truly exceptional tackle companies, Z-Man Fishing Products recently earned the prestigious Commitment to Excellence Award. Complementing the honor, the tackle dealers in attendance also voted Z-Man's radical TRD BugZ™ the Best Soft Lure. Cultivated by Z-Man confidants such as Luke Clausen and Ned Kehde, the TRD BugZ is perhaps the hottest new bait in the Ned Rig category.
"The Pitman Creek Commitment to Excellence Award is not awarded annually," says John D. Johnson, Chief Operating Officer for Pitman Creek Wholesale, LLC. "The honor is actually reserved for those companies who go above and beyond normal business practices and greatly exceed the expectations of Pitman Creek.
"This commitment is exemplified by Z-Man Fishing Products, and its rare collection of capabilities, from product innovation, manufacturing, customer partnerships and connection with the consumer via Social Media Marketing," said Johnson.
Z-Man National Sales Manager Glenn Young believes the award affirms the company's longterm aspirations. "To follow up last year's President's Award with the Commitment to Excellence award this year is truly an honor," said Young. "This award belongs to everyone at Z-Man who has been working hard to excel for many years. Our machine operators, pickers and packers, shipping department and sales and marketing teams have all contributed to winning this award. I'm grateful to Pitman Creek for recognizing the amazing team we have at Z-Man."
According to Johnson, Z-Man's selection for the Commitment to Excellence Award was attributed to several key achievements. "Z-Man showed a sales growth of nearly 20-percent in 2019," Johnson noted. "This, on top of a banner year of triple digit (425% increase) growth in 2018. That's special.
"Consumer demand for their products increases year after year. Especially important, Z-Man consistently provides the inventory to fill such demand. They've shown the proficiency to submit any and all requested information and to quickly respond to the needs of the customer and the consumer alike."
Proving its talents extend from manufacturing, marketing and customer service to product innovation, Z-Man won its second major "best lure" award of 2019. At the January 2019 Big Rock Sports Show, Z-Man took top honors in Best Freshwater Lure with its TRD CrawZ™. During last week's Pitman Creek show, the company's TRD BugZ was awarded Best Soft Lure, as voted on by Pitman Creek dealers.
Z-Man's award-winning TRD BugZ paired with a Finesse BulletZ™ Weedless jighead.
An intelligent evolution of Z-Man's finesse TRD bait series, the 2-3/4-inch TRD BugZ has been a hot seller since its summer release. The new mini creature bait also gives fans of Ned Rig style fishing a super-lively, yet subtle option, as well as a finesse-sized jig trailer. Pro anglers like Mark Daniels Jr. have also praised the bait's flair on a dropshot rig.
"Winning Best Soft Lure with the TRD BugZ was a huge bonus," said Young. "It means a lot when the people who will be selling the bait are excited enough to vote for it. Two awards and one really great partner."
Z-Man President Daniel Nussbaum echoes Young's thoughts on the mutually beneficial relationship that's thrived between the companies. "I feel like Z-Man and Pitman Creek have a lot in common," Nussbaum asserts. "Both companies have seen explosive growth over the last few years. We believe it's largely due to being extremely customer-focused and investing in marketing, good people and infrastructure."