E6X "technique-specific" rods feature very precise tapers and power-ratings designed for the exact technique required. They have split-grip handle configurations, Fuji guides, a flashy, "loud & proud" Skeleton Fish logo with subtle black guide wraps. Techy yet aggressive in a way that should appeal to any angler. The key is the swing-weight. Whether you're pitching a jig or drop-shotting, these rods should be fished "tip up" so weight distribution is critical. If you're fishing a spinnerbait or a crankbait, those are normally fished "tip down" so we've taken that into consideration as well. We've spent hundreds of hours on the water testing and perfecting these actions so you'll be successful no matter which technique you choose. They're exceptionally light, accurate, powerful and sensitive and we make every single one of them right here in our Woodland, Washington factory, cutting no corners, leaving nothing to chance. You want G.Loomis performance? You get that and more with E6X.
$179.99-199.99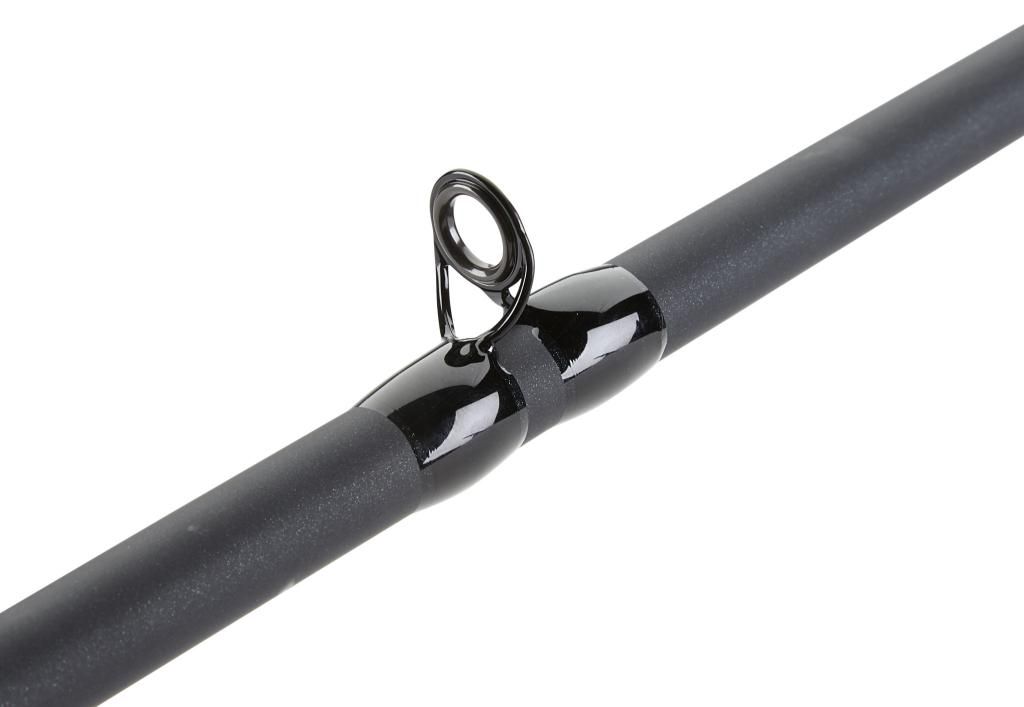 Jig and Worm Casting
E6X 803C JWR
E6X 852C JWR
E6X 853C JWR
E6X 854C JWR
E6X 893C JWR
E6X 894C JWR
Jig and Worm Spinning
E6X 802S JWR
E6X 803S JWR
E6X 852S JWR
E6X 853S JWR
Flip/Punch Rod
E6X 894C FPR
Swimbait Rod
E6X 884C SWB
Crankbait Series
E6X 843C CBR
E6X 845C CBR
E6X 847C CBR
Spinnerbait
E6X 812C SBR
Drop Shot Series
E6X 820S DSR
E6X 822S DSR
When G.Loomis first started building bass rods back in the mid-80's our most popular models were the Mag Bass and Spin Jig Series. These classic casting and spinning rods featured fast actions, were easy to cast and very accurate. This universal approach to a bass rod made it easier for everyone to become a better angler. Anglers will appreciated the flex, the feel, the fish-fighting control and the power of this design, giving them a real sense of confidence. With the development of our new E6X technology, we're able to re-create these rods with a new, more dynamic blank that gives the angler - from beginner to expert - a fast action rod that makes it extremely comfortable to cast and to fish. The new E6X material provides exceptional power in a lightweight package that will provide years of enjoyment and fishing success. They feature Fuji guides and reel seats with full cork grips. Made in our newly upgraded Woodland, Washington manufacturing facility, the new E6X Series of Mag Bass and Spin Jig rods recreate the best of the best in our most beloved series of bass rods. Try one and experience the G.Loomis advantage!
Mag Bass Series
E6X 782C MBR
E6X 783C MBR
E6X 843C MBR
E6X 903C MBR
E6X 844C MBR
Flipping Stick
E6X 904C FSR
Spin Jig Series
E6X 721S SJR
E6X 722S SJR
E6X 782S SJR
E6X 783S SJR
E6X 842S SJR
E6X 843S SJR