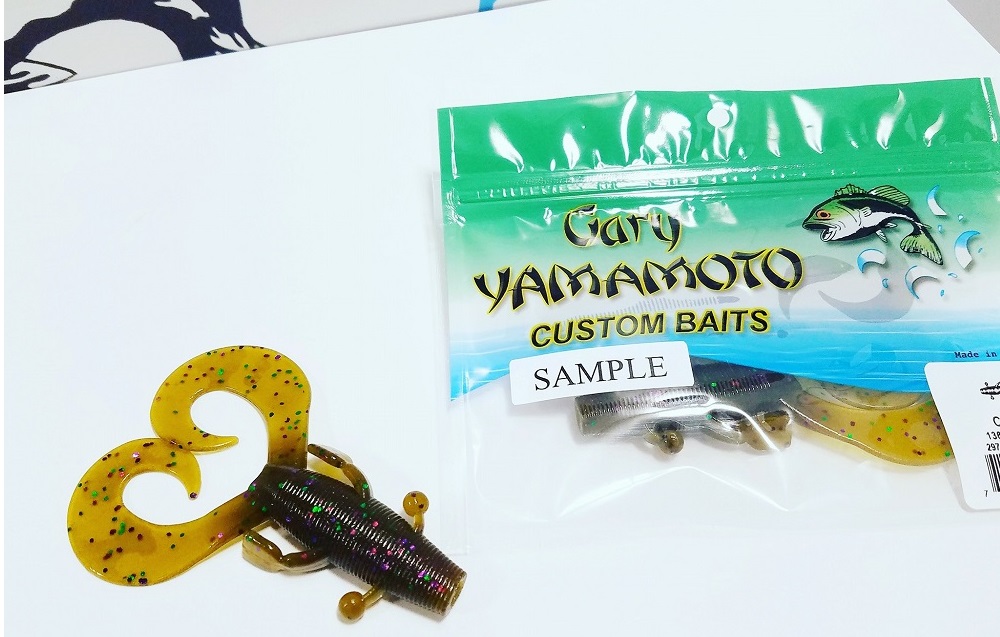 Gary Yamamoto Custom Baits needs no introduction thanks to the Senko and many other effective soft plastic baits. They have a host of designs to cover a variety of situations but recently added another one to fill a gap in their product line.
One of their newest additions is the Cowboy.

A Power Soft-Plastic
Yamamoto pro Jay Yelas calls the Cowboy a "power soft plastic" because it is big, bulky and casts so well. The bait is four-inches long and has a big, powerful double tail with two appendages coming out of both sides of the body. Since it a Yamamoto bait, you know it is full of salt and offered in many proven colors.
"One tip I can offer is to make sure you rig it perfectly straight no matter how you use it, so you can get the most out of it," says Yelas, the 2002 Bassmaster Classic champion.
Yelas has been fishing this bait for a few years now, from when the lure was a prototype to when it was released earlier this year. "It is a great bait, and you can fish it several different ways," he adds.
There are many ways to fish the Cowboy, but Yelas says there are four situations when he relies on this new soft plastic.
More Rigging Tips in Cowboy Video Below
He is a fan of the size of the bait and how much action it has.
As a Jig Trailer
While just about any Yamamoto soft plastic can be attached to the back of a jig, Jay Yelas felt they needed one more.
"All of the pro staff have been asking for a soft plastic that appeals to bigger fish and to use primarily as a jig trailer. The Cowboy can be fished several ways, but excels when you want a bulkier jig trailer with a lot of action," he says.
While Yelas likes both the Psycho Dad (video) and Flappin' Hog (video) as a trailer, he says they have limited action, and there are times when he wants an aggressive kick.
On the other hand, he loves the standard Double Tail for finesse jigs, but it does not provide everything he was looking for in his collection of jig trailers.
"All of those baits have merit as a jig trailer, and there are times when one is better than the other. I use the Cowboy when I want a big profile," he shares. "It is also excellent on the back of a jig in dirty water."
Swim Jig Trailer
When casting and winding a heavy swim jig, Yelas feels like the Cowboy is one of the best trailers you can attach to the back.
"It has a lot of kick, and with swim jigs, you don't have much vibration. The jig just gets reeled back in, and the only real attraction to it is the skirt," he says. "When I am fishing a 3/8-ounce. or ½-ounce swim jig; I'll add a Cowboy and get that vibration to attract fish to it."

Carolina-Rig
"Worms, Senkos, and lizards are very common Carolina-rig baits, and they work well, but sometimes you want to use a bigger bait and appeals to big bass," he begins
"If you are fishing a lake known for big bass or when the fish are really aggressive, the Cowboy is great on your Carolina-rig," says Yelas.
Yelas pointed to a few specific situations when he prefers a bulkier bait on the business end of his C-Rig.
"Right around the spawn and after the fish seem to prefer a smaller bait with less action, but other than that, you can get away with a bigger bait and catch the biggest fish with a soft bait like the Cowboy," he says.
"A lot of times I will make my first few casts with the Cowboy to catch the most aggressive fish and then if the bite slows down, I'll downsize my lure." He will use this bait during the pre-spawn and summertime when the bass wants a bigger meal.
Texas-Rigs
The fourth way that Yelas likes to fish the Cowboy is on a standard Texas-rig. "This is a bait that can be pitched and flipped around anywhere. It's been a winner no matter how I have fished it," he says.
When fishing the Cowboy on a T-Rig, Yelas is careful to use the right weight size.
"I would say the lightest I would ever use a ¼ oz. weight because the bait is so bulky. You want to be able to get it down. I think a 3/8 oz. weight or heavier is perfect," he shares.
No matter how you fish the Cowboy, you are going to get a big soft bait with great action. All of the Yamamoto soft plastics have proven themselves as effective ways to fool a bass, and now you can add a new one to the list.