Photo: 2020 Wild West Bass Trail Arizona Team Champions - Roy Hawk and Mark White
OVERTON, Nev. – The Arizona team of Roy Hawk, from Lake Havasu City and Mark White, of Tucson, took the trophy at the 2020 Wild West Bass Trail (WWBT) Arizona Team Championship at Lake Mead presented by Bass Cat Boats.
The team partners of more than a quarter-century ran away with the win, topping the 45-boat qualifier field with a tournament total of 27.72, more than 7-pounds over the runners-up. The duo earned a first-place price package of a Bass Cat Margay, $500 in contingency money from P-Line and Yamamoto as well as $225 for Big Fish dollars.
"It was really just a comfortable trip, staying with friends and spending time with good people," said Hawk as he recollected how the competition unfolded. "It was just a no-stress, fun event and we went into it at ease."
The two-days of fishing held no pattern for Hawk and once again, underlined the fact that Lake Mead is the "great equalizer", allowing anyone to fish anything and claim a victory.
"It truly was junk fishing," explained Hawk. "Not just in baits, but in spots, in types of spots and even depths. There wasn't much that we could find that would repeat. It was so wild, I would say that if I had to go out tomorrow, I may not catch one bass."
LURES AND LOCATIONS
Hawk described throwing the kitchen sink at 'em and getting bites on most everything they tried.
"We got about 20 bites on the first day and maybe seven or eight on the last day," he added. "Probably each of them were caught on something different; but our biggest fish – the ones we took to the scales – would've been on a jig and plastics."
Hawk specifically credited a 1/2 -ounce Pepper Jig with a Yamamoto Twin Tail Grub, both in green pumpkin, a Texas-rigged, Yamamoto Mermaid in 926 and a shad-colored Zipper worm, with a 3/8-ounce Tungsten and a 3/0 Gamakatsu flippin' hook.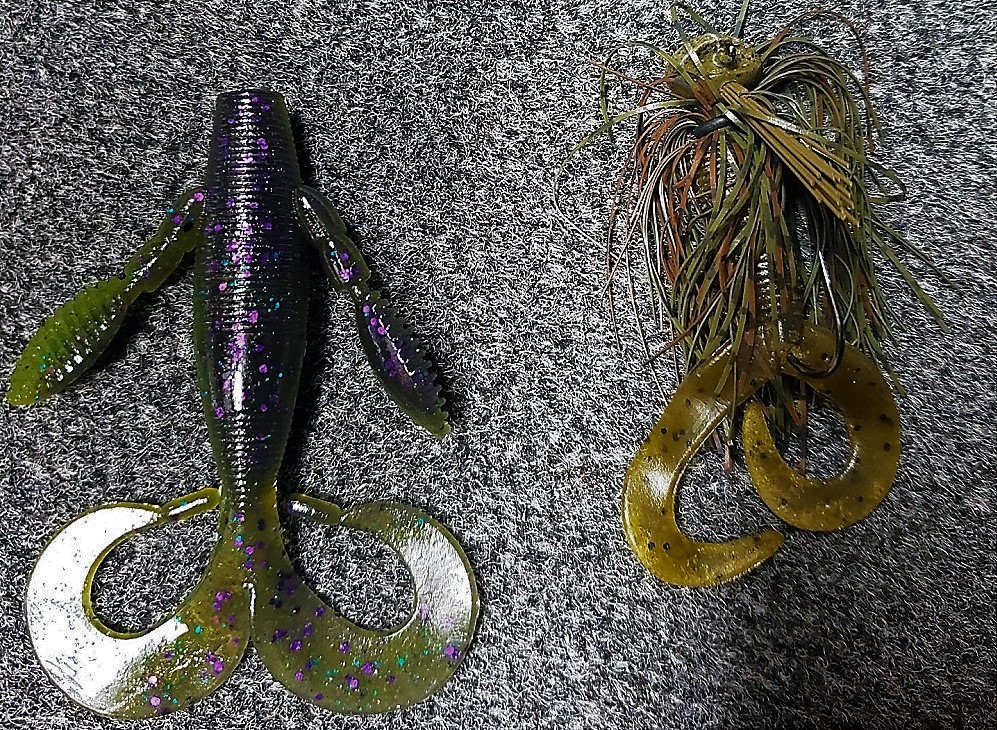 "We were takin' it back old school," said Hawk on the Robo.
While there was no defining elements that made up the team's productive areas, Hawk did reveal that the their milk run consisted of at least 10 spots.
"When we got to a place, we really had to marinade in it for a while. We had to pick it apart, try different lures, fish different areas, front to back, different depths, whatever," he explained. "It took more time than usual. It wasn't like you could go in and make 10 casts and take off. We really had to work for bites, rotating through lures and targets and really try to extract something. There was just no telling what would work or when and we had to just go through it all."
He elaborated on the mixed bag of success, revealing they caught fish in depths in 2- to 30-feet. Their most active time for bites was between 10 a.m. and 1 p.m. and he attributed the increased bites on Day One to "a little more wind".
Although the fishing pattern was unclear, Hawk was very specific on his appreciation for the Wild West Bass Trail.
"I've fished with Wild West since they started and they really do a lot to help give us something to fish out here in the West," he said. "They work hard to make a good organization. They are really good people and they run it well. It is a lot of fun."
REST OF THE BEST
2nd 20.38 Furmanek/Mack $4,000
3rd 19.40 Jonovich/Coffey $1,725, including Big Fish Payout
4th 19.22 Bynum/Tillema $1,000
5th 18.62 Amerson/Wheeler $1,125, including Big Fish Payout
The WWBT debuted in 2016. The trail includes a Pro/Am circuit and two Teams circuits – one based in California and the other in Arizona.
A special thanks to all the WWBT sponsors – Bass Cat Boats, Ben Green Insurance, Bobs Machine, Buck Knives, Gary Yamamoto Custom Baits, General Tire, Genesis Graphics, Fitzgerald Fishing, Lucas Oil, Lure Lock, McMillian Fiberglass Stocks, P-Line, Power-Pole, Protect the Harvest, Super Clean, Top This Premier Accessory Outfitters, Vets 4 Hunting and Fishing and Wood Brothers Flooring.
For more information visit WildWestBassTrail.com and follow WWBT Facebook, YouTube, Twitter, Instagram.