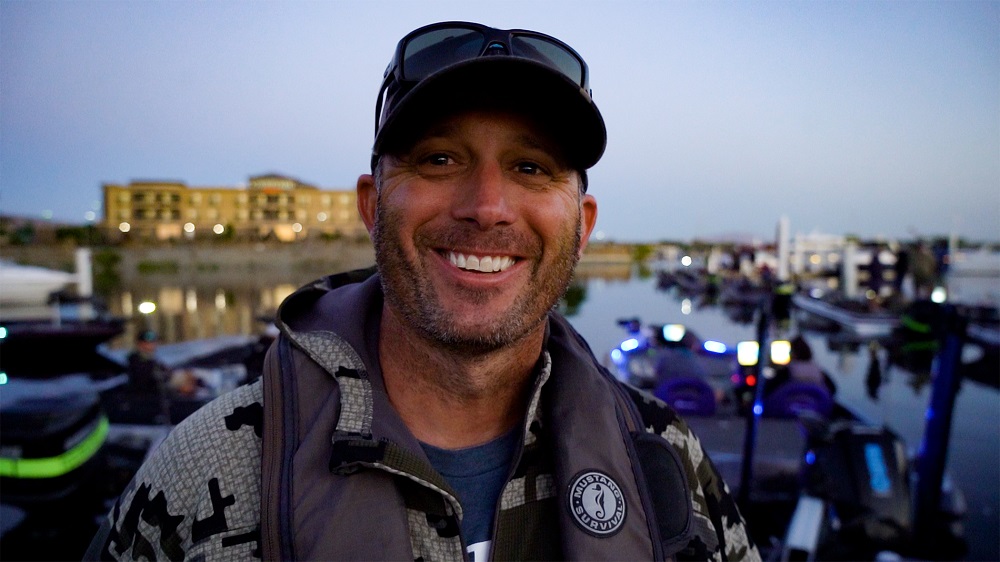 Photo: Steve Adams
GLENDALE, Ariz. – The Wild West Bass Trail (WWBT) took to the Columbia River this past weekend for the final Pro/Am event of the 2020 regular season. A 45-boat field blasted off for the three-day event and culminated in the crowning of Cody King, of La Grande, Ore. as the victor of the event with a tournament total that held 15 smallmouth at 47.68.
King credited 30-plus years of experience on the fishery for his win.
"I've been fishing tournaments here, with my dad, since I was eight or nine-years-old," recalled King.
His decades on the water gave King the insight to fish a variety of areas that varied each day, saying he ran up to 25 or 30 spots on the final day, alone.
"I ran about 80-miles round trip today (Sunday) and didn't even lock through the dam," he said. "Day One, I did about 40 and Day Two, I locked through the dam; so, it was probably closer to 100.
"Everywhere I stopped and fish, I had caught big ones before, whether it was 10 years ago or two weeks ago, they were all places I've been. They were all different though. Some were weed lines, some were current breaks, some were rocky bottoms, some were points. There was just a variety."
He discussed the conditions forcing his adjustments each day.
"Quite honestly, the first two days didn't go as planned and I thought I would have a lot more weight than I did," he began. "But, the heat really changed where the fish were holding. When it's 110-degrees and the fish are really shallow, they don't like it and they move out. The water was 77-degrees today, which is really hot for a river and the fish I weighed in were all in less than 10-feet."
MAKIN' 'EM BITE
King threw a laundry list of lures to accumulate his weigh fish over the three days. While he varied techniques, most of the fish that came to the scales fell to down baits.
His first day the tube was the star of the show.
"It was a standard, 3 ½ -inch, green pumpkin tube," he said. "I fished it on a 3/8-ounce, homemade poured head."
His Day Two limit was tempted by a wider variety of baits, including the reaction bait that was responsible for one of his 15 fish to the stage – a Trap.
"It was a chrome blue Rat-L-Trap," shared King. "I also caught a couple on the same tube and a couple on a Fluke and maybe even one made it on a jig. Mostly, they just wanted a slower presentation. I did catch a lot on reaction fish; but, they just weren't the ones I took to weigh-in. The better fish were eating a slower presentation."
King's Albino white Fluke was rigged weightless on Texas-rig and his jig was homemade. The weight size varied depending on water depth and current.
His final day, his bass ate the same jig and tube, while he added a Ned rig into the repertoire.
"The Ned had the Z-Man Ned bait on it and it was actually the first cast of a Ned rig in my life that I had ever made," shared King. "I am not really a 'finessy' guy; but those fish were getting so much pressure, I thought I would try it out and I caught a 3 ½ -pounder on it."
King noted his final day's limit was in the box by 10:30 a.m. and he spent the remainder of his flight time looking for a big bite with a glide bait.
"I caught some; but nothing that helped," he added.
Even though his glider didn't produce a cull, what he had in the box was enough for the "W" and King finished over a pound above his nearest competitor. He will pocket $10K for his efforts. He plans to save the winnings.
"I am a saver," he said. "I may put a little in my daughter's piggy bank; but I will probably save the rest."
King thanked his sponsors and his friends, the Ratchfords, for their hospitality during the event.
REST OF THE BEST | PRO TOP RESULTS
2nd 46.33 James Castillo
3rd 45.67 Ronald Mace
4th 45.32 Gene Batey
5th 43.76 Richard Shaff
CO-ANGLER TOP RESULTS
1st 39.94 Brandon Hua
2nd 39.05 Will Doud Martin
3rd 33.92 Jim Sall
4th 33.65 Karl Okerman
5th 33.51 Thomas Dodd
The WWBT debuted in 2016. For 2020, the Trail included a Pro/Am circuit and two Teams circuits – one based in California and the other in Arizona. They will add a SoCal Teams circuit for 2021.
A special thanks to all the WWBT sponsors – Bass Cat Boats, Ben Green Insurance, Bobs Machine, Buck Knives, Gary Yamamoto Custom Baits, General Tire, Genesis Graphics, Fitzgerald Fishing, Lucas Oil, Lure Lock, McMillian Fiberglass Stocks, P-Line, Power-Pole, Protect the Harvest, Super Clean, Top This Premier Accessory Outfitters, Vets 4 Hunting and Fishing and Wood Brothers Flooring.
For more information visit WildWestBassTrail.com and follow WWBT Facebook, YouTube, Twitter, Instagram.