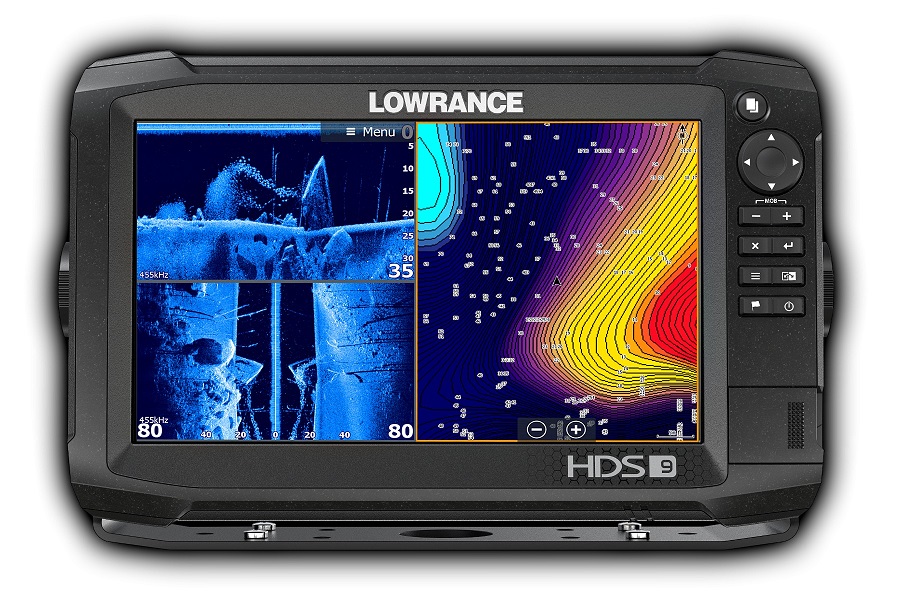 Each year Lowrance Electronics continues to release new technologies, bigger and more powerful units and a host of software updates to existing products. Keeping up with the new information can help anglers better utilize their electronics to catch more fish, but it can also become confusing.
Lowrance product expert Jacob Scott knows the units inside and out and in this article; he explains the latest technologies from Lowrance.
What is CHIRP?
You may have heard of CHIRP, it stands for Compressed High-Intensity Radar Pulse, and it is a technology that all of the major electronics brands are using in their units.
When asked for a simple explanation on what it is and why it helps, Scott says it helps with image clarity and target separation when looking at structure or fish below the boat.
"It allows you to see individual fish instead of a bait ball; because there is a wider range of frequencies being sent out instead of just 200 kHz the whole time," he says and adds that this increases clarity of the picture and also cleans up what is shown in the water column. "I like to think of it like throwing different sized marbles in a pond, each one will have a different ripple pattern based on the speed and size of the marble. This is like CHIRP and it allows for a better picture because the bursts are different."
CHIRP also excels in deep water due to more frequencies being sent out.
Dual Scan CHIRP
The new HDS Carbon units feature a new processor that allows for Dual Scan CHIRP. What this means is that it can run two separate transducers at once, each plugged into their own sonar port.
"You can now view each in a split screen and have independent control of each sonar," says Scott. "This is helpful for offshore anglers who want a low-frequency transducer for viewing the bottom and a high-frequency sonar to look at the top portion of the water column.
For bass anglers, he says it is possible to now have both a TotalScan transducer plugged into the back as well as a "puck" style transducer mounted through the hull.
"Some anglers like the puck-style transducer, so they do not lose bottom contact and depth on their sonar when running on pad, but also want the TotalScan," he shares.
The TotalScan transducer is an all-in-one that includes Broadband, CHIRP, StructureScan HD and DownScan Imaging.
New Controls and Changes to Screenshots
A simple upgrade to the controls was recently implemented with the new software updates. Lowrance units allow you to control your Power-Pole Shallow Water Anchors, audio system, MotorGuide Xi5 trolling motor and Outboard Pilot.
"Before the upgrade, the controls were somewhat hidden, but now they are right on the left of the screen for easy control," says Scott.
Another simple adjustment to the new software has to do with screen shots. Before the upgrade, the screenshots had a generic name like "shot1.png" and now they will be named similarly to how pictures are named on a cell phone, with date and time.
"It was a really simple fix, but it is exciting for someone like me who takes screenshots all the time. It will help manage them and make it easier to find the specific one if you are taking screenshots on different units," adds Scott.
Dynamic Color Trails and Heat Maps
The newest software update for the HDS Carbon units allows for different colors to show how fast you are going as well as water temperature changes.
"The heat map is a chart overlay and it shows real-time changes to water temperature, says Scott. "This is helpful when you are searching for warmer or cooler water."
Scott adds that the differences are big when fishing banks exposed to the sun. This should be a good tool for anglers searching for warmer pockets of water during the spring as bass begin to spawn.
Similarly to the heat map showing water temperature, your trails can now be color coded to speed. The benefit of this is showing which areas you fished through and which areas you were running full speed.
Red is slower and green is faster and the speed is based on the GPS speed recorded on your Lowrance units.
The software also allows for speed to be tracked with a Paddlewheel, showing speed through water, a great tool for anglers who troll lures and want to maintain the same speed they had success with.
Lowrance continues to add more features and improvements to make your experience more enjoyable when using their products. The latest software updates and new technologies do just that and should help you catch more fish.