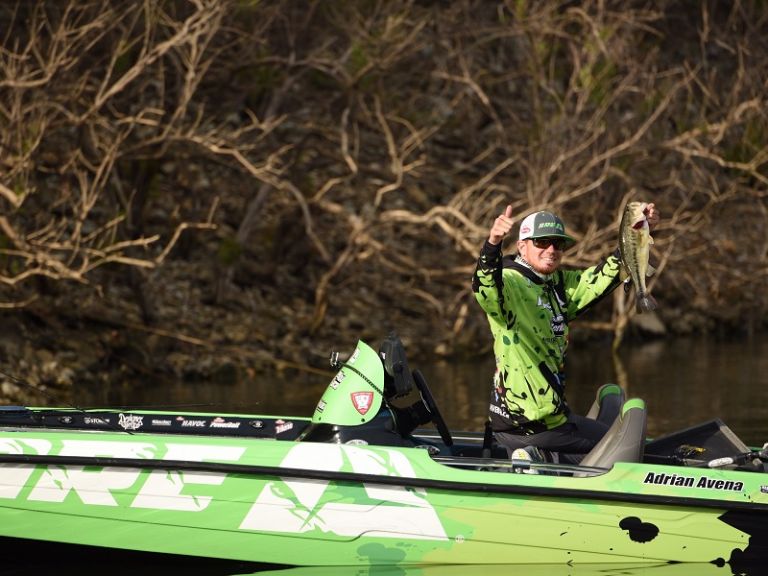 When the water temperature dips, it is time to pull out your hard baits. Bassmaster Elite Series angler Adrian Avena hails from New Jersey and has years of cold water experience. He agrees that hard baits are top producers during the colder months.
Avena share his top-three, winter bait styles for bass fishing, where to use them and how to get the most out of them in this article.
Cold Water Bass Fishing Lure Selection
Avena chose a jerkbait, shad profile crankbait and crankbait with an erratic retrieve. All of them are standard cold-water baits and part of the Berkley hard bait line up.
Winter Jerkbaits
His jerkbait choice comes down to the depth he is fishing and forage size. "For a jerkbait, I like the Cutter 90 and 110. I'll switch between the two based on how big the forage is," he said.
When it comes to a shad-profile crankbait, the Bad Shad is his top choice and Moss Craw is one of the first colors he will pick up. "This is by far my favorite cold water crankbait. It comes in two sizes, a 5 and a 7 and even the smaller size can be cast on baitcast gear. Other baits like it require a spinning rod and I prefer not too because I feel I have more control with a baitcast setup," he said.
His final choice is the Wild Thang 8.5. He likes how it performs under the surface. "It is really good at deflecting off of cover and that is key this time of year. Really, it is important any time you are fishing a crankbait, but especially when the water is cold," he explained.
Cold Water Crankbait Retrieves
Avena fishes the Bad Shad and Wild with a similar approach. "I like to fish them slow this time of year and when I feel it hit something, I'll pause or slow down my retrieve before starting to reel again." he said.
Jerkbait Retrieves to Generate an Extra Bass Bite
Many anglers fish a jerkbait with the standard "twitch, twitch, pause" retrieve and Avena is no different. He does make a few changes though to generate more bites.
"Before beginning my retrieve, I will reel down four to five cranks to get the bait deeper. The other thing I do which I think is most important, is at least once every cast, I'll twitch my rod upwards instead of down," he said.
He says this is where many of his strikes occurred and likened it to a crankbait deflecting off of cover. "The little difference in action seems to trigger them when it is cold."
The Right Line and Correct Hooks for Hard Baits
Both line size and the style of your treble hooks can affect how your bait performs as well as how many fish you land.
Avena previously switched all of his hard bait trebles to the Extra Wide Gap style of trebles, but has since had a change in thinking after seeing the effectiveness of the Berkley Fusion19 hooks that come standard on the Berkley hard baits.
"They are a round bend style and after fishing them, I won't go back. I had a great year with those baits and hardly lost any fish and I believe it is because of the round bend style."
Line is another factor for getting your bait to perform how you want. "I go very light this time of year and will switch down to 8- or 10-pound Berkley Trilene 100% fluorocarbon," said the New Jersey pro. His reasoning is to get more action from his baits and to get them to dive deeper.
Hard Bait Gear Selection
Generally Avena uses a Revo STX baitcast reel for most all of his applications year round. For these three techniques he will use this reel and only adjust his line size or the gear ratio he is using.
For the jerkbait he prefers a faster 7.1:1 and for the two styles of crankbaits he switches to a 6.4:1. "I want that slower retrieve so I don't end up reeling it too fast when the water is cold," he said.
His rod selection varies based on the technique and a 7' medium Abu Garcia Villain 2.0 is his choice for jerkbaits. For the Bad Shad he prefers the Veracity in the 7' medium Winch model. When fishing the Wild Thang, he uses an Abu Garcia "Ike" Series that is a 7' medium glass composite rod.
Cold Water Targets for Bass Fishing
Knowing where to throw these baits is the next piece of the puzzle. "This time of year when fishing lakes, hard cover is the number one thing to look for. It could be rocks, riprap or wood, but these hard pieces of cover will retain heat and will be the place to look first," shared Avena.
For river and tidal systems, he heads to the backwaters, again for warmer water.
Another factor to pay attention to are small warming trends, even in the middle of winter. "There may be a few days with sunshine and warmer temps and this will be enough to push the fish shallower. Some of those really shallow places will have water that is five degrees warmer than everywhere else and this could get them feeding," he said.
Fishing a crankbait or jerkbait is an effective way to catch bass throughout the cold months. Having the right gear and adjusting your retrieve based on the season is the best way to adapt to winter bass.