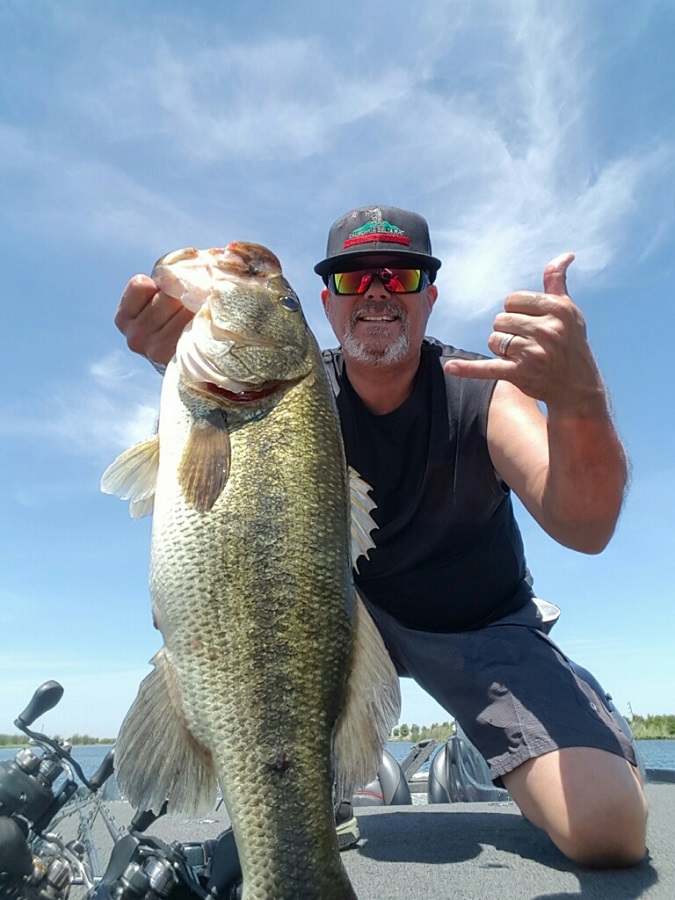 Delta Report…Great Weather for #FishOakley as Anglers from Throughout the West start rolling in for the Yamamoto Big Bass event June 11-12 at Russo's Marina. Then on Father's Day at Big Break the 3rd Stop of the Dan's Delta Tournament Series which will include Father's Day Lunch for participating anglers and their families .
Isleton Hot summer night pattern prevails for bait tossing anglers. Catfish start to show in better numbers with Mackerel. Sardines and livers are the best bets for whisker fish. Smallies are also grabbing baits throughout the area. Craw patterns are key. Striper Trolling and plug casting has been the last few days. Trolling the Angry Eyes and Savage Preys is the best bet.
Rio Vista- Warm seasonable weather ahead finally for anglers, and forecast to stay stable. Shore bound anglers are scoring both . The best place to score a striped bass or maybe a sturgeon remains Sandy Beach and the area of the Power Lines, use Sardines or Shad. Trolling is scoring many limits stripers and occasionally, a 10-12 pounder caught. Savage Prey and P-line Angry Eye lures are key for the trolling anglers.
Walnut Grove Trolling Savage Prey baits colors 8 to 10 foot deep is key as the push continues. Conditions are improving for Black and Smallmouth Bass in the area. Spinnerbaits and Swim jigs are working in the Hog Area Bank anglers tossing Anchovies and Sardines prevail for an occasional Striper and nice catfish. Those looking for bigger bites try drifting live baits for stripers cracking the 10 pound plus keeps anglers smiling.
Central Delta Where's bite? Only Yamamoto Baits this weekend for tournament anglers Most Blackie anglers are sticking with 3/4oz Jigs paired with Yamamoto Flappin' Hogs and Yamamoto Swim Senkos paired with Fatsack Swim Jigs. Frog Bite should improve, yet still not consistent. Catfish and Bluegill also had a improvement this week.
Frank's Tract Black bass bite is at a consistent yet, tougher than normal bite. Yamamoto Kut Tails and Yamamoto Senko's paired with Tsuyoi Wacky Hooks drawing a lot of attention. We are seeing a few big Black Bass with ¾ ounce Jigs. Others looking to score are starting to Toss Yamamoto Heart Tail swim baits. Ok the Yamamoto theme is over
West Delta The stripers are here anchovies and sardines in many areas for bank anglers, Antioch Pier and along Sherman Island rd. Stripes to 28 pounds have grabbed baits . Pier anglers still getting some GOOD sized stripers and occasional sturgeon. Trollers it's getting started on both sides with Red Barn being the top choice, if they aren't there move to the Eddo's Side. Chartreuse patterns are the best bet.
Contra Loma – Not much change, Try fishing for catfish at Channel Point, Loma Island or from a boat with nightcrawlers or chicken liver. Trout are biting on nightcrawlers at Channel Point, near the swim area, or from a boat. Black bass fishing has been tougher again this week, biting on artificial baits/lures or nightcrawlers anywhere around the lake. Try fishing for crappie or bluegill with jigs or worms at the boat ramp area, Loma Island or Channel Point area.
Los Vaqueros The heat and wind kept many away this week. The Best bet is fishing with cut baits with all the hungry small stripers around. Trout are a bit slower but still caught in South Cove and Oak Point as well as Peninsula Cove. The baits of choice for shore anglers is garlic scented PowerBaits, nightcrawlers or Kastmasters. Trout average a pound and a half but range to over 5 lbs. Light tackle is important for catching trout with 4-6 pound test being plenty. With the continuing plants, trout fishing has been ok with some limits being caught from all around the reservoir.
Del Valle Did Not Report.
Provided by Dan's Delta Outdoors, 1625 Main St Oakley CA 925/234-4694 Follow us on Facebook