As winter begins, many anglers are planning their trips to tangle with spotted bass. With the recent string of world records, this fish has become one of NorCal's favorite fish species.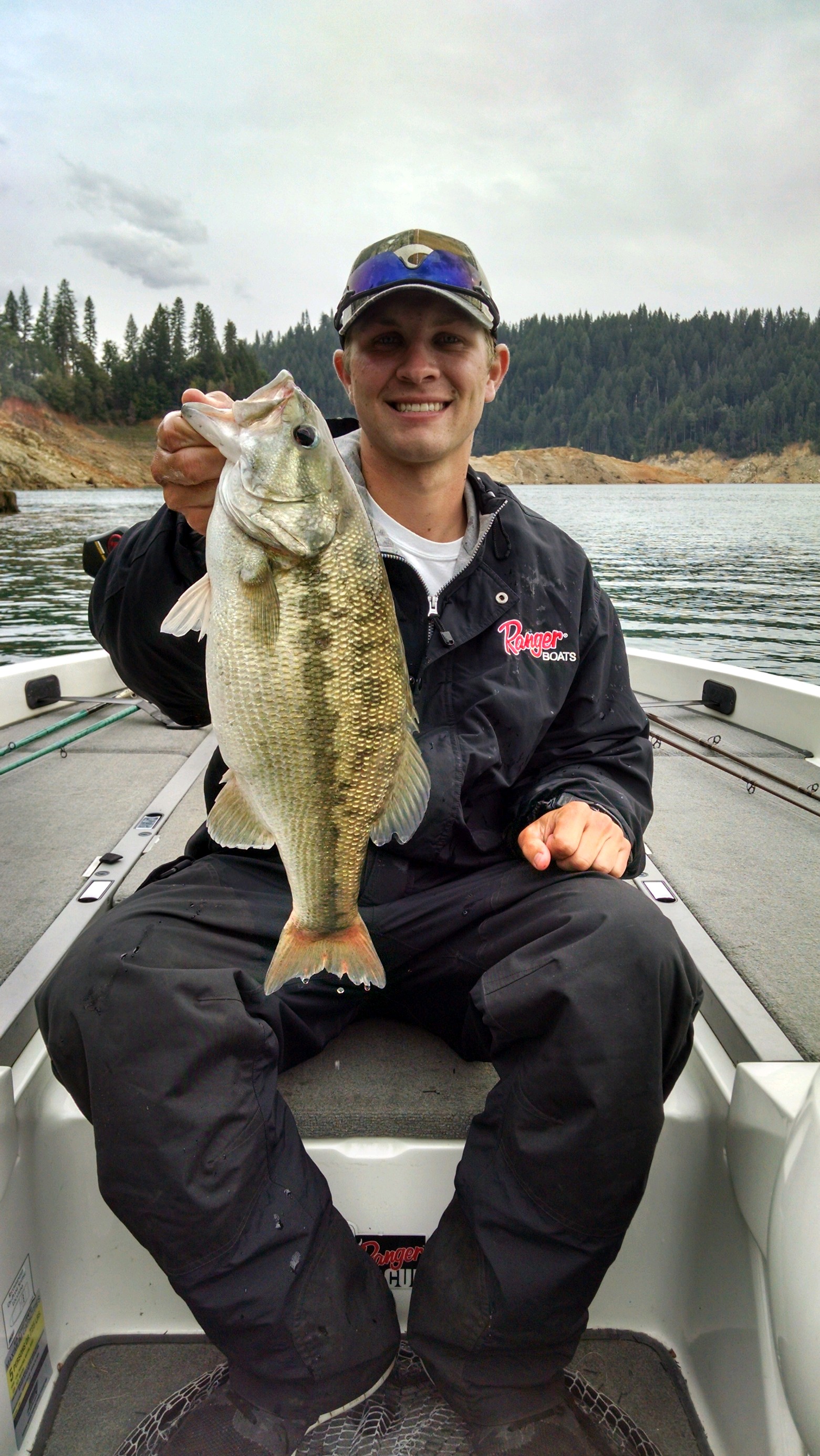 Oroville, California's Alex Klein is an up and coming professional with plenty of experience with spotted bass on Oroville, Shasta and Bullard's Bar. He has a cold-water approach that includes both finesse and fast-moving baits.
Where to Start the Hunt for Winter Spotted Bass?
Klein says that spotted bass this time of year are in deep water more often than not. To him, deep is the 40- to 80-foot range and this is where he spends the bulk of his time.
"I like to get out on the long points and the steep stuff. Shasta and Oroville, in particular, are known for those big, long main lake points, and that is where I am going to start," he says.
When searching for fish, he likes to monitor his electronics for baitfish and also for possible hiding areas for spotted bass.
"Many times, they are so close to the bottom that they don't show up, so I am looking for boulders and drop-offs. I also pay attention to see if they are subtle changes or drastic drops so I can replicate it if it produces."
Wack-a-Sack Jig for Deep Spotted Bass
The Frenzy Baits Wack-A-Sack has gained quite the following for spotted bass anglers, and Klein is part of that group. He prefers the Elite version that comes equipped with a 2/O Trapper Tackle Dropshot hook.
"This jig gives the soft-plastic a different look because the bait is more free moving and more natural looking. There are endless soft plastics that will work, but I like to use the more buoyant worms like a Zoom Finesse Worm," he says. "The Trapper hook holds the bait nicely, and once you hook one, it is harder for the fish to throw it."
He will generally cast the rig and let it sink and give it a few shakes before repeating the process.
"The majority of your bites are going to be on the initial fall or right after," he says. The ¼ ounce and 3/8-ounce size are the ones he fishes most.
Darter Heads and Shaky Heads for Spotted Bass
These two fishing styles have accounted for many, many spotted bass over the years, and they are still part of Klein's winter arsenal. He likes the darter head with a 6" Roboworm; because, it simply works.
"I use the lighter head because many of the fish you catch will be on the way down and you want a slower fall," he says.
He'll fish a shaky head when he notices fish relating closer to the bottom on his electronics.
"They will often hit it right when it hits bottom or shortly after when you give it a few shakes," he sees and says he fishes the shaky head just like he does the Wack-A-Sack.
Dropshotting for Spots
Spotted bass are suckers for a dropshot and Klein knows always to have one rigged up.
Most of the time he is using the old faithful Morning Dawn color Roboworm, and he will rig it on a 1/O or 2/O Trapper Tackle Dropshot hook.
Most of this article relates to finessing spotted bass, but Klein feels that you should always have at least one reaction bait ready to go for spotted bass this time of year.
"I would rather fish this way since you can get the active fish and it is also more fun for me. I know that sometimes you have to drag things and fish on the bottom, but I always have a rip bait ready," he shares.
Even when targeting that deep 40- to 80-foot zone he mentioned earlier, he is ready with a jerkbait if he sees active fish chasing shad or pond smelt.
He likes a deeper diver like the Lucky Craft Staysee 90 that can reach depths of 10-feet.
"Even if the fish are deep, they can see that bait because the water is usually so clear. They will come a long way for it if they are feeding," he has learned. "If you have active fish around they will let you know they are there and bite right away."
Anglers are notorious for swapping treble hooks, and instead of just using the same stock hooks, he'll use Trapper Trebles and feels that they are vital for jerkbait fishing where spotted bass tend to swipe at the bait or shake hook points during the fight.
"You will notice that you hook them so well that you need pliers to get the hooks out. They are 'sticky sharp,' and the fish have a hard time throwing the bait," says Klein.
As the water starts to cool, the spotted bass action tends to heat up.
Northern California has a host of venues full of big spotted bass and using Klein's approach will ensure you have a great winter fishing for magnum spots.