While there had historically been some overlap between Japanese bass fishing culture and the U.S. market, that seemed to peak somewhere between the popularization of companies like Lucky Craft I the mid-1990s and Takahiro Omori's Bassmaster Classic win in 2004. Anyone who thinks it stopped there simply hasn't been paying attention.
The ubiquitous role of the internet has continued to play a huge role in the spread, as has the increasing number of Japanese anglers at all levels of the U.S. tournament fishing totem pole. Things that would've been slow leaks in the past now come at us with the urgency of a fire hose. Nevertheless, as many U.S. manufacturers have started to produce "Japanese quality" lures, the need to look overseas might seem less critical, but the continuing innovations coming out of Asia demand attention.
New Japanese Bass Fishing Techniques
Japan either gave birth to or popularized a wide variety of now-worldwide bass techniques, including the drop shot and Tokyo Rig, but the innovation hasn't stopped and it's not just limited to finesse-oriented gear. Indeed, since Lake Biwa pumped out a record-tying bass over a decade ago, Japan has also been known as an additional epicenter (beyond the west coast of the U.S.) for big baits. Here are a few techniques you need to try:
Cover Scat: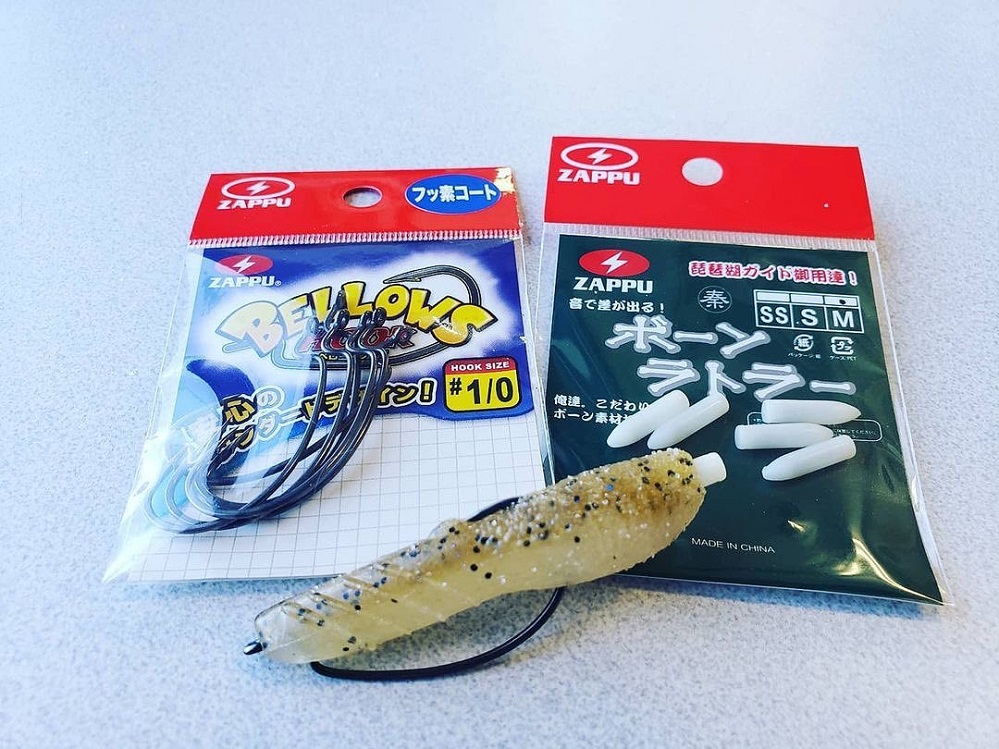 Just as there's no way to polish a turd, there's no way to put a clean spin on what this lure appears to be—"scat" or "poop." Yes, the leading lure among the best-informed guides and tournament anglers on Lake Biwa represents a piece of crap. This heavy piece of back-weighted plastic lies somewhere on the spectrum of a Senko or Ned Rig, but can be thrown easily on baitcasting gear and maintains a horizontal posture as it falls. The Deps Cover Scat has been commanding ridiculous prices on eBay this year, but they seem to be getting more widely available.
Free Rig:
This one doesn't seem so complex or novel, but my Japanese friends tell me that it's deadly. Take a ringed/looped (non-pinching) dropshot weight and put it in front of your favorite soft plastic with no stopper of any kind to hold it in place. When you cast it out and give it slack line, the weight and the lure will pull apart, and the bait will glide down slowly and naturally. It's more finesse-oriented than a Texas rig or Carolina rig, yet still allows you to glide a big bait into cover. Some for the best lures for this include the Deps Bull Flat and Bull Slide but there are no limits to what will work on it.
Hover Strolling:
This is another finesse technique, but one that has yet to get quite as popular as the free rig. When fish are suspended, pressured or otherwise in a funk, this is deadly. Use soft plastics with a shad-shaped profile and let them do their thing naturally. The hook should have a 90 degree and a round bend with a nail weight added to the nose. Figure out the depth the fish are using and then it'll stay horizontal in the zone, just like the baitfish they're feeding on.
Crawlers:

Big flapping crawler topwaters with "wings" aren't new to U.S. anglers or U.S. fisheries—the Heddon Crazy Crawler has been around for decades--but they've taken on new life in the hands of Japanese craftsmen and anglers. Lures like the Deps NZ Crawler provide big profiles and tempt oversized bass. Throw them anywhere you'd throw a glide bait or rat if you're looking to get mauled.
A Growing Network in the Japanese Bass Fishing Culture
While there have consistently been Japanese pros who've spread these techniques in the United States over the past several decades, the infrastructure to promote their success has never been stronger. It's increasingly likely to see anglers competing on AAA or AAAA circuits like the Bassmaster Opens or Toyota Series. When someone like Taku Ito qualifies for the Elite Series it's no longer considered a novelty.
The increasing presence of those pros in many cases benefits from SDG Marine, a division of Showa Denko Group, one of Japan's largest corporations, and one whose leader has a strong interest in tournament bass fishing. That passion has manifested itself in boat dealerships both in Japan and in the United States (representing Bass Cat, Vexus, Charger and Caymas) and a highly-accomplished pro staff. They even have their own tournament support staff. That makes life in a foreign country more palatable for the expat Japanese pros which in turns enhances their chances of success. That, in turn, will lead to more cultural crossover.
Additional Resources for Japanese Lures
Perhaps no one is on top of the overlap between the increasingly intertwined U.S. and Japanese bass cultures as Optimum Baits president Matt Paino. He's based in southern California, lived over there for a number of years, and (in non-COVID times) makes frequent return trips back. He also imports brands including IMA, Deps, Zappu, Madness, Vagabond and Kahara. The Optimum site is a wealth of information about these topics.
As recently as a decade ago, intrepid anglers had to go to eBay or hastily-translated Japanese sites to take a chance on JDM tackle, but that's no longer the case. Now even mainstream retailers like Tackle Warehouse and The Hook Up Tackle have extensive JDM selections. If you want to shop at online U.S.-based retailers that have an even more intense focus on Japanese tackle, then one option is Japan Import Tackle (based in Illinois) whose stated goal is to import "difficult-to-find Japanese domestic fishing tackle and deliver to U.S. anglers." They are often the first or only retailer to carry certain brands. Another leading-edge retailer, based in North Carolina, is Carolina Fishing Tackle. When you first hear about a new piece of gear, check with one of these outfits. Their prices are usually competitive and their service and inventory is likely unmatched.
Just act fast – the truly innovative stuff goes quickly.