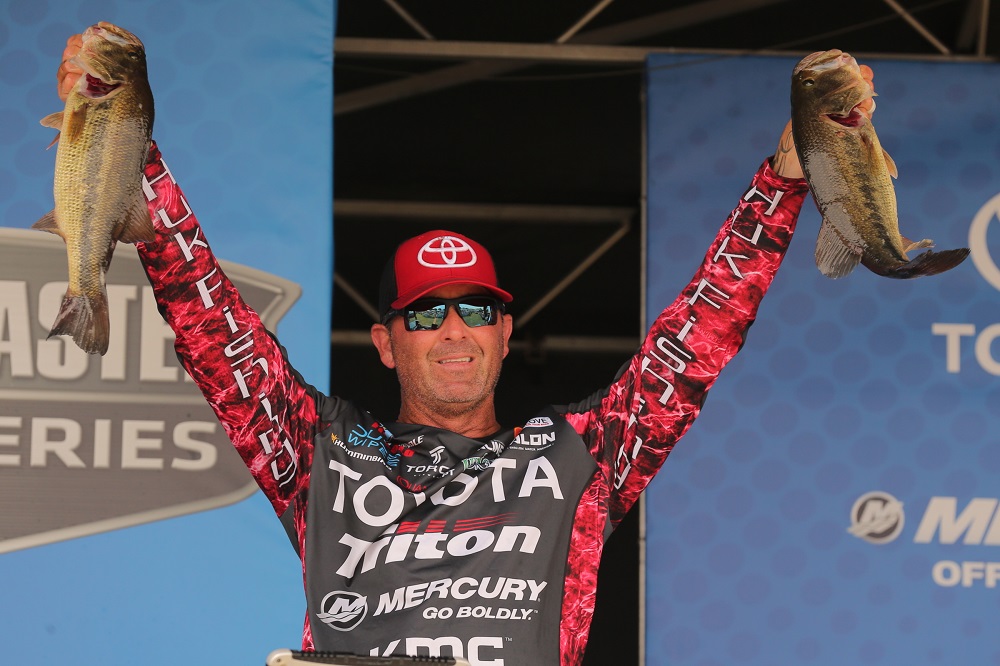 Photo: B.A.S.S.
As the winner of two Bassmaster Angler of the Year (AOY) titles, Gerald Swindle has proven he has the ability to catch fish under a variety of conditions.
He is a master at "junk fishing" and excels at every technique. He knows there is a time and place for each type of lure and when it gets cold, he always has a jerkbait ready to go. Swindle has learned that the jerkbait is one of the most important tools he has at his disposal for cold water bass fishing.
Patience is Key
"For me, I pick up the jerkbait once I have already found fish. In a tournament situation it is not the best way to go out and locate fish," he believes. "I do not leave the ramp with a jerkbait to find them. That is what I am going to use a jig and crankbait for. To get dialed into where the fish are first before I grab the jerkbait rod."
Once he knows fish are there, he will fish the jerkbait as slow as necessary and adjusts his length of pause based on how the fish are acting that day.
While he admits that he doesn't like to slow down to the point of boredom, he does it.
"A jerkbait will catch big ones in the colder months. I use them all winter long and really use them when they start to get out of their winter pattern into the pre-spawn," he says.
Big Profile Jerkbaits
When Swindle knows he is around big bass, he pulls out the big guns and when talking jerkbaits that means the tried and true Rapala Husky Jerk. The Husky Jerk 12 is 4 ¾-inches and the 14 is 5 ½-inches long. They are big baits and have caught many big bass over the years. Swindle is a big fan and says they catch giants.
"I'm an old-school Husky Jerk guy. It has the big profile and right action to appeal to big bass when it is cold," he says. "Plus, it casts well so you can make long casts. On lakes with tons of big fish it a great way to catch them during the cold weather because the action is not super erratic, it is just right."
He used a wide range of colors for the Husky Jerk but pointed to two that cover many situations he is faced with on the water.
"Clown and Silver Blue will catch them just about anywhere," he says. This jerkbait will dive four to eight feet deep depending on line and casting distance.

Deep Jerkbaits
Where many jerkbaits dive down to around six-feet deep, Swindle often uses one that gets down a little bit more. The Rapala Shadow Rap Deep is one of his go-to's, and it will reach depths of eight feet deep.
"What I like about it is that it doesn't have too much action and if the water temperature is in the 40's that is what you need. I'll even switch to monofilament line to change the action a little bit more," Swindle says.
This jerkbait comes in a host of good colors, but Swindle prefers the shad patterns, and a matte finish called Olive Drab because they will cover many situations and keep things simple.
G's Jerkbait Gear
Both of these jerkbaits can be fished on standard jerkbait gear, and Swindle uses the same reel for both but prefers different rods based on the bait he is using.
"I like a 6.1:1 Quantum Smoke S3 to force me to slow down some. If you are using a faster reel you can easily pull in too much slack at once, and that can affect how you are working the bait," he believes.
For the Shadow Rap Deep, Swindle uses a rod he helped design. It is a 6'9" model in his Quantum GForce series.
"It is made for topwater poppers, but it is a great bait for jerkbaits because it has a nice soft tip," he says.
When using the bigger Rapala Husky Jerks, he ups his rod to a longer version.
"You need to have a little bigger rod to have more control of the bigger bait like the Husky Jerks," he feels. The 7', medium Quantum Smoke S3 is his choice.
When it comes to line, he uses 10-pound for most situations and will switch between fluorocarbon and a monofilament like the Sunline Super Natural.
"With mono, you can dull the action, and that can make a huge difference in cold water," says the Alabama pro.
Gerald Swindle will be the first to admit that he would rather catch fish working a bait quickly, but he knows that slowing down with a jerkbait is sometimes the only way to catch bass consistently in cold weather. Swindle cracked that they do not make enough medicine to allow him to pause 20 or 30 seconds before jerking, but he has learned that it is sometimes necessary.