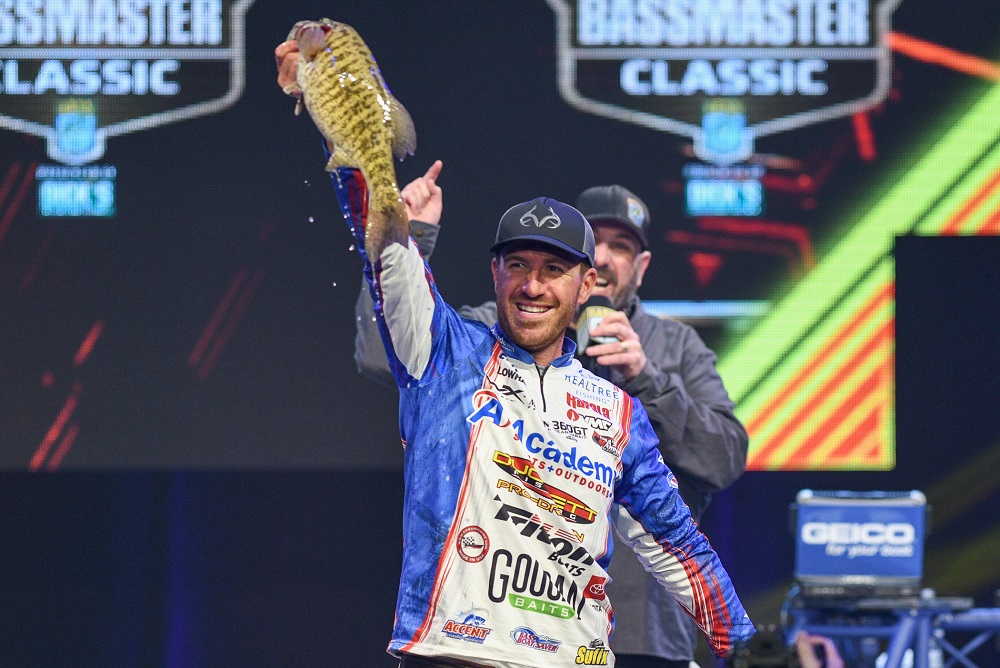 Photo: B.A.S.S.
Lowrance has a long history of dominating the Bassmaster Classic.
In fact, last year they celebrated the fact that it was seven straight wins for anglers using their products. While that streak was snapped this year, they still held their own with seven of the top-10 using their electronics.
In total, 29 of the 52 anglers competing were using Lowrance HDS LIVE electronics.
Both the second and third place fishers, Jacob Wheeler and Jesse Wiggins, used Lowrance and they each said they couldn't have done it without their new ultra-fast HDS LIVE units with C-Map mapping.
Wheeler's Close Call
Going into the final day, Jacob Wheeler had the lead and was hoping to add a Classic trophy to his Forrest Wood Cup and BFL All-American trophies on the mantle. It wasn't meant to be, but he said getting that close was thanks to his Lowrance HDS LIVE units coupled with their C-Map mapping and more specifically, the colored depth shading.
"The biggest thing for me was using my HDS LIVE units with the new mapping they have for Tennessee. Once I figured out the pattern along those deeper outside bends, I would go there, and if there was any current I would catch fish," began Wheeler. "I also looked for the subtle stuff, like flat banks and I would almost always find fish when I went to those areas and found everything I was looking for."
Dissect Water Quickly
Wheeler is one of the best in the world when it comes to locating fish quickly with his Lowrance units. Once he figured out what the fish were doing and where they were positioned, he was able to duplicate all along the Bassmaster Classic waters.
"When we first got there, the water was four feet low, and it rose about two feet during the week. Because of that, I set my colors on my C-Map to red for that range just to get it out of my head. I was catching fish in around 10-feet or less, so I set 4- to15-feet as yellow to account for the lower water levels and still be in that range," he said.
The mapping settings he used allowed him to quickly scan areas, even while driving at full speed, to locate areas that had what he was looking for.
"It allowed me to dissect it that much faster and I would look for those transition areas and bluffs and places where the fish should be this time of year. The colored depth ranges also allowed me to locate flats as the yellow areas would be much larger on flats," added Wheeler. "The more yellow, the flatter the area."
Split Screen Tip
Wheeler runs two HDS LIVE 12" units at the console, and in the Classic he had one strictly dedicated to mapping. He would split the screens, and both would show a map, and he said it was beneficial in Knoxville.
"I had two maps, one on top and one right below it with the split screen view. One of them I would have zoomed way in so I could see all of the little details. The other was zoomed out, and that gave me a better look at things farther away as I was driving and searching for areas," said Wheeler. "It let me pay attention to the little things right by me, but I could still search out more areas."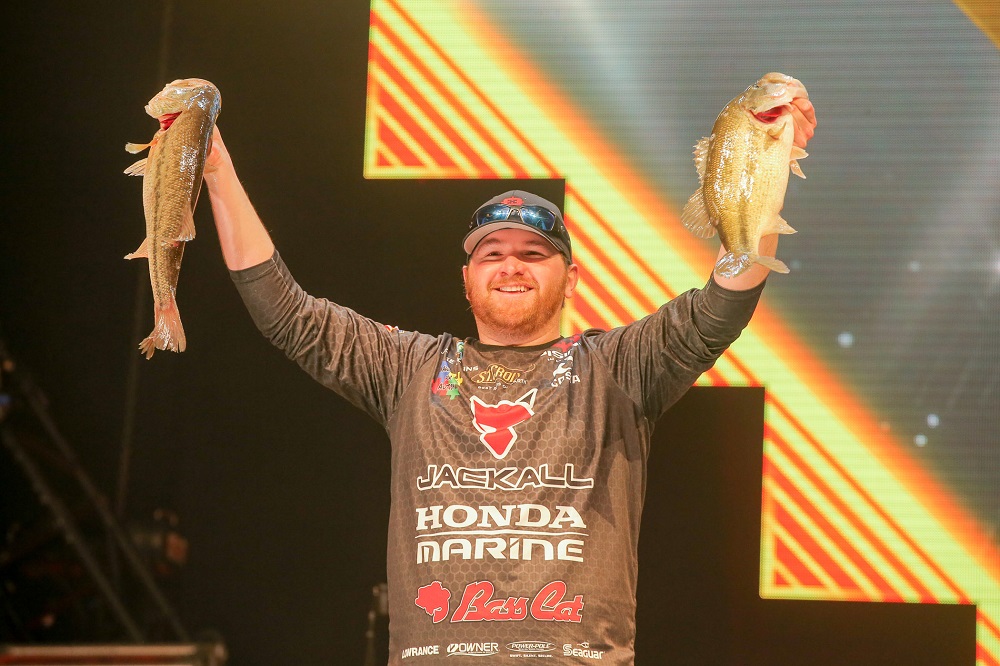 Photo: B.A.S.S.
Wiggins Cranks His Way to 3rd
Jesse Wiggins used a very similar approach to Wheeler in both how he was fishing and how he set up his map.
"The water was low, so I set 0- to 4-feet as red since it was mostly out of the water and I knew if there was any water there it would be too shallow to hold fish," he said. "I set 5- to 10-feet as yellow and 10 to 15 as orange. I would look at my Lowrance units and searches for the places where the contours made a point in that color. That third day, when I had my best bag, I was cranking shallow with a squarebill on places I found on my electronics.
"I was cranking the 5- to 7-foot range and right where the yellow and red met was the perfect depth to be. It also made it easy to see it as I was running down the lake. I also fished some channel swings along the banks, and they showed up great with the new mapping. The new HDS LIVE units are very fast and allowed me to scan and find areas and still cover water."
With so many anglers running Lowrance's newest products, the bass on the Tennessee River and Ft. Loudoun and Tellico lakes didn't stand a chance. Both Jacob Wheeler and Jesse Wiggins were able to leave with a top-5 finish thanks to their electronics.